Cash crisis hits Nigeria cocoa in blow to world supply
Nigeria's cocoa exports are coming under threat from a shortfall of cash to pay laborers and transporters, further straining global supply.
The country's central bank in October last year announced it would redesign 200, 500 and 1,000-naira notes in a bid to mop up excess cash and rein in inflation.
As much as 2.1 trillion naira (US$4.61 billion) has been returned to banks, and the policy has led to a severe shortage of bills as people have been unable to get new notes after depositing their old denominations.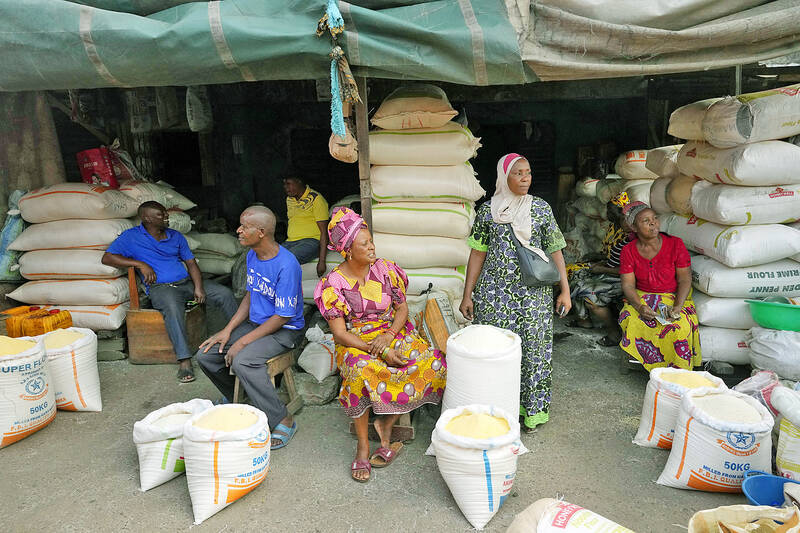 People sell food at a market in Lagos, Nigeria, on Feb. 7.
Photo: AP
For the cash-dominated cocoa industry, the crunch has left farmers unable to hire workers and exporters without money to get the crop to ships.
The world's fifth-largest producer of the chocolate ingredient risks not being able to ship as much as 27,000 tonnes this month, Cocoa Association of Nigeria president Mufutau Abolarinwa said on Wednesday.
"We don't have a quantum of the new notes now to pay for all the services like grading fees, handling charges, freight and some other sundry charges — all of which we usually pay in cash," Abolarinwa said.
The situation could further compound the supply concerns that have lifted London cocoa prices to a six-year high.
Futures surged more than 6 percent this week amid reports of bean shortages in top grower Ivory Coast, fueling worries that some exporters there might default on contracts.
Upcoming cocoa plantings might also be disrupted as landowners cannot get enough cash to cover workers' daily wages, spurring a shortage of farmhands to clear and weed farms, said Atangba Bonjor, a cocoa farmer in Ikom in southeastern Nigeria.
Nigeria's cocoa exports have already slumped as poor weather and fungal issues hampered the main-crop harvest. The country shipped 33,176 tonnes in December last year, while last month's export figures have not been released.
The cash shortfall is affecting fresh deliveries, said Isaac Arayela, a manager at the Ile-Ife Cooperative Produce Marketing Union, a cocoa-farmer organization.
"We have no cash to pay our members for their cocoa supplies and they won't accept bank transfers," Arayela said.
Up to 500 tonnes of the union's produce is stuck in warehouses, he said.
Many exporters are suspending activities due to the challenges, said Kunle Ayoade, managing director of Agrotraders Ltd, a cocoa exporting company.
Shippers often pay 100 naira per bag to laborers who load the beans on trucks bound for ports and an additional 100 naira to unload them on ships. Truck drivers are also paid in cash.
"Staff spend hours in bank queues to obtain cash, which in most cases is not available," Ayoade said.
In other commodities:
‧ Gold for April delivery fell US$1.60 to US$1,850.20 an ounce, down 1.29 percent from the previous week.
‧ Silver for March delivery rose US$0.01 to US$21.72 an ounce, but was down 1.63 for the week.
‧ March copper fell US$0.03 to US$4.11 a pound, but was up 2.24 percent weekly.
Additional reporting by AP
Comments will be moderated. Keep comments relevant to the article. Remarks containing abusive and obscene language, personal attacks of any kind or promotion will be removed and the user banned. Final decision will be at the discretion of the Taipei Times.