Singapore increases property tax after wealth influx
Singapore is planning to raise taxes for buyers of higher-value properties and luxury vehicles, as it tackles a growing wealth gap brought on by the arrival of rich families.
The city-state is also planning to increase levies on tobacco in an attempt to boost income and reduce inequality, Singaporean Minister of Finance Lawrence Wong (黃循財) said in a budget speech on Tuesday.
The ruling party, which faces growing healthcare and housing costs, is fighting hard to raise revenue. Singapore's infrastructure and stability have attracted a growing number of ultra-wealthy individuals, contributing to a spike in costs for everything from luxury vehicles to golf club memberships and condominiums.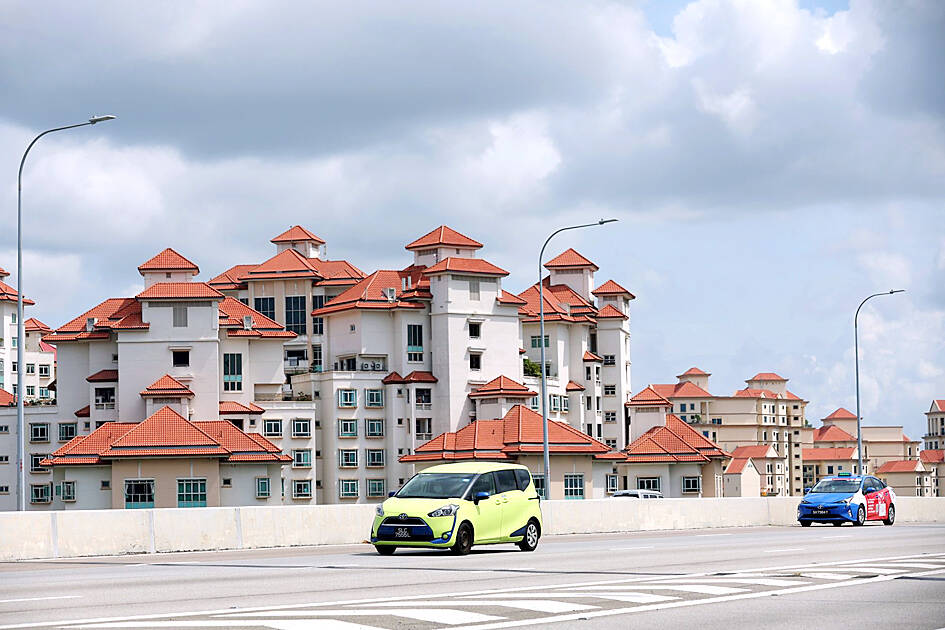 Residential buildings are pictured in Singapore on Jan. 3.
Photo: Bloomberg
Homes valued S$1.5 million to S$3 million (US$1.12 million to US$2.25 million) would be taxed 1 percentage point higher at 5 percent. Homes valued more than S$3 million would be taxed 2 percentage points higher at 6 percent.
The changes are to apply to all properties acquired from yesterday, Wong said.
The move is expected to generate an additional S$500 million in revenue per year.
Even with the hikes, buyers of high-end real estate might not be deterred, OrangeTee & Tie (橙易產業) senior vice president of research and analytics Christine Sun (孫燕清) said.
"Properties in the upper tier may not see a major impact as wealthy buyers are not likely to be deterred by the additional" tax, Sun said. "Properties with good product attributes and location will continue to draw buying interest."
Singapore was expected to have an influx of about 2,800 high-net-worth individuals last year, residence and citizenship planning provider Henley & Partners said.
The firm estimates that 249,800 residents there have a net worth of at least US$1 million, making it the fifth-wealthiest city on Earth.
Singaporean home sales last month climbed to a four-month high, helped by a new project launch that highlighted residents' pent-up demand after supply dwindled late last year.
Sales of new privately owned apartments climbed to 391 last month, the Singaporean Urban Redevelopment Authority said yesterday.
That was more than double the previous month, when transactions fell to a 14-year low of 170 as a supply crunch kept buyers at bay.
Last month's sales were healthy despite high interest rates and curbs on mortgage borrowing implemented in September last year, Sun said.
That underscored pent-up demand for housing units, especially in the suburbs where supply remains tight, she said.
Comments will be moderated. Keep comments relevant to the article. Remarks containing abusive and obscene language, personal attacks of any kind or promotion will be removed and the user banned. Final decision will be at the discretion of the Taipei Times.