Volvo Bus embraces Taiwan tourism revival
Five executives from the Swedish company — Mattias Rångeby, Mats Nilsson, Dusan Prastalo, Emmanuel Jupet and Scott Harvey — yesterday visited Taiwan and experienced a special sightseeing tour on a double-decker dining coach produced by Volvo
Taiwan's tourism sector is expected to embrace a gradual recovery this year before next year returning to the levels seen before the COVID-19 pandemic, as the government is prepared to further relax travel curbs and mask rules as COVID-19 infection numbers drop.
The rebound in travel was first evidenced in the high booking rate at local hotels during the 10-day Lunar New Year holiday, as domestic travel surged, the Tourism Bureau said.
The indoor mask mandate is to be scrapped on Monday next week, except in medical facilities and nursing homes, on public transportation and at other designated locations, as the COVID-19 situation is stabilizing, the Central Epidemic Command Center has announced.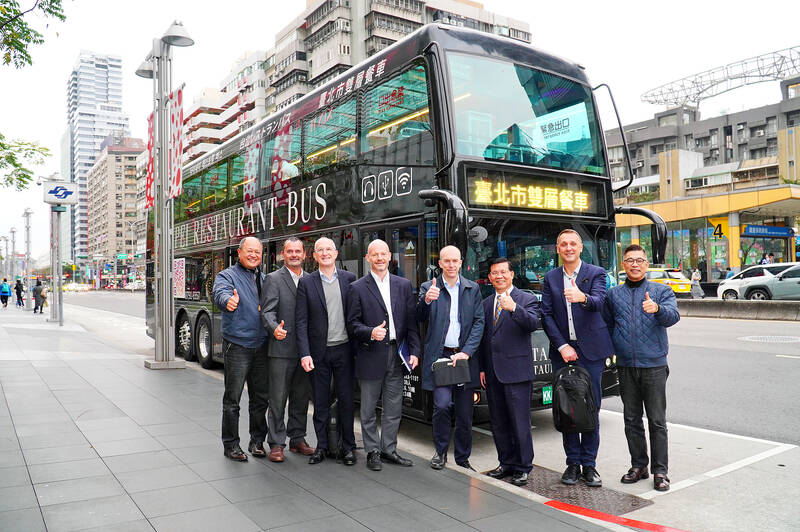 From left, Taikoo Commercial Vehicles Ltd general manager Willy Chen, Volvo Bus Corp market manager of distributor market for APAC North Scott Harvey, Volvo Bus Corp director for APAC North Emmanuel Jupet, Volvo Bus Corp vice president for Asia-Pacific BUC Mats Nilsson, Volvo Bus Corp senior vice president for global bus technology VBC Mattias Rångeby, Taiwan Car Rental & Travel Group president Hsu Hao-yuan, Volvo Bus Corp vice president for PM and Technology and TS BUC Dusan Prastalo and Taikoo Motors Group executive director David Tung pose in front of a double-decker restaurant bus in Taipei yesterday.
The relaxation in mask rules is the latest step by the government to revive the economy, and follows the reopening of the country's borders in October last year.
The Tourism Bureau expects the number of foreign visitors in Taiwan to climb to about 60 million this year, about half the number recorded before the coronavirus became widespread, taking a toll on the nation's tourism sector.
Next year is poised to experience a full revival, as the bureau expects the number of foreign visitors to rise to the level recorded before the pandemic, hitting 11.86 million.
The forecast has cheered the nation's tourism sector, with airlines, travel agencies, hotel operators and vehicle renting operators gearing up for the return of tourists.
As people are keen to hit the road again after three years of near paralysis, domestic travel is also becoming trendy, with people planning longer vacations at multiple domestic destinations. To cater to all travelers' tastes, new flight routes, and innovative or high-end itineraries and services have been launched.
Embracing the luxury travel trend during the post-pandemic period, E-go Taiwan Car Rental & Travel Group Corp is offering a luxury for travelers who want to enjoy sightseeing in Taipei that has never been seen in Taiwan before.
E-go is collaborating with the Tourism Bureau in rolling out a double-decker dining bus tour, which allows passengers to enjoy exquisite dining experiences on the go.
Volvo Bus Corp, which makes the luxury tour buses adopted by E-go, sent five high-ranking executives to Taiwan to get a better understanding of the recovery in tourism here. Five executives from the Swedish company — Mattias Rångeby, Mats Nilsson, Dusan Prastalo, Emmanuel Jupet and Scott Harvey — yesterday visited Taiwan and experienced the special sightseeing tour on the bus.
The double-decker dining coach adopted by E-go for the Taipei tour, dubbed Volvo B11R, is a premium coach and environmentally friendly. The highly fuel-efficient right-sized D11 engine helps to cut operational costs, while Volvo's high quality ensures superior functionality, passenger comfort and lifecycle productivity.
Comments will be moderated. Keep comments relevant to the article. Remarks containing abusive and obscene language, personal attacks of any kind or promotion will be removed and the user banned. Final decision will be at the discretion of the Taipei Times.