Mining loans in DR Congo to rise
Rawbank SARL forecast that its lending to the Democratic Republic of the Congo's (DR Congo) mining industry would rise more than 20 percent to more than US$1 billion this year, buoyed by rising demand and strong prices for the country's strategic minerals.
The bank's mining-linked loan book increased to US$820 million last year, nearly doubling its credit offerings from the year before, said Etienne Mabunda, commercial director at the Kinhsasa-based lender.
The figure includes credit to mining companies, subcontractors and salaried workers at large firms, he said.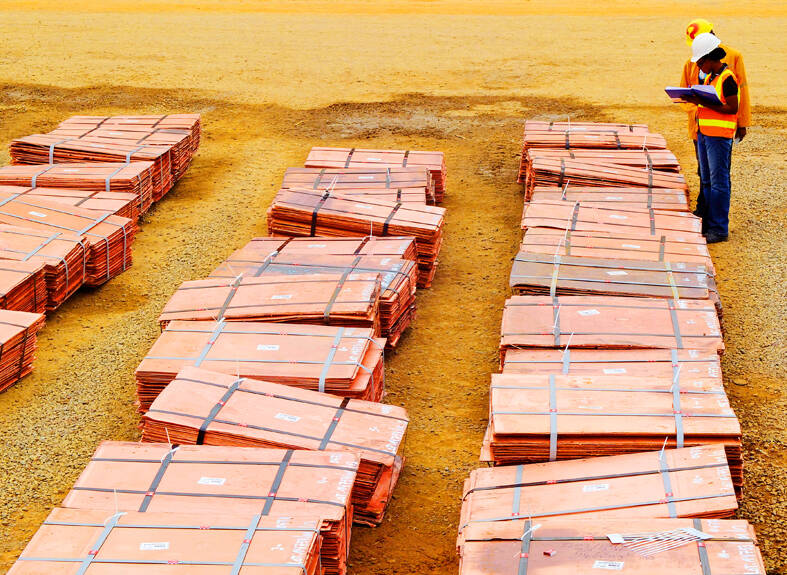 Workers check bundles of copper cathode sheets at a Tenke Fungurume Mining SA copper mine in the Democratic Republic of the Congo's Lualaba Province on Jan. 29, 2013.
Photo: Reuters
High mineral prices and a recent law requiring more Congolese to work as subcontractors in the industry led to "major investments" in the nation's copper, cobalt, gold, tantalum, tin and tungsten industries last year, Mabunda said on Thursday in a written response to questions.
The transition to greener energy has led to a scramble for minerals needed to manufacture electric vehicles, solar panels and turbines. The DR Congo provides more than two-thirds of the key battery-mineral cobalt and is one of the world's largest copper producers.
The government is also looking to develop chrome, nickel and lithium deposits, Congolese President Felix Tshisekedi said last week.
Ivanhoe Mines Ltd, CMOC Group Ltd and Eurasian Resources Group SARL are all expanding their operations in the DR Congo, while BHP Group and Anglo American PLC have considered entering the market, which has a risky reputation because of a history of rampant corruption.
"I think Central Africa is in its primacy in terms of its current ability to provide these metals and minerals we need," Anglo American CEO Duncan Wanblad said in an interview in Cape Town on Monday. "If policy works, then there's no reason why a company like us can't be looking in those sorts of places."
Gold for April delivery fell US$4 to US$1,874.50 an ounce, down 0.11 percent from the previous week.
In other commodities:
‧ Silver for March delivery fell US$0.06 to US$22.08 an ounce, dropping 1.47 percent for the week.
‧ March copper fell US$0.08 to US$4.02 a pound, down 0.99 percent weekly.
Additional reporting by staff writer, with AP
Comments will be moderated. Keep comments relevant to the article. Remarks containing abusive and obscene language, personal attacks of any kind or promotion will be removed and the user banned. Final decision will be at the discretion of the Taipei Times.