Record credit spending on accommodation forecast
Credit card spending on accommodation in Taiwan for the whole of last year is expected to hit a record high, due to consumers resuming travel after the government relaxed COVID-19 restrictions, National Credit Card Center data showed.
The data showed that credit card spending in the first eight months of last year gradually rebounded to levels prior to the COVID-19 pandemic.
The monthly average for credit card spending on local hotels was NT$6.75 billion (US$224.68 million) during the January-to-August period, higher than the NT$5.78 billion recorded in 2021, but slightly lower than the peak of NT$6.81 billion in 2019, the data showed.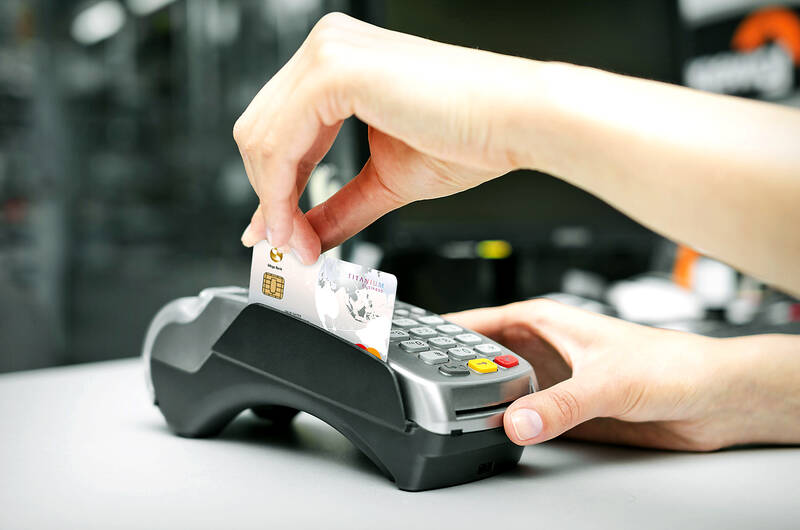 An employee swipes a credit card in Taipei in an undated photograph.
Photo: Lee Chin-hui, Taipei Times
Credit card spending recovered particularly well in July and August, surpassing NT$9 billion in each month, after being relatively low in the first half of last year, the center said in a report.
"Consumers refrained from traveling locally in the first half of last year, but began to get used to the situation from summer onward," the center said.
As Taiwan only reopened its borders in October last year, record credit card spending on local accommodation is forecast for last year, the center said.
Accommodation priced below NT$3,000 remained the most popular, making up 59.5 percent of all transactions and slightly lower than the 60.6 percent recorded in 2019.
Even though Taipei, with a market share of 30 percent, continued to rank first in terms of credit card spending, its accommodation sector took hit, as spending dropped 18 percent annually.
"Hotels in Taipei generally attract business travelers, whose needs were far less than regular travelers amid the pandemic," the center said.
Other areas such as Hualien and Taitung counties reported annual increases of more than 40 percent, it said.
Comments will be moderated. Keep comments relevant to the article. Remarks containing abusive and obscene language, personal attacks of any kind or promotion will be removed and the user banned. Final decision will be at the discretion of the Taipei Times.