Stock rally craze ignites debate on AI winners
Stock rallies tied to the latest market craze could be a good investment or could be caused by FOMO (fear of missing out).
That debate, which hits on the theme of several boom-to-bust cycles in some corners of the market, has been reignited after artificial intelligence (AI)-linked companies saw their shares pop as tech giants such as Microsoft Corp announced big investments in the industry.
The frenzy conjures memories of the crypto and cannabis crazes, and even the dotcom bubble in the late 1990s, where investors piled into stocks and asked questions later.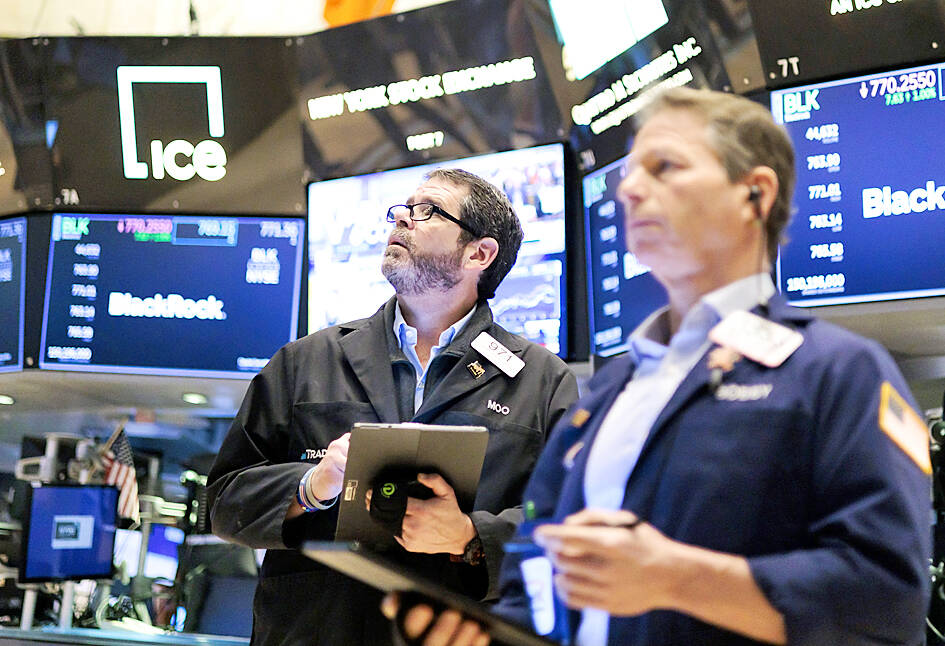 Traders work on the floor of the New York Stock Exchange on Thursday.
Photo: EPA
After Friday's close, some firms added about US$5.2 billion in market value despite announcements that look more like half-baked plans.
"It is total buyer-beware unless you know what you're doing and have proper risk management," Tuttle Capital Management LLC chief executive officer Matthew Tuttle said. "You can't just go in and buy any company that says they're in AI."
Generative AI, a label used to describe artificial intelligence technology that can create things such as art or text, and ChatGPT — the popular tool owned by OpenAI, in which Microsoft invested US$10 billion — have been mentioned in more than 165 earnings calls and news statements this year, more than the number of mentions in all of last year.
The citations come with good reason. The market for generative AI could be "exceedingly large," easily "in excess of a trillion [US] dollars," UBS Group AG analysts said.
The potential windfall is enticing investors, and underscores the fine line between trend-chasing companies hoping to make a quick return and those with goals to utilize a technological advancement to drive growth and earn billions.
BuzzFeed Inc, a struggling media company, soared 307 percent in a two-day frenzy last month on veiled plans to utilize AI.
After touting its AI plans in a statement, software company C3.ai Inc shares more than doubled this year with US$48 million in buying from retail traders, data from Vanda Research showed.
Meanwhile, semiconductor maker Nvidia Corp, which has been touted by Wall Street analysts as a beneficiary of greater investment in AI, posted its best month in almost six years, as its shares rallied 34 percent last month.
However, investors should proceed with caution as some companies are already starting to falter.
BuzzFeed shares have wiped out more than 40 percent of their value from an intraday high for the year last week, and video game software maker Versus Systems Inc is trading under US$1 per share after selling 2.5 million shares to capitalize on its rally.
Despite signs of speculative froth, AI has yet to reach the heights of the blockchain madness, when companies such as Long Island Iced Tea Corp rebranded itself Long Blockchain Corp to avoid delisting.
Tech heavyweights looking to use AI to grow revenue are likely the best places for investors to park their cash, Tuttle said.
There are lots of opportunities out there. Meta Platforms Inc chief executive officer Mark Zuckerberg said one of his main goals is to be a leader in generative AI.
During the company's earnings call last week, Alphabet Inc chief executive officer Sundar Pichai said Google was an AI-first company more than six years ago.
Meanwhile, Snap Inc chief executive officer Evan Spiegel said generative AI is a huge opportunity that they are "already investing a ton" in.
The return of market liquidity as speculative corners of the investing world soar is another signal that investors should exercise caution, Tuttle said.
Many of the riskiest corners of the stock market have rallied to start the year. Cathie Wood's ARK Innovation ETF is up 37 percent, and a basket of so-called meme stocks — a group completely detached from fundamentals — is 22 percent higher, while the world's largest cryptocurrency based on market value bitcoin is up about 40 percent.
"Financial conditions are loose and it's the perfect environment for anything new, and AI is the new kid on the block right now," Tuttle said. "If you know what you're doing, great, have at it. If you're a FOMO person, stay away until this gets a little more settled."
Comments will be moderated. Keep comments relevant to the article. Remarks containing abusive and obscene language, personal attacks of any kind or promotion will be removed and the user banned. Final decision will be at the discretion of the Taipei Times.