Pay of top bankers covering Asia cut up to 50 percent after deal drought
Top bankers in Asia ex-Japan at Wall Street's biggest firms are experiencing their worst payouts since the global financial crisis more than a decade ago, people familiar with the matter said.
On average, the total compensation of managing directors at banks including Goldman Sachs Group Inc, Morgan Stanley and Bank of America Corp has dropped by 40 to 50 percent, with payouts for senior managing directors falling to US$800,000 to US$1.5 million, and for first-year managing directors to US$600,000 to US$1 million, the people said, asking not to be named discussing internal matters.
Star bankers are experiencing milder cuts of 20 percent or less in their compensation after a bumper year in 2021, with a few still taking home about US$2 million. Compensation for nonperformers has fallen 60 to 70 percent, with many being left out all together from the bonus pool.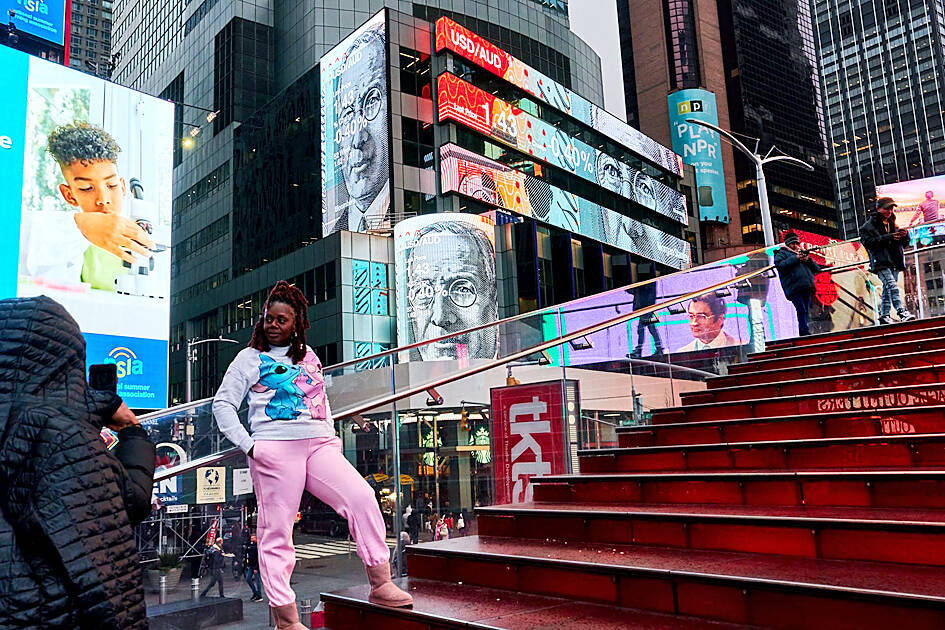 Tourists take photographs in front of Morgan Stanley's headquarters in New York's Times Square on Jan. 17.
Photo: Bloomberg
The figures reflect broad trends across major Wall Street firms in Asia, the people said.
Pay might differ for certain product groups and countries.
Global investment banks are pushing hard to keep a lid on costs after increasing their staffing over the past few years in a war for talent and higher inflation. While Asia has been their biggest growth markets for years, job cuts have proliferated and the tough bonus news is expected to help reduce headcount further.
Goldman plans to slash 3,200 jobs globally and has already made two rounds of reductions in Asia since September last year, firing mostly China-focused bankers. Morgan Stanley has also jettisoned bankers focused on China.
Business has been hard hit in China by a regulatory crackdown and the nation's now abandoned "zero COVID-19" policy. Most dire was a move by Beijing to limit the ability by domestic companies to sell shares overseas, triggering an 88 percent slump in those deals last year. Globally, investment-banking revenue declined about 50 percent last year at the largest lenders.
While some banks had sought to narrow the pay gap among bankers rather than cutting jobs as deals might bounce back in the second half of this year, there could be more rounds of cuts this year, one of the people said.
Managing directors were the hardest hit. Total compensation of directors fell about 30 percent to a range of US$400,000 to US$600,000, while vice presidents were less vulnerable with about a 10 to 15 percent decline from last year, the people said.
The drop is particularly prominent this year for Goldman, which handed out record payouts last year at 20 percent above the market, one of the people said.
Not everyone is seeing a big drop-off in pay. Country teams in Australia and South Korea and those in clean energy, merger and acquisitions have performed better, the people said.
Banks are also keen to retain new, top-performing staff in anticipation of a rebound in deals. Citigroup Inc, for example, is raising compensation for its junior investment bankers by as much as 15 percent.
Comments will be moderated. Keep comments relevant to the article. Remarks containing abusive and obscene language, personal attacks of any kind or promotion will be removed and the user banned. Final decision will be at the discretion of the Taipei Times.