Philippines to offer foreign tourists tax refund from 2024
Philippine President Ferdinand Marcos Jr has approved a value-added tax (VAT) refund program for foreign tourists by next year to attract more visitors, the Presidential Communications Office said yesterday.
The government collects a 12 percent VAT on goods consumed within the Southeast Asian country. The plan is to allow foreigners to receive a VAT refund on items they are taking out of the Philippines, similar to what many other countries offer.
The measure is among proposals a private sector advisory council presented to Marcos recently to boost the tourism industry, including improving airport infrastructure and operations, and promoting tourism investment, the office said in a statement.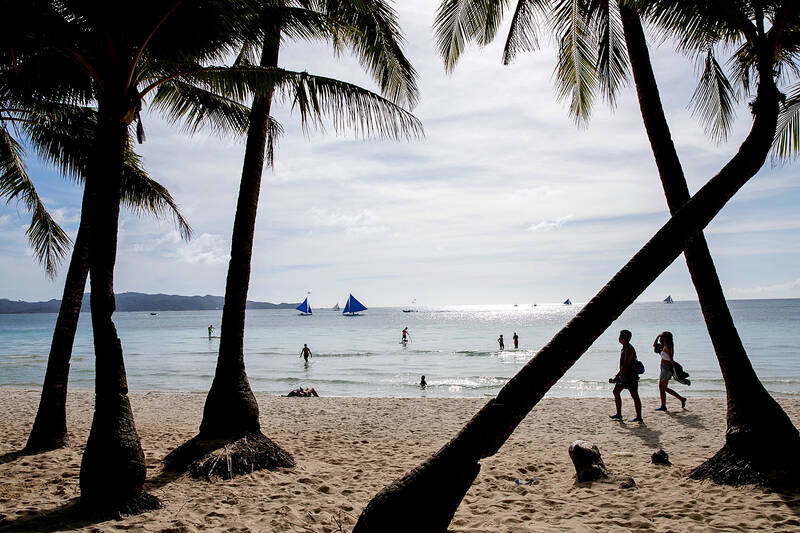 People walk along White Beach on Boracay Island, the Philippines, on Nov. 29, 2021.
Photo: Reuters
Marcos has also approved the launch of an online visa this year for Chinese, Indian, South Korean and Japanese tourists, it said.
He also gave the go-ahead for the removal of an entry requirement called the One Health Pass to simplify the arrival process for travelers, it added.
Marcos is to issue an executive order to implement the tax refund plan.
The Philippines recorded 2.65 million international visitors last year, bringing in an estimated US$3.68 billion in revenue and exceeding last year's target of 1.7 million tourists, the Philippine Department of Tourism said.
Last year's total comprised 2.02 million foreign nationals and 628,445 Filipinos based abroad, which compared with only 163,879 tourists recorded in 2021 and was still significantly lower than the pre-pandemic annual level of 8.26 million.
The government aims to boost visitor arrivals this year to 4.8 million tourists.
Comments will be moderated. Keep comments relevant to the article. Remarks containing abusive and obscene language, personal attacks of any kind or promotion will be removed and the user banned. Final decision will be at the discretion of the Taipei Times.