Yacht club bets big on marinas
'BLUE OCEAN HIGHWAY': The private cost of dredging is the main obstacle to having potentially thousands of new marine tourists make port calls, a marina operator said
A company executive is betting big on marina development in Taiwan, as the government aims to boost the number of dedicated recreational yacht berths to 1,600 from 1,138 by 2025.
Taiwan could make its dream of having thousands of sailboats and yachts make port calls in the country a reality by speeding up the construction of new marina berths, ARGO Yacht Club (亞果遊艇會) president Ho Yu-lin (侯佑霖) said.
ARGO operates three marinas, in Kaohsiung, Penghu County and Tainan's Anping District (安平).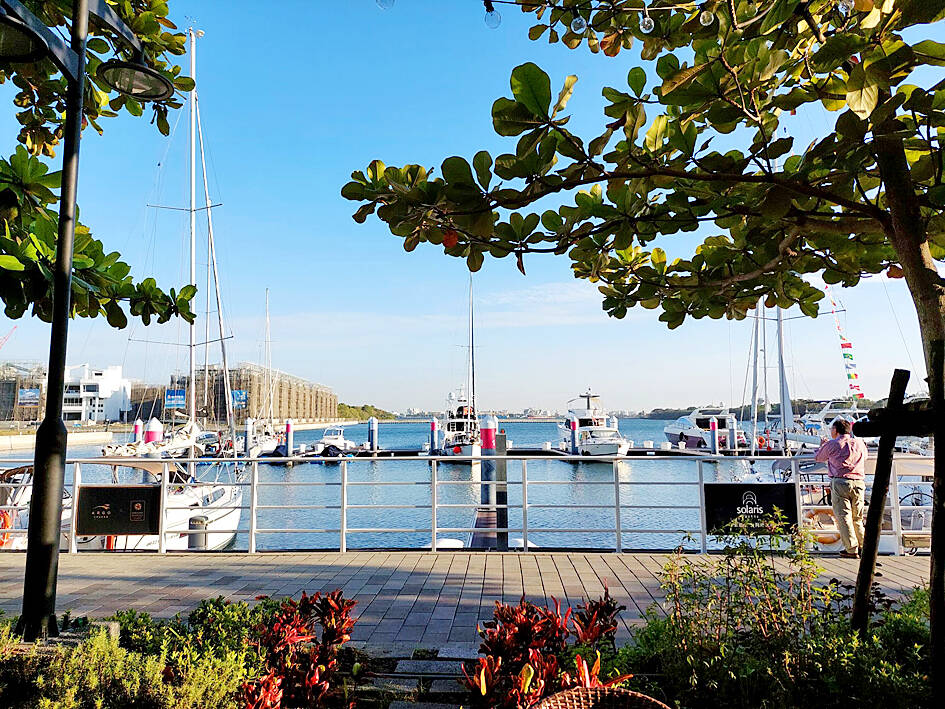 Yachts are docked at ARGO Yacht Club's pier in Tainan on Dec. 11 last year.
Photo: CNA
The 12-hectare Tainan Anping Yacht City is a members-only yacht club providing an array of amenities including restaurants and a hotel resort operated by Singapore's Banyan Tree Group (悅榕集團), according to the company.
The Anping club was developed after the company received rights in 2017, after which 62 berths were completed. ARGO plans to increase that number to 170 in an expansion project.
Although recreational berths can be found in fishing ports throughout Taiwan, only about 200 have electricity and water charging stations for yachts and sailboats, Ho said.
Regarding the government's "blue ocean highway" plans, Ho said that a major obstacle is the requirement for private marina operators to fund dredging work without government subsidies or loans.
Dredging consists of maintaining proper channel depth within a marina, and is essential for vessels such as yachts, ferries and private boats to navigate through the facility. Consistent dredging is necessary for safety and to keep a marina operating at maximum capacity throughout the year.
Ho is nevertheless optimistic about the potential of the blue ocean highway plan, and said that ARGO plans to expand its foothold in Taichung and Taipei.
Taiwan has many areas with adequate infrastructure for developing piers for yachts, he said.
More yacht berths that meet international standards would diversify the tourism industry and allow Taiwan better capacity to resupply boaters sailing between Northeast and Southeast Asia, Ho said.
Taiwan is pushing to expand its recreational boating sector, with plans to add six dedicated zones for yachts and sailboats, bringing the number to 24, and create about 460 berths to bring the total to 1,600, with a target date of 2025, the Maritime and Port Bureau said.
Comments will be moderated. Keep comments relevant to the article. Remarks containing abusive and obscene language, personal attacks of any kind or promotion will be removed and the user banned. Final decision will be at the discretion of the Taipei Times.