A start-up is turning porta potties into fertilizer sources
Vermont-based Wasted grew out of a nonprofit that seeks to tackle human waste along hiking paths, and expands its services to offer an environmentally friendly alternative to common fertilizers
For all its crap, the US is not doing much with it.
Wasted, a start-up based in Burlington, Vermont, is hoping to change that. The three-year-old company collects human waste from portable toilets and transports it to a processing center, where the excrement is treated through a nutrient recovery process to create fertilizer.
On Wednesday, Wasted announced US$7.5 million in seed-stage funding from investors that include Collaborative Fund, Divergent Capital, Day One Ventures, Third Sphere, Pure Ventures and Gratitude Railroad.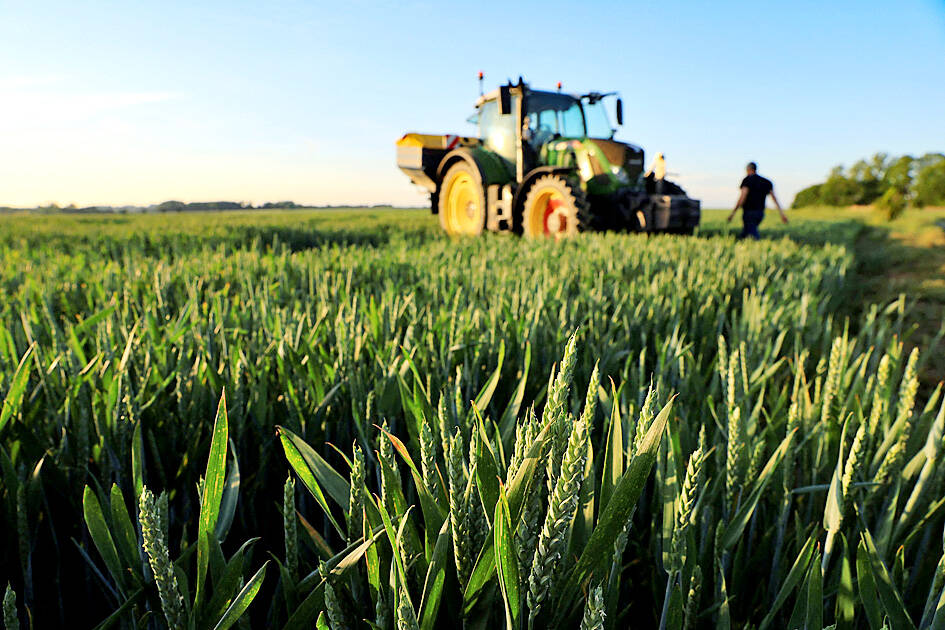 A farmer spreads nitrogen fertilizer on his wheat field in Inchy-en-Artois, France, on May 19 last year.
Photo: Reuters
The funding is to go to Wasted's first pilot program, involving 200 porta potties on construction sites in Burlington. Solid waste from the retrofitted toilets would be transported to a nearby facility in Williston to be processed into a nitrogen-rich fertilizer aimed at reducing the phosphorus run-off that creates algae bloom on Lake Champlain.
"What we're building through the porta potty industry is distributed, climate-resilient sanitation that can be deployed everywhere that it's needed," Wasted cofounder and CEO Brophy Tyree said.
Wasted's porta potties — which at US$200 cost about as much as the traditional version, according to Tyree — are part of what is known as "container-based sanitation." It is a catch-all term for toilet systems that collect human waste in containers, then transport the excreta for processing at treatment facilities.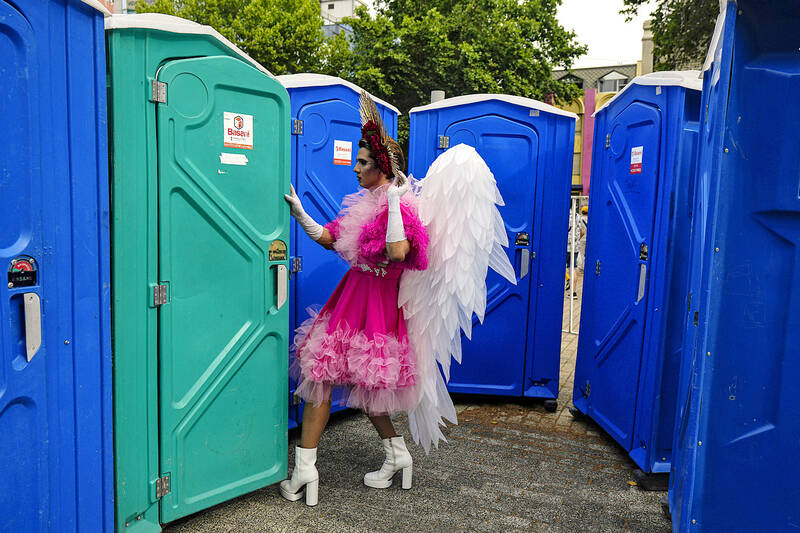 A person enters a portable toilet during the annual Pride parade in Santiago, Chile, on Nov. 19 last year.
Photo: AP
As a cost-effective solution in densely populated cities and countries with limited sewage infrastructure, turning waste into fertilizer is attracting the attention of start-ups in Europe, including Sweden's Sanitation 360 and France's Toopi Organics. Tyree's goal is to bring the idea to the US.
"We chose to do it here because it's not currently being done here," Tyree said. "We saw the opportunity to stand on the shoulders of giants who really pioneered it in other countries."
For locales with sewage systems in place, the draw of container-based sanitation is environmental. Such systems generally use less water, and converting human waste into fertilizer is particularly useful amid inflated fertilizer prices after Russia's invasion of Ukraine.
Another selling point is having a bathroom environment that smells better, Tyree said.
Cofounded in 2020 by Tyree, Taylor Zehren and Thor Retzlaff, Wasted grew out of a nonprofit called Do Good Shit, which the founding team launched in 2018 after noticing exorbitant amounts of human waste during mountaineering trips. Do Good Shit provides toilets and other sanitation facilities near popular outdoor destinations.
Wasted is starting with an equally narrow focus, but has big plans. The start-up is eyeing other venues with portable toilets — including camping sites, concerts and outdoor events — and looking to expand into a second city next year.
Wasted plans to tailor its fertilizer to local needs and has also filed a patent for a toilet that can parse liquids from solids, Tyree said.
First, though, Wasted must overcome the "ick factor."
While the company has many international examples to look to, Cornell University biologist Rebecca Nelson said it might struggle to introduce container-based sanitation to US consumers.
In that respect, the dearth of US competition could help. Cities such as Chicago and Tacoma, Washington, already have programs that produce fertilizer from sewage waste, but Wasted has few direct competitors in the container-based sanitation space.
"That's why it's an opportunity. There's a lot of value on the table," Nelson said. "It's straight up nutrient value."
Comments will be moderated. Keep comments relevant to the article. Remarks containing abusive and obscene language, personal attacks of any kind or promotion will be removed and the user banned. Final decision will be at the discretion of the Taipei Times.