Uber, Lyft in NY must meet new zero-emission targets
Uber and Lyft vehicles in New York City must meet zero-emission standards by 2030, New York officials said on Thursday, a decision that affects the 100,000 for-hire vehicles operating throughout the city.
New York Mayor Eric Adams announced the initiative as part of his "Working People's Agenda," a statement from the city said.
"Today, we are announcing that Uber and Lyft will be required to have a zero-emissions fleet by 2030. That's zero emissions for over 100,000 vehicles on our city streets," Adams was cited as saying in his second state of the city address.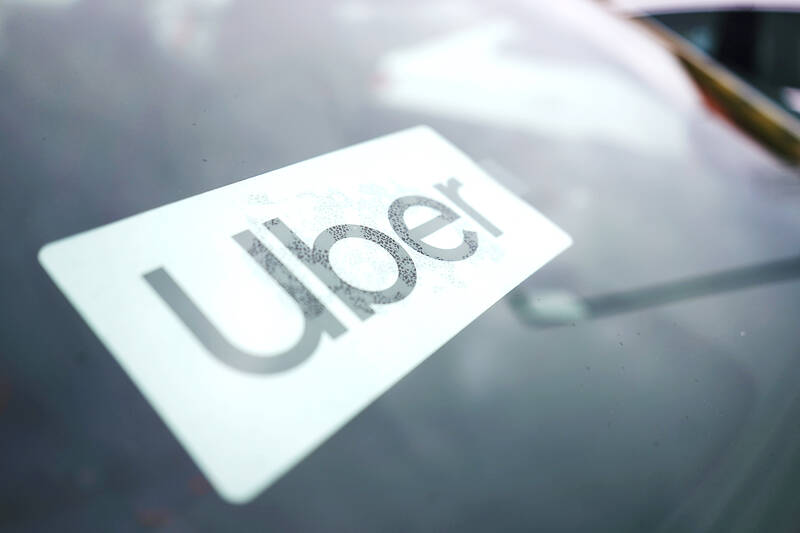 An Uber logo is displayed inside a vehicle in Palatine, Illinois, on Feb. 10 last year.
Photo: AP
Uber and Lyft support the transition, and that the shift comes at no additional cost to drivers, he added.
"We're also encouraging New Yorkers who drive to make the switch to electric vehicles (EVs) as well, adding charging stations in all five boroughs," Adams said.
Details about how the transition might happen without costing drivers more have not been released.
However, following the announcement, Uber and Lyft shared statements indicating support for the coming change.
"We are excited to partner with New York City on our journey," Lyft director of sustainability Paul Augustine in a statement.
Uber senior director of policy Josh Gold said that Uber approves of "the mayor's ambition for reducing emissions, an important goal we share."
Uber and Lyft had already announced their own goals for 100 percent EV fleets by 2030. Both companies have attempted to entice their drivers to trade in their vehicles using perks and incentives.
Uber is offering drivers who use an EV an extra US$1 earned for their ride, and partnered with car rental company Hertz to offer EV rental opportunities.
Lyft has offered similar promotions and promised to expand EV rental opportunities for drivers who are not able to purchase a new car.
However, only 1 percent of ride share drivers in New York use EVs as of September, Bloomberg reported.
Separately, New York City's crackdown on illegal short-term rentals, which could remove as many as 10,000 Airbnb listings later this year, is sparking fierce debates about housing, hotels, the tourist market and residents' rights.
New regulations are expected to hit New Yorkers who make extra income by renting out apartments on Airbnb and similar platforms, while potentially easing the burdens of high rents and apartment availability for city renters.
Hosts are decrying the tightening as an overreach by the city authorities, while advocates for tenants and communities are celebrating.
With the new regulations, the city is aiming to enforce laws around thousands of illegal short-term rentals across the city, said Christian Klossner, executive director of the city's office of special enforcement, which is to oversee the implementation of the law.
"Regular people have been lured onto the site where it is easy to advertise illegal occupancy without restraint," Klossner said.
Local Law 18, passed by New York City council last year, requires short-term rentals to be registered with the city.
Legal short-term rentals are any properties in which no more than two people are hosted, the host resides in the dwelling unit and where guests have access to all parts of the property, according to the city.
Under the crackdown, hosts need to prove that they reside in the rented properties, that the home is up to safety code and other requirements that amount to stronger enforcement of existing laws relating to multiple dwellings and permanent residencies.
Under new rules, hosts in contravention could be fined up to US$5,000.
Previously, the city handled complaints individually to address the issues they presented.
Comments will be moderated. Keep comments relevant to the article. Remarks containing abusive and obscene language, personal attacks of any kind or promotion will be removed and the user banned. Final decision will be at the discretion of the Taipei Times.