Lexus president Sato becomes Toyota CEO
EV CHALLENGE: The grandson of Toyota's founder is to become chairman in a surprise announcement, as the automaker takes a careful approach to the EV market
Toyota Motor Corp yesterday said that Akio Toyoda would step down as president and CEO, and hand over the helm of Japan's largest automaker at a time when the company faces the challenge of adapting to zero-carbon transportation.
Koji Sato, a 53-year-old who is also president of Toyota's luxury brand Lexus, is to become the new CEO, the company said.
Takeshi Uchiyamada is to step down as chairman, but will remain on the board.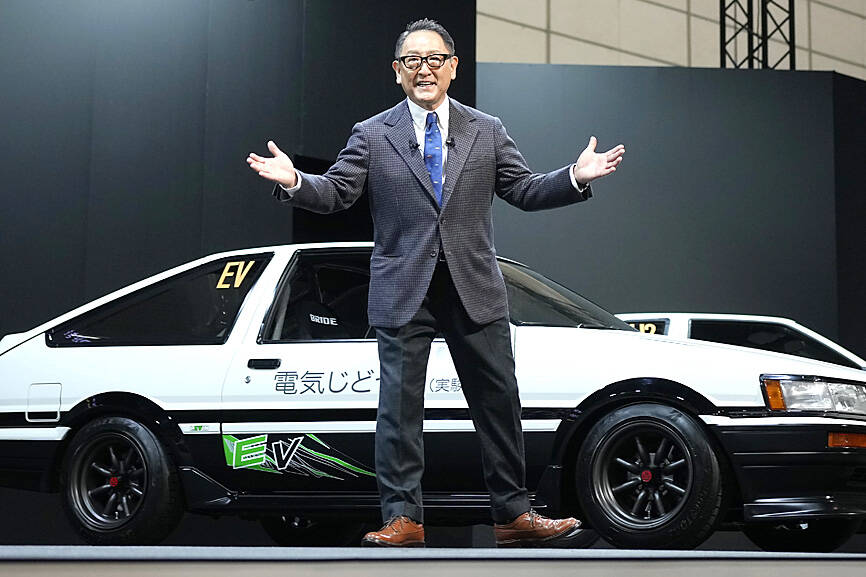 Toyota Motor Corp CEO Akio Toyoda speaks at the Tokyo Auto Salon in Chiba, Japan, on Jan. 13.
Photo: AP
Toyoda will become chairman in a series of changes that take effect on April 1.
The issue of who would take over from Toyoda, the 66-year-old grandson of the company's founder, had increasingly been a focus for investors. However, the timing of the succession announcement was a surprise.
Under Toyoda, the automaker has followed a go-slow approach to electric vehicles (EVs), arguing that the hybrid technology it pioneered with the Prius would remain important along with investments in hydrogen.
That approach has prompted criticism from investors and activists who once widely praised its technology and environmental record.
Toyoda said Sato's mission would be to transform Toyota into a "mobility company," but did not specify what that strategy would entail.
The succession announcement was broadcast on a Web cast through the automaker's Toyota Times channel.
Toyoda has pushed Toyota's in-house media channel after complaining that the automaker's message — including its strategy on hybrids — was not getting to the public.
Koji Endo, a senior analyst at SBI Securities, said the announcement of the leadership change was a "huge surprise" and Toyoda would likely remain deeply involved in operations from his position as chairman.
"The next few years could be just a kind of apprenticeship for Sato as the next president," he said.
During his more than a decade at the top, Toyoda presided over the automaker during a period of intense change in the auto industry and rising uncertainty about how legacy automakers such as Toyota can fend off the challenge from newer — and often nimbler — challengers such as Tesla.
Toyoda told a news conference that his term at the helm of Toyota started in 2009 with "crisis after crisis" — from the effects of a global recession to Toyota's own recall and safety crisis, to the disruption that followed the 2011 earthquake and tsunami in northern Japan.
When asked about succession planning at a shareholder meeting in June last year, Toyoda said he was "thinking about timing and the selection of a successor."
Yesterday, he said that Sato was chosen, because he "worked hard to learn Toyota's philosophy".
"The CEO needs youth, energy, strength."
Sato started his career at Toyota in 1992, before rising through the ranks to become chief engineer of Lexus International, a luxury auto brand of Toyota, in 2016, his profile on the Toyota Web site says.
He has held positions as the president of Lexus International and Gazoo Racing Co, Toyota's motorsport brand, since 2020. He also took on an executive role at Toyota and became its chief branding officer in January 2021.
Comments will be moderated. Keep comments relevant to the article. Remarks containing abusive and obscene language, personal attacks of any kind or promotion will be removed and the user banned. Final decision will be at the discretion of the Taipei Times.