Thailand raises interest rate by 25 basis points
Thailand yesterday increased its benchmark interest rate by 25 basis points for a fourth straight meeting to ward off inflation as the economy gathers momentum from a rebound in tourism.
The Bank of Thailand's (BOT) monetary policy committee voted unanimously to raise the one-day repurchase rate to 1.50 percent, as forecast by 19 of 20 economists in a Bloomberg survey, with one predicting no change.
Thai policymakers, who have lagged peers in the current tightening cycle, sustained their "gradual and measured" rate action amid price gains that remain elevated and might be stoked by the influx of travelers from China after the country's reopening.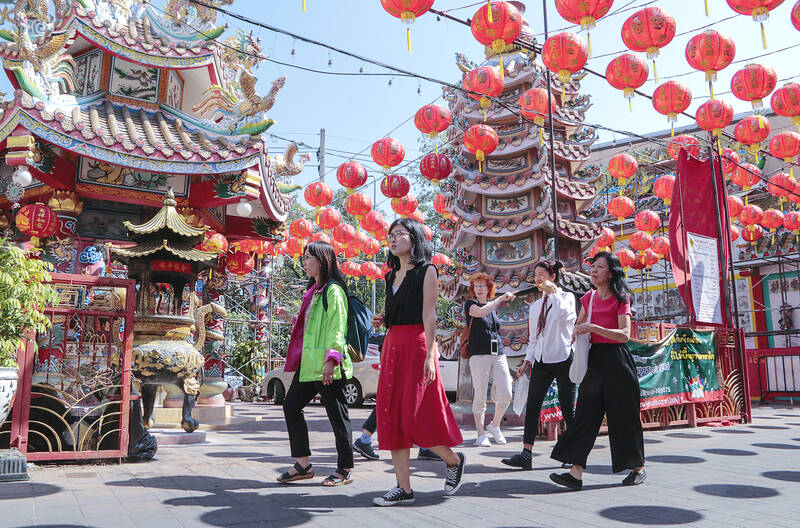 Chinese tourists visit Pung Tao Gong Temple in Chiang Mai, Thailand, on Monday.
Photo: AP
While Thailand's headline inflation is off the peak, the core gauge remains the fastest since 2008.
The baht being near a 10-month high is helping damp imported prices, but the rally is hurting the competitiveness of exporters.
A group of Thai shippers on Tuesday asked the central bank to delay further rate increases and prioritize stabilizing the currency.
Southeast Asia's second-largest economy welcomed 11.2 million foreign tourists last year, the most since the beginning of the COVID-19 pandemic.
The Thai government expects the number to more than double this year to 25 million, especially after China's reopening.
About 28 percent of Thailand's 40 million annual visitors before the pandemic were from China. Tourism typically accounts for at least 12 percent of the economy and one-fifth of jobs, while private consumption, which also benefits from travelers spending, makes up 50 percent of GDP.
The "Land of Smiles" received 11.2 million overseas travelers last year, surpassing the government's 10 million estimate.
China's approval for tour groups to travel to some countries, including Thailand, starting next month is expected to be another boost.
Weakening exports, which make up more than half of Thailand's output, are the dark clouds that loom in the horizon.
Overseas shipments fell 14.6 percent last month, a third straight month of contraction.
"Economic momentum remains strong and the outlook firm, providing scope for the BOT to continue paring monetary stimulus," Bloomberg ASEAN economist Tamara Mast Henderson said. "Headline inflation should steadily slow due to more favorable base effects for fuel and food prices. Even so, at 5.9 percent in December, it remains well above the BOT's 1 percent to 3 percent target, threatening to dislodge inflation expectations."
Analysts from Goldman Sachs Group and Australia & New Zealand Banking Group (ANZ) believe that the central bank might make a few more hikes.
The BOT would increase in quarter-point increments until the rate reaches 2.5 percent by the third quarter of this year, Goldman said.
"We see scope for four 25 basis point rate hikes this year, which will take the terminal policy rate to 2.25 percent," ANZ economist Krystal Tan (譚恩) said.
Comments will be moderated. Keep comments relevant to the article. Remarks containing abusive and obscene language, personal attacks of any kind or promotion will be removed and the user banned. Final decision will be at the discretion of the Taipei Times.