Ford to cut jobs in Europe, with focus on Germany: union
Ford Motor Co plans to cut about 3,200 jobs across Europe, following workforce reductions in the US as the automaker slashes costs in a shift toward electric vehicles (EVs).
A majority of the affected positions are concentrated in Germany, affecting roles in product development and administrative areas, the IG Metall union said on Monday after an extraordinary works council meeting at the carmaker's factory in Cologne. The cuts would affect roughly 65 percent of development jobs in Europe.
Development activities in Germany are set to be relocated to the US, according to an IG Metall statement.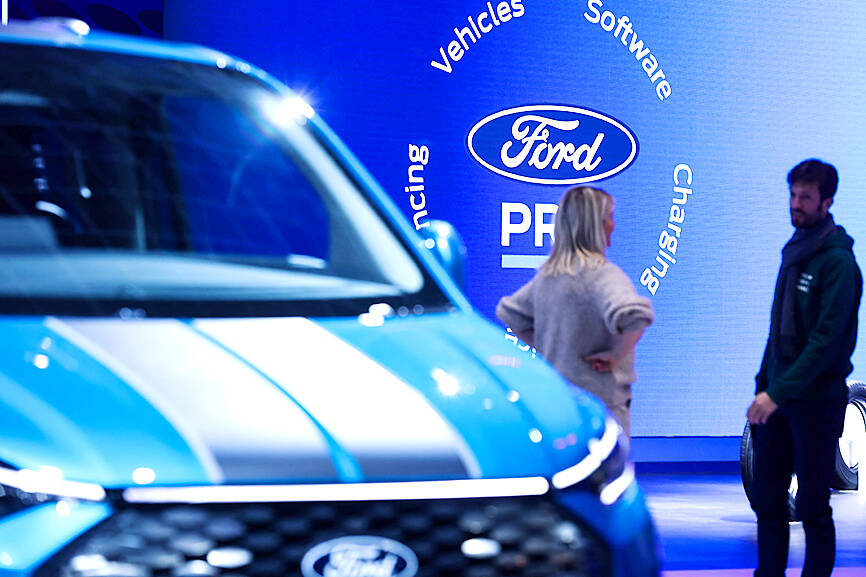 A man and a woman visit the Ford Motor Co stand during the Brussels Motor Show in Belgium on Jan. 13.
Photo: AFP
The European cutbacks come after Ford already eliminated 3,000 jobs primarily in the US in the second half of last year. Ford chief executive officer Jim Farley is targeting US$3 billion in cuts as he seeks to boost profits from traditional internal combustion engine models to help finance the US$50 billion he is pouring into developing electric vehicles.
Ford declined to confirm the cuts in Europe with a spokesman saying that "no decisions have been made."
The US carmaker has been revamping its European presence, after struggling to maintain market share for its lineup of passenger cars amid disappointing returns. Its local commercial-vehicle making arm has been a bright spot.
Ford employs about 4,600 people at the Saarlouis plant in Germany, where the company will cease making the Focus model by 2025, with no plans to produce any other cars there after that. The company is seeking alternatives for the site, while sticking with a US$2 billion planned EV investment at its key European production site in Cologne, where Ford has about 14,000 workers.
Comments will be moderated. Keep comments relevant to the article. Remarks containing abusive and obscene language, personal attacks of any kind or promotion will be removed and the user banned. Final decision will be at the discretion of the Taipei Times.