Bank funding for renewables stagnates: report
The share of bank finance going to renewable energy rather than fossil fuels has changed little in six years, raising questions about how fast lenders are pushing energy clients to become greener, according to research published yesterday.
Since 2016 renewable energy has taken 7 percent of US$2.5 trillion in bank loans and bond underwriting for energy activities, according to a report commissioned by environmental groups including Sierra Club and Fair Finance International.
The total annual sum banks have facilitated into renewable energy rose to a high of US$34.6 billion in 2021, from US$23.2 billion in 2016, but the amount going to fossil fuels increased too, keeping renewables' share broadly the same.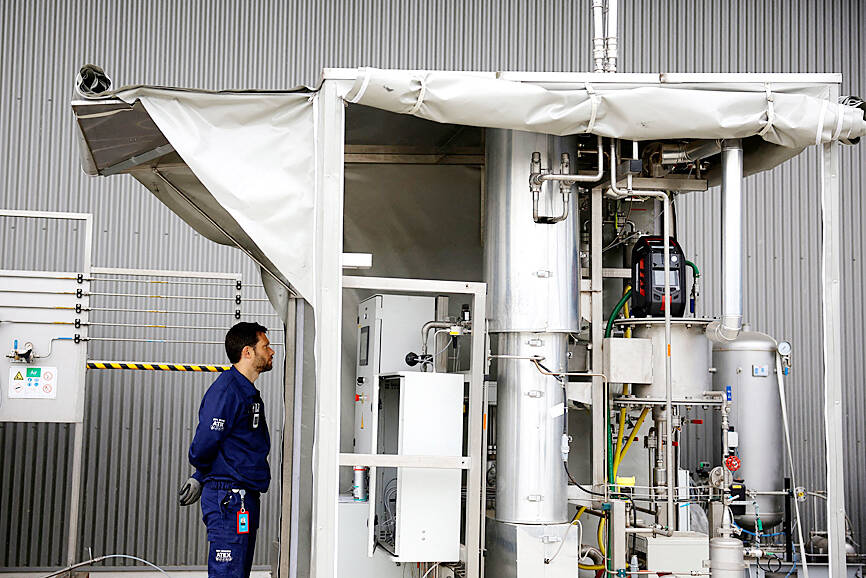 An employee looks at a methanation reactor during the inauguration of the H2 Factory, a research and innovation platform serving the development of renewable hydrogen, at ENGIE's new green gas and energy transition technology research center in Stains near Paris on Nov. 3 last year.
Photo: Reuters
Last year the share of renewable energy in funding was 8 percent while in 2021 and 2020 it stood at 10 percent and 7 percent respectively.
"Banks' financing to fossil fuels should be phasing out as financing to renewables increases drastically to have any chance of reaching the world's — and their own — climate goals," said Ward Warmerdam, researcher at Profundo, which compiled the data.
Lenders say they must finance fossil fuels given global energy needs, but that they are helping firms transition to low-carbon future.
Renewable companies often tap private and government finance too, they added.
"This report does not provide a comprehensive view of clean energy investment," said a spokesperson for The Glasgow Financial Alliance for Net Zero, a major grouping of financial institutions
The spokesperson pointed to analysis from the International Energy Agency which suggested that between 2021 and last year around 48 percent of total energy investment went to low-carbon energy supply.
JPMorgan Chase & Co, Citigroup Inc and Barclays PLC's renewable energy share was 2 percent between 2016 and last year and the Royal Bank of Canada's 1 percent, the report said. Citi declined to comment. JPMorgan, Barclays and RBC did not respond to requests for comment.
The research covered 60 of the world's biggest lenders and 377 energy firms. It excluded biomass, nuclear and carbon capture and storage from its renewable energy definition.
Comments will be moderated. Keep comments relevant to the article. Remarks containing abusive and obscene language, personal attacks of any kind or promotion will be removed and the user banned. Final decision will be at the discretion of the Taipei Times.