JPMorgan expects more Thai IPOs and takeovers
GOOD OMENS: IPOs will benefit from the stronger baht and a heightened profile for the country as a rebound in international travel accelerates, JPMorgan predicted
Thailand's currency rally will help reverse a slump in its market for initial public offerings (IPOs) and provide firepower for overseas acquisitions by Thai companies, according to JPMorgan Chase & Co.
IPOs will benefit from prospects of the strong baht and a heightened profile for the country as a rebound in international travel accelerates, JPMorgan country head for Thailand Marco Sucharitkul said.
The currency has strengthened by about 12 percent versus the US dollar over the past six months, with a more than 5 percent jump this month alone, making it the best performer in Asia during those periods.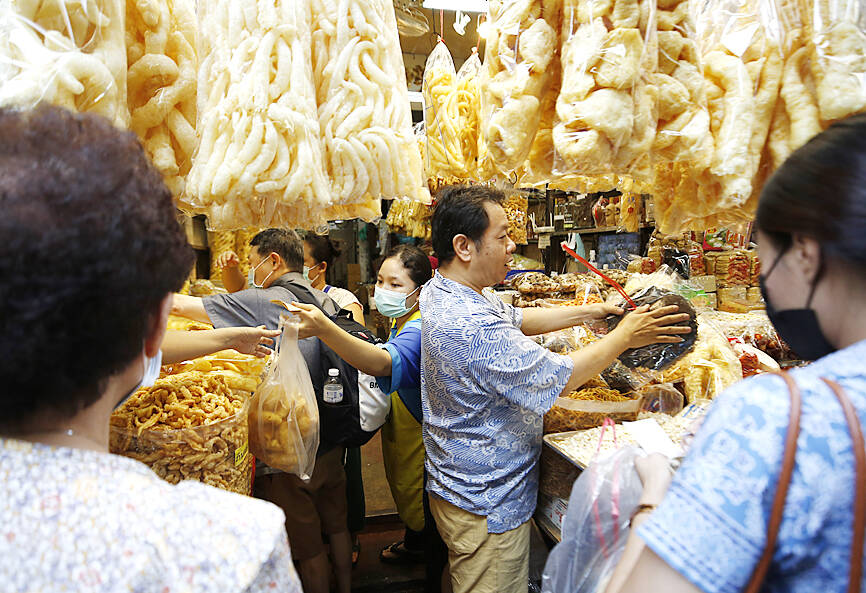 People buy food at a market in Bangkok's Chinatown on Friday last week. The University of the Thai Chamber of Commerce on Jan. 19 predicted Thailand's economy would expand by 3.6 percent this year, showing signs of economic recovery after consumer spending during the Lunar New Year period rose 13.6 percent, a three-year high.
Photo: EPA-EFE
An early litmus test for the IPO market will be a share sale by SCG Chemicals PCL, which is planning IPO of as much as US$3 billion — a record for Thailand. Parent firm Siam Cement PCL delayed the sale in October last year, citing risks to the global economy, energy market volatility, high inflation and China's lockdown situation.
"With the baht getting stronger, that changes views on the market; we believe that foreign interest is coming back," Marco said in an interview. "At the same time, Asian corporates — including Thai companies — are looking to expand overseas and a strong Thai baht will be favorable for local firms with global ambitions."
Among positive signs is the benchmark SET Index this month touching its highest level since April last year, with global funds sending a net US$590 million so far into Thai stocks — adding to a record US$5.96 billion of inflows last year, according to data compiled by Bloomberg. Also, the government said on Monday that 11.2 million foreign tourists arrived last year, beating the target of 10 million, and the tourism authority expects about 25 million this year.
About US$4.1 billion was raised through Thailand IPOs last year, a drop of 0.5 percent from the previous year. Still, the contraction would have been worse, had there not been supportive demand from local investors.
"If you look at the IPOs in Thailand that managed to take off last year, 70 percent to 80 percent were taken up by local funds," Marco said. "Foreign demand was low as the US dollar was strong compared with the currencies in the APAC region."
Still, the baht's recent rally is unnerving Thai exporters, manufacturers and some companies that complain the currency's rapid gain is eroding their competitiveness and the nation's economic recovery, according to local trade groups. The Thai National Shippers' Council said in a statement yesterday that the central bank should delay raising interest rates and stabilize the currency to help exporters.
The currency traded at about 32.727 per US dollar as of 2:27pm in Bangkok, compared with an average exchange rate of 35.06 per US dollar last year. The country's exports last month dropped 14.6 percent from a year earlier, more than economists expected, the Thai Ministry of Commerce said yesterday.
The baht's performance will prompt Thai firms to renew their efforts to invest abroad, with the pandemic having quashed most plans, Marco said.
There were few overseas acquisitions of any note by Thai companies last year, according to Marco. In 2021, PTT Global Chemical PCL purchased Allnex Holding GmbH, a European specialty chemicals maker, for 4 billion euros (US$4.35 billion), while Central Group and its partners bought Selfridges & Co for £4 billion (US$4.96 billion) in one of the biggest UK retail deals in years.
Comments will be moderated. Keep comments relevant to the article. Remarks containing abusive and obscene language, personal attacks of any kind or promotion will be removed and the user banned. Final decision will be at the discretion of the Taipei Times.