New suppliers race to plug into electric car market
The global auto industry has committed US$1.2 trillion to developing electric vehicles (EVs), providing a golden opportunity for new suppliers to grab contracts providing everything from battery packs to motors and inverters.
Start-ups specializing in batteries and coatings to protect EV parts, and suppliers traditionally focused on niche motorsports or Formula One (F1) racing, have been chasing EV contracts. As the next generation of EVs is due to hit around 2025, many carmakers have sought help plugging gaps in their expertise, providing a window of opportunity for new suppliers.
"We've gone back to the days of Henry Ford where everyone is asking 'how do you make these things work properly?'" said Nick Fry, CEO of F1 engineering and technology firm McLaren Applied Ltd. "That's a huge opportunity for companies like us."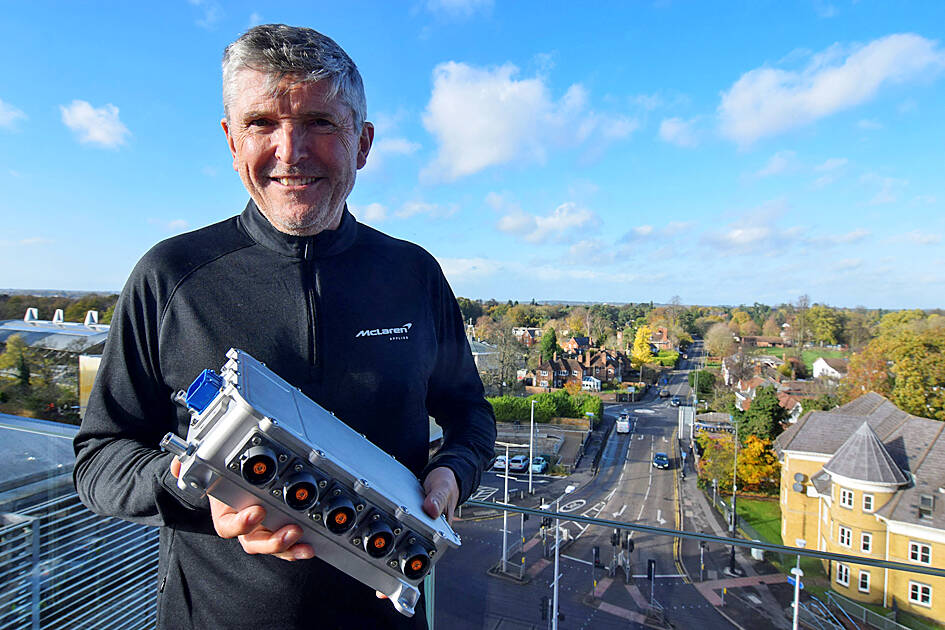 McLaren Applied chief executive Nick Fry on Nov. 23, 2022 in Woking, England, holds the IPG5 inverter the firm has developed for luxury carmakers and which is expected to start appearing in premium electric vehicles in 2025.
Photo: Reuters
McLaren Applied has adapted an efficient inverter developed for F1 racing for EVs. An inverter helps control the flow of electricity to and from the battery pack.
The silicon carbide IPG5 inverter weighs just 5.5kg and can extend an EV's range by over 7 percent.
Fry says McLaren Applied is working with around 20 carmakers and suppliers, and the inverter will appear in high-volume luxury EV models starting in January 2025.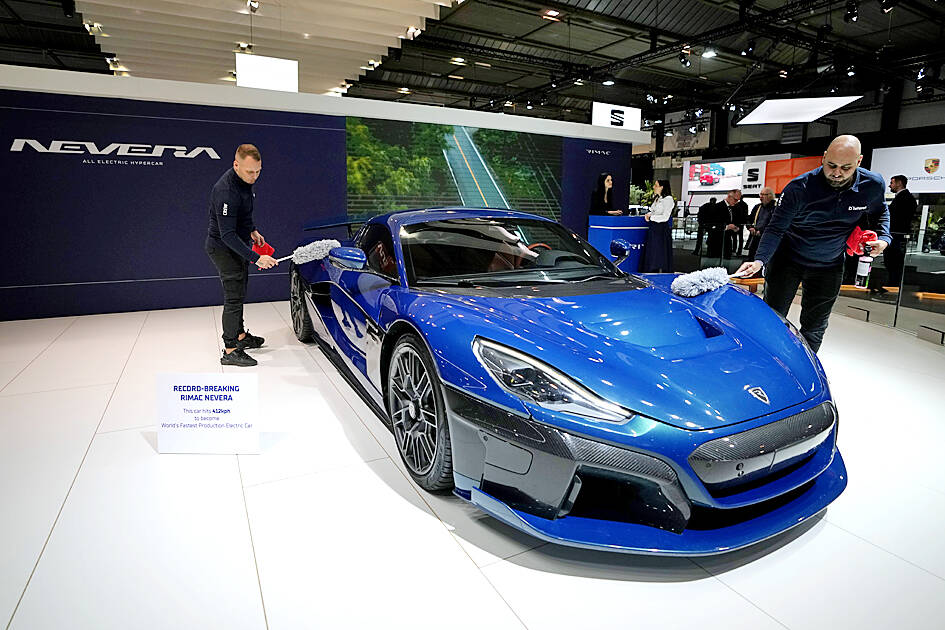 Attendants polish the new Rimac Nevera as it makes its Belgian premiere during the media opening of the Brussels Motor Show on Jan. 13.
Photo: AP
Mass-market carmakers often prefer to develop EV components in-house and own the technology themselves. After years of pandemic-related parts shortages, they are wary of over-reliance on suppliers.
"We just can't afford to be reliant on third parties making those investments for us," said Tim Slatter, head of Ford Motor Co in Britain.
Traditional suppliers, such as German heavyweights Robert Bosch GmbH and Continental AG, are also investing heavily in EVs and other technologies to stay ahead in a fast-changing industry.
However, smaller companies say there are still opportunities, particularly with low-volume manufacturers that cannot afford huge EV investments, or luxury and high-performance carmakers seeking an edge.
Croatia's Rimac Automobili, an electric hypercar maker part-owned by Germany's Porsche AG that also supplies battery systems and powertrain components to other automakers, says an undisclosed German carmaker will use a Rimac battery system in a high-performance model — with annual production of around 40,000 units — starting this year, with more signed up.
"We need to be 20 percent, 30 percent better than what they can do and then they work with us," CEO Mate Rimac said. "If they can make a 100 kilowatt-hour battery pack, we must make a 130 kilowatt pack in the same dimensions for the same cost."
Some suppliers like Cambridge, Massachusetts-based Actnano Inc have had long relationships with EV pioneer Tesla Inc. Actnano has developed a coating that protects EV parts from condensation and its business has spread to advanced driver-assistance systems (ADAS), as well as other carmakers including Volvo Cars Group AB, Ford, BMW AG and Porsche.
California-based start-up CelLink Corp has developed an entirely automated, flat and easy-to-install "flex harness," instead of a wire harness to group and guide cables in a vehicle.
CelLink CEO Kevin Coakley would not identify customers, but said CelLink's harnesses had been installed in around 1 million EVs. Only Tesla has that scale.
Coakley said CelLink was working with US and European carmakers, and with a European battery maker on battery wiring.
Others are focused on low-volume manufacturers, like UK start-up Ionetic, which develops battery packs that would be too expensive for smaller companies to make themselves.
"Currently it costs just too much to electrify, which is why you see some manufacturers delaying their electrification launch," Ionetic CEO James Eaton said.
Since 1971, Swindon Powertrain Ltd has developed powerful motorsports engines, but it has now also developed battery packs, electric powertrains and e-axles, and is working with around 20 customers, including carmakers and an electric vertical take-off and landing aircraft maker.
"I realized if we don't embrace this, we're going to end up working for museums," Swindon Powertrain managing director Raphael Caille said.
Comments will be moderated. Keep comments relevant to the article. Remarks containing abusive and obscene language, personal attacks of any kind or promotion will be removed and the user banned. Final decision will be at the discretion of the Taipei Times.