Won rally might be over as data flag headwinds
The South Korean won's near 17 percent rally since late October last year may be reaching its final stages as signs of a weaker economic outlook contrast with optimism over other emerging-market peers.
Falling demand for semiconductors is set to weigh on exports at a time when alarm bells are sounding about South Korea losing a global chip war.
The focus is to be on fourth-quarter growth data due on Thursday after the Bank of Korea governor suggested last week that economic concerns are surfacing, raising speculation the tightening cycle is winding down.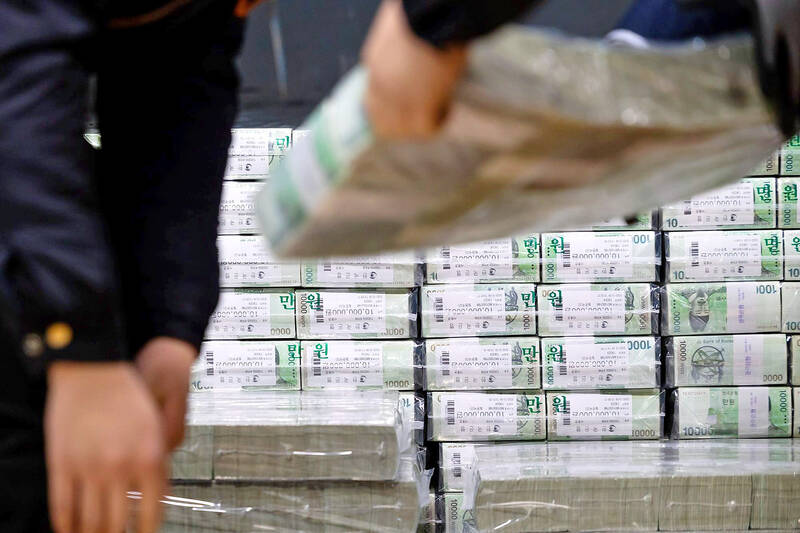 Workers move bundles of South Korean 10,000 won banknotes at the Bank of Korea office building in Seoul on Jan. 16.
Photo: Bloomberg
Along with other headwinds such as the current account deficit and technical factors, this does not leave much scope for the won to gain and primes investors for a potential shift to other currencies such as the Thai baht. The South Korean currency was the best performer in Asia in the fourth quarter of last year.
While the currency might benefit from the Chinese economy picking up, sluggish exports are expected to drag on the won, ING Bank NV economist Min Joo Kang said.
"For the near term, probably appreciation elements will drive a stronger USD/KRW," she added.
In addition, Min expects South Korea to post a current-account gap this quarter, putting more pressure on the won.
ING sees the won ending the quarter at 1,230 versus the US dollar, compared with 1,235.55 on Friday.
The won has strengthened, along with emerging-market peers, from late October on signs the US Federal Reserve may be nearing its terminal rate with inflation slowing.
Rising equity inflows amid improving risk sentiment aided by China's re-opening also helped.
However, South Korea is struggling with a property-market downturn, and other positives for the won may be fading as Bank of Korea seems to have either reached, or be nearing the end of its rate hike cycle.
"There is room for more won strength during the remainder of the first quarter, but given how fast the currency has gained recently, the scope of the rally won't be too big," said SK Securities Co economist An Young-jin, who sees USD/KRW at 1,220 at the end of March.
Comments will be moderated. Keep comments relevant to the article. Remarks containing abusive and obscene language, personal attacks of any kind or promotion will be removed and the user banned. Final decision will be at the discretion of the Taipei Times.