Far EasTone eyes a 5G penetration rate of 40 percent
With 5G services entering their third year, Far EasTone Telecommunications Co (遠傳電信) is aiming to boost its 5G subscriber penetration rate to 40 percent this year from more than 30 percent last year.
It would be reasonable to see an increase of 10 percentage points this year, Far EasTone president Chee Ching (井琪) said on Wednesday.
Benefiting from an expansion of its 5G subscriber base, the company's net profit and revenue would grow this year more than last year, Ching said, adding that more 5G subscriptions would constitute one of the key drivers of the growth.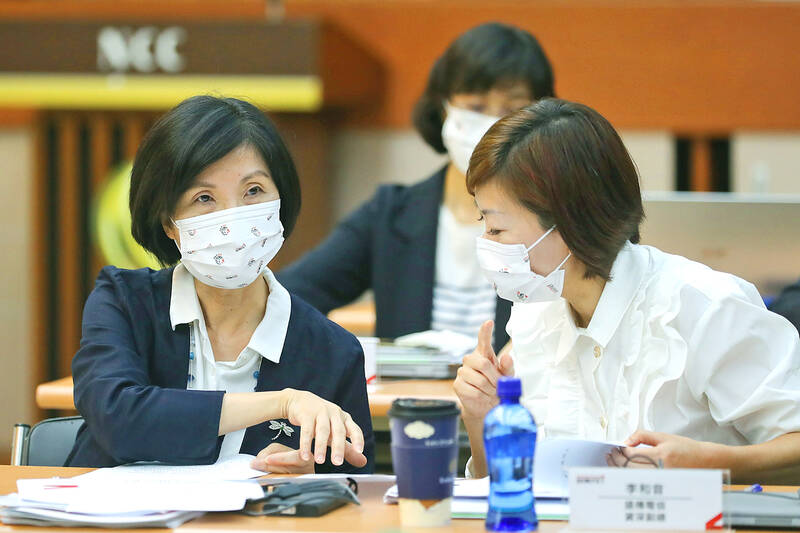 Far EasTone Telecommunications Co president Chee Ching, left, attends a public hearing about the company's plan to acquire Asia Pacific Telecom Co on Sept. 30 last year in Taipei.
Photo: CNA
Far EasTone has posted a 20 percent increase in average revenue per user (ARPU) from 5G subscribers' renewals in terms of monthly fees, it said.
The telecom saw its ARPU climb to NT$724 (US$24) from post-paid mobile users in the third quarter of last year, from NT$719 in the second quarter and NT$708 in the third quarter of 2021.
As telecom services have become an integral part of people's life, Far EasTone's business would be less affected by the downturn in the economy, compared with consumer electronics companies, Ching said.
"People may cut spending on nonessential items when paychecks shrink, but it is unlikely that they would cancel their telecom services," she said.
Far EasTone expects capital spending to be lower than last year's NT$11.1 billion as investment on 5G deployment has peaked, Ching said.
The company also expects revenue from its "new economy" businesses, or nontraditional telecom services, including cloud-based services, 5G private networks and e-commerce services, to rise to 20 percent of total revenue this year, from 19 percent in the first three quarters of last year.
Asked about Far EasTone's planned acquisition of Asia Pacific Telecom Co (亞太電信), Ching said she expected the merger to take effect in the third quarter at the earliest.
The acquisition is still under review by the National Communications Commission and is subject to the approval of the Fair Trade Commission.
Far EasTone expects the deal to generate synergies within a year.
Comments will be moderated. Keep comments relevant to the article. Remarks containing abusive and obscene language, personal attacks of any kind or promotion will be removed and the user banned. Final decision will be at the discretion of the Taipei Times.