DBS cuts GDP forecast to 2.3 percent
LEEWAY FOR ACTION: Taiwan's resilient performance during the pandemic would enable the government to increase spending, the Singapore-based bank said
DBS Bank Ltd (星展銀行) on Wednesday cut its forecast for Taiwan's economic growth for next year to 2.3 percent, after in April estimating 3 percent GDP growth, citing downside factors such as a global trade slowdown and a decrease in private investment.
The bank said in a report that it reduced the predictions for Taiwan's goods exports growth and private investment next year to 1.4 percent and 1.7 percent respectively, compared with 1.9 percent and 3 percent in its April forecast, adding that Taiwan is vulnerable to trade recessions.
Private investment would decelerate amid a global economic slowdown, the bank said.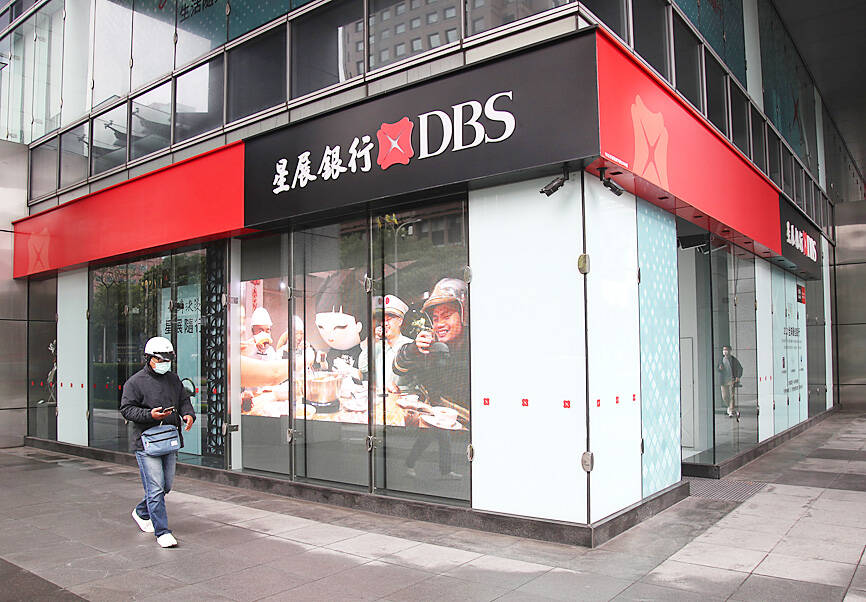 People walk past a DBS Bank Taiwan branch in Taipei on Jan. 28.
Photo: CNA
"However, [improving] demand after border reopenings, flexible macroeconomic policies and structural tailwinds are expected to provide some buffer," Singapore-based DBS economist Ma Tieying (馬鐵英) said in the report.
The bank raised its forecast for private consumption to 2.7 percent, from 2.4 percent forecast in April, saying that spending would likely benefit from border reopenings as the COVID-19 pandemic subsides, Ma said.
"Reopening should be an important growth driver [for the Taiwanese economy] in 2023," Ma said.
Taiwan earlier this month raised a cap on the number of foreign visitors to 200,000, aiming at a maximum of 10 million foreign visitors a year, almost on par with pre-pandemic levels, Ma said.
Considering that Chinese tourists might not return soon, the bank assumes a 70 percent recovery in visitor arrivals, which would generate services export revenues of NT$10 billion (US$325,63 million), equivalent to 1.3 percent of Taiwan's GDP, Ma said.
Service sectors, such as transportation, accommodation, food catering, recreation and entertainment, could benefit the most, she added.
DBS Bank expects government spending and public investment to pick up next year, as Taiwan is to adopt an expansionary fiscal policy, the report said.
There is adequate leeway for the government to implement such a policy to counter the risk of a growth slowdown, as its debt-to-GDP ratio as of last year remained low and stable at 26 percent, thanks to successful COVID-19 management and resilient economic performance in the past three years, Ma said.
Overall, GDP growth next year is expected to slow to 2.3 percent, which would be close to the growth rates during the European debt crisis in the early 2010s, but better than the contraction after the dot-com crash in 2001, and the global financial crisis in 2008 and 2009, she said.
DBS said inflation would rise at a slower rate of 1.8 percent next year, allowing the central bank to pause monetary tightening after its meeting in March, Ma said.
The benchmark discount rate could stay at 1.875 percent after the meeting, she added.
However, geopolitics and tensions across the Taiwan Strait would likely remain the key risks next year, DBS said, adding that China's large-scale military exercises around Taiwan in August forced many shipping companies and airlines to divert their routes, resulting in a temporary increase in freight costs.
Comments will be moderated. Keep comments relevant to the article. Remarks containing abusive and obscene language, personal attacks of any kind or promotion will be removed and the user banned. Final decision will be at the discretion of the Taipei Times.