Production value of Taiwan semiconductor sector to grow 6.1%: ITRI
'COMPETITIVE EDGE': The local semiconductor sector would continue to outstrip the global industry, whose revenue is expected to contract 3.6 percent, ITRI said
The production value of Taiwan's semiconductor industry would expand 6.1 percent annually to about NT$5 trillion (US$161.5 billion) next year, as demand for advanced chips used in high-performance-computing and artificial intelligence devices are less prone to mounting inflation and external uncertainties, the Industrial Technology Research Institute (ITRI, 工研院) said yesterday.
That means the local semiconductor sector would continue to outstrip the global semiconductor industry, whose output is expected to contract 3.6 percent annually to US$596 billion next year, Gartner Inc has said.
However, ITRI's latest forecast represents a downgrade from its previous projection of 10 percent growth, as demand for PCs, tablets and smartphones started to wane in the second quarter of this year, leading to excess chip inventory.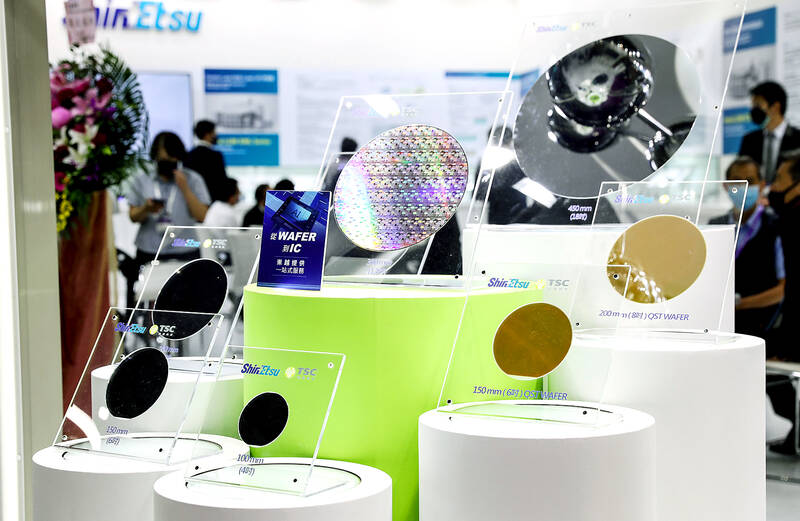 Wafer samples are displayed at Semicon Taiwan in Taipei on Sept. 15.
Photo: I-Hwa Cheng, AFP
The foundry segment is expected to grow 31.7 percent annually to about NT$2.56 trillion next year, providing the main catalyst for the local semiconductor industry and offsetting an expected decline of 21.5 percent in the memorychip segment, ITRI said.
The chip design segment would be another growth driver, with production value expected to grow 5.1 percent annually to NT$1.3 trillion, fueled mainly by rising demand for 5G, Internet-of-Things, and high-performance computing devices as well as low-orbit satellites, ITRI analyst Nancy Liu (劉美君) said.
A recovery in smartphone demand in the second half of next year could further boost overall growth in chip designers, she said.
"Taiwan has a strong competitive edge, given its quality workforce and the cluster effect from supply chains," Liu said.
"It is not easy for other countries to duplicate Taiwan's success in the semiconductor industry, although some are trying to build local chip manufacturing," she said.
South Korea's Samsung Electronics Co has taken the lead in the technology race by ramping up production of 3-nanometer chips, the most advanced currently available, six months ahead of Taiwan Semiconductor Manufacturing Co (TSMC, 台積電), Liu said.
However, TSMC is securing more orders, she said.
The company's 3-nanometer chip has entered mass production this quarter, she added.
Taiwan has built strong chip manufacturing output capabilities and the issue now is how to fend off competition from the other countries, former ITRI president Shih Chin-tay (史欽泰) said.
Taiwan can maintain its strength in the next three to five years, Shih said.
Asked by a reporter whether TSMC's capacity expansion in the US and Japan would lead to brain-drain, as the chipmaker has sent 300 engineers to its Arizona fab, Shih said the government should devise a long-term industry policy to enhance talent cultivation and invest in developing related applications that require advanced chips.
It is not enough to offer tax incentives as stipulated by a draft bill, Shih said.
Separately, Taiwan's manufacturing output is expected to grow 3.24 percent annually to NT$26.32 trillion next year, slowing from last year's 4.76 percent expansion, ITRI said.
The output of information technology sector, the pillar of the local manufacturing sector, is expected to grow 3.38 percent annually to NT$10.59 trillion, also slowing from last year's 8.58 percent growth.
The researcher attributed the smaller figure to macroeconomic uncertainties, geopolitical tensions and inventory digestion.
Comments will be moderated. Keep comments relevant to the article. Remarks containing abusive and obscene language, personal attacks of any kind or promotion will be removed and the user banned. Final decision will be at the discretion of the Taipei Times.