Fewer holidays this month to hit domestic retail
Sales at domestic retailers are expected to fall due to fewer holidays this month after sales rose 7.7 percent month-on-month last month, the Ministry of Economic Affairs said on Wednesday.
Retail sales grew to NT$380.7 billion (US$12.32 billion) last month, from NT$352.4 billion in September, the ministry's data showed.
The ministry attributed last month's sales growth to department stores, as well as clothing and apparel retailers, where sales rose 47.2 percent and 19.8 percent monthly respectively, due to recovering consumer traffic and department stores' anniversary sale campaigns.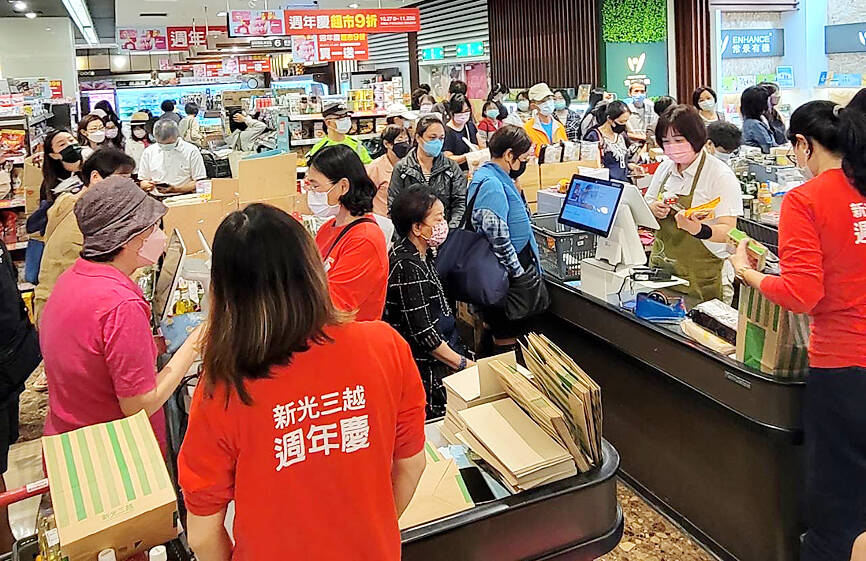 Shoppers line up at supermarket checkouts in the Shin Kong Mitsukoshi Department Store in Taipei's Tianmu District on Oct. 27, the first day of the store's annual anniversary sale.
Photo courtesy of Shin Kong Mitsukoshi Department Store
Another driving force was sales of household goods and appliances, which increased 19.4 percent month-on-month on the back of special sales promotions, it said.
Sales of automobiles, motorcycles, auto parts and auto accessories decreased 1.5 percent monthly last month, while hypermarkets, and suppliers of cosmetics and pharmaceuticals posted declines of 2.4 percent and 4.7 percent respectively, the data showed.
On an annual basis, domestic retailers' sales rose 2.1 percent last month, moderated from an increase of 7.8 percent in the previous month, the ministry said.
The annual growth rate is likely to be flat this month as the recovering consumption momentum might be offset by a relatively high comparison based from November last year when the government used Quintuple Stimulus Vouchers to encourage domestic consumption, it said.
In the first 10 months of the year, retail sales increased 7.9 percent year-on-year to NT$3.49 trillion, the highest for the same period on record, the ministry said.
Retail sales this month are expected to decrease 1 to 2 percent annually to between NT$373.4 billion and NT$384.9 billion, it said.
Food and beverage sales are expected to continue growing this month, as the number of people eating out increases and demand for catering and banquet services grows steadily as the COVID-19 situation in Taiwan stabilizes, the ministry said.
Sales expanded 6.7 percent month-on-month and 13.8 percent year-on-year to NT$76.9 billion last month, it said.
The ministry's data showed that restaurant sales increased 13.5 percent and beverage outlets reported an 11.7 percent sales advance from a year earlier, while catering service providers benefited from relaxed border controls, which led to a 27.2 percent increase in sales last month.
In the first 10 months of the year, food and beverage sales grew 20.3 percent annually to NT$702.5 billion, also the highest for the period, the data showed.
Sales in the food and beverage sector are expected to grow 13.3 to 16.3 percent to about NT$76 billion to NT$78 billion this month, the ministry said.
However, the ministry expects growth momentum in the wholesale sector to weaken further this month, as inventory adjustments at companies and weakening end-market demand could weigh on sales of new electronic devices and emerging technologies.
Sales in the sector last month increased 4.3 percent to NT$1.06 trillion on an annual basis, marking the 24th consecutive month of expansion. In the first 10 months, sales increased 6.9 percent to NT$10.65 trillion, the data showed.
Comments will be moderated. Keep comments relevant to the article. Remarks containing abusive and obscene language, personal attacks of any kind or promotion will be removed and the user banned. Final decision will be at the discretion of the Taipei Times.