Industrial production index falls 3.56%
SEMICONDUCTOR WOES: Chipmakers have adjusted capacity utilization, the Ministry of Economic Affairs said, raising concerns about the sector's prospects for next year
The nation's industrial production index last month shrank 3.56 percent from a year earlier, after last month falling 4.8 percent, as surging inflation and tightening monetary policy dampened consumer electronics demand, the Ministry of Economic Affairs said yesterday.
The manufacturing production index, a major contributor to industrial production, last month contracted 3.4 percent from a year earlier and is expected to extend its downward trend at an annual rate of 5.9 to 8.8 percent this month, or a monthly rate of 0.7 to 3.7 percent, the ministry told a news conference in Taipei.
However, the ministry still predicts the nation's manufacturing sector to register annual growth for the whole of this year, it said.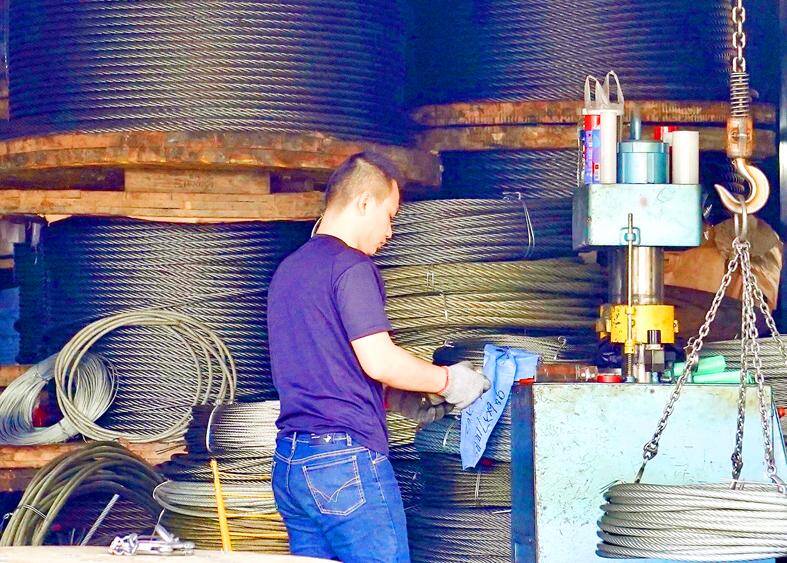 A man operates equipment at an electrical wire and cable factory in Kaohsiung's Yancheng District on July 25.
Photo: CNA
"There is a slim chance for the manufacturing sector to dip into negative territory for the full year," Department of Statistics Deputy Director-General Huang Wei-jie (黃偉傑) said. "The manufacturing production index should still gain about 1.6 percent, or 1.9 percent year-on-year in the first 11 months of this year, factoring in our estimates for this month," Huang said.
Unless the manufacturing production index tumbles more than 10 percent year-on-year next month, an annual fall rarely observed, the index would stay above last year's figure, he said.
However, the ministry does not hold an upbeat outlook for the sector for the first half of next year, saying that the semiconductor industry seems to be losing steam as the dedicated subindex posted two monthly declines in a row.
Being a major part of the local manufacturing sector, chipmakers usually help buoy slumps in other sectors, especially the traditional industries, the ministry said, adding that global economic uncertainties would continue to weigh on the traditional industries.
"We are more concerned about the outlook for next year because of the weaker semiconductor sector. Some semiconductor companies told us that they have adjusted capacity utilization to cope with slumping demand for chips used in smartphones and other devices," Huang said.
"The manufacturing sector is likely to face headwinds in the first half of next year before the industry's inventory correction period ends. We will be closely monitoring the development in the next two months," he said.
The electronic component subindex last year rose 2.09 percent year-on-year, but was down 0.98 percent monthly. The semiconductors production subindex expanded 14.28 percent year-on-year due to robust demand for 12-inch wafers, but dropped 1.45 percent on a monthly basis.
The flat-panel display segment posted the deepest slump with an annual rate of 53.64 percent, but it rebounded 2.47 percent from a month earlier, snapping six months of declines.
Flat-panel display makers have seen new orders trickling in, thanks to robust demand to build up inventory ahead of the year-end holiday shopping season, Christmas, and the FIFA World Cup, the ministry said.
The production of computers and optical components expanded 13.53 percent year-on-year on the back of robust demand for cloud-based servers, networking devices and computer-related components.
Comments will be moderated. Keep comments relevant to the article. Remarks containing abusive and obscene language, personal attacks of any kind or promotion will be removed and the user banned. Final decision will be at the discretion of the Taipei Times.