Presale projects take the lion's share in the north
New housing projects in the first 10 months of this year totaled more than NT$980 billion (US$31.44 billion) in northern Taiwan, with presale projects accounting for 85.5 percent, unfazed by legislative efforts to ban their resale, My Housing Monthly (住展雜誌) reported.
Increasing building material prices and labor shortages have prompted developers to slow construction on housing projects and delay their entry to the market, which would further widen the gap, the Chinese-language magazine said.
"Presale projects continue to dominate the new housing market one year after the introduction of bills to ban resale of presale contracts," magazine research manager Chen Tsai-chi (成采錡) said.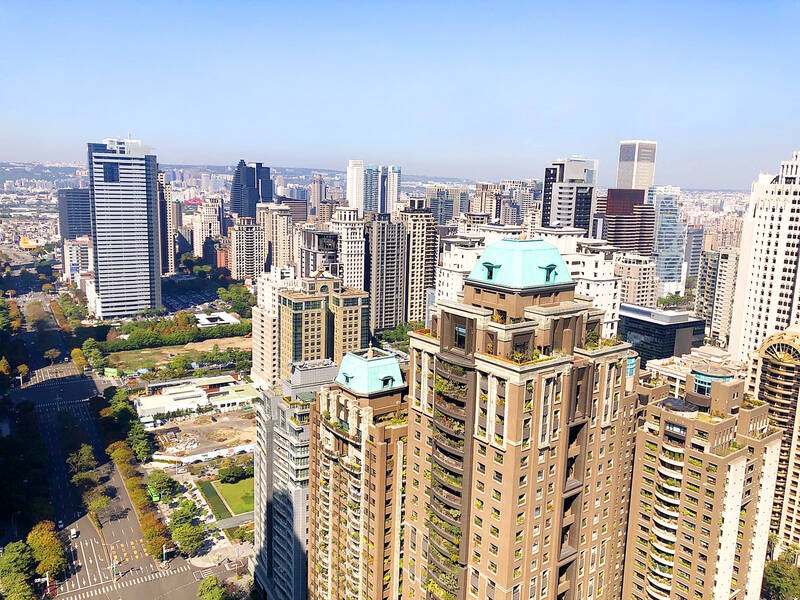 Residential and commercial buildings in Taipei are pictured on Jan. 25.
Photo: Hsu Yi-ping, Taipei Times
The bills are intended to cool the property market, as housing prices have soared throughout Taiwan in the past two years on the back of an economic boom and firms shifting manufacturing facilities home from China amid US-China trade tensions, Chen said.
However, the legislature has not made any progress on the bills and might not pursue the efforts in the coming months as an economic slowdown and monetary tightening dampen buying interest, Chen said.
As of last month, presale projects in northern Taiwan totaled NT$844.5 billion, leaving newly completed houses a small share of 14.5 percent, or NT$143 billion, the magazine said.
The Hsinchu area has the lowest ratio of newly completed houses, at 3 percent, or NT$4.17 billion versus presale projects at NT$140 billion, as strong demand amid limited supply left buyers no choice but to target presale projects, it said.
Developers have aggressively launched presale projects in Hsinchu to meet fast-growing demand from cash-flush technology engineers, it added.
Newly completed houses account for 10.8 percent of the market in Taoyuan, which has a total volume of NT$285.1 billion, it said.
In Taipei, presale projects totaled NT$205.3 billion in the first 10 months, while newly completed houses rose 6.2 percentage points to NT$44.24 billion, or a 21.5 percent market share, due to the release of a luxury residential complex in Zhongzheng District (中正), it said.
Newly completed houses totaled NT$57.4 billion, or 17.9 percent of the NT$320 billion new housing market in New Taipei City, it said, adding that the ratio fell 3.4 percentage points from a year earlier.
Newly completed houses shed 11 percentage points to 16.8 percent in Yilan County, while dropping 9.1 percentage points to 18.1 percent in Keelung, it said.
The difference between presale projects and newly completed houses is expected to grow, as developers and builders postpone construction to cope with rising costs, a practice that would shrink the pool of newly completed houses, Chen said.
Comments will be moderated. Keep comments relevant to the article. Remarks containing abusive and obscene language, personal attacks of any kind or promotion will be removed and the user banned. Final decision will be at the discretion of the Taipei Times.