ASML announces plans for New Taipei City plant
'CORRECT DIRECTION': ASML said that it would keep investing globally, including in Taiwan, to prepare to support customers and semiconductor industry growth
Netherlands-based ASML Holding NV, a leading global supplier of chipmaking machinery, on Wednesday announced plans for a factory in New Taipei City to support international customers and the development of the semiconductor industry.
ASML's announcement came after President Tsai Ing-wen (蔡英文) praised the company's commitment to continuously investing in Taiwan at a meeting on Tuesday with its chief operations officer, Frederic Schneider-Maunoury.
ASML continues to invest globally and in Taiwan to prepare for the company's continued growth, and to support global customers and the development of the semiconductor industry, the company said in an e-mail reply to Taiwanese media.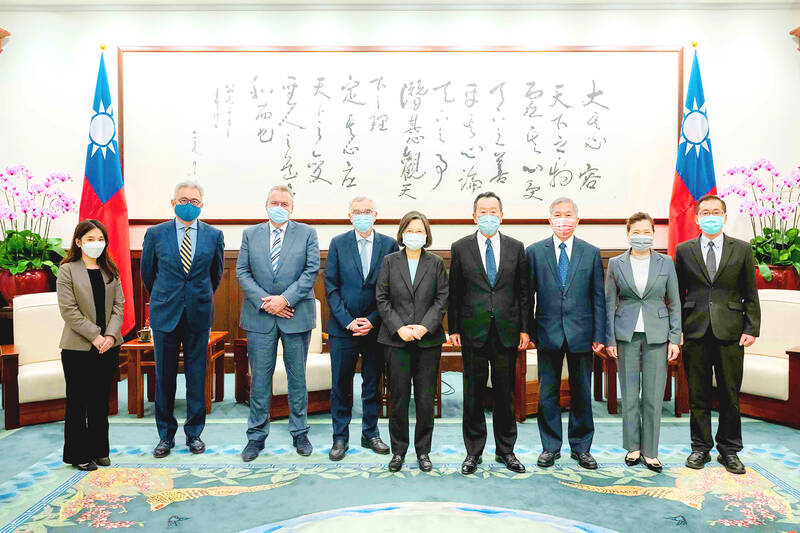 President Tsai Ing-wen, center, ASML Holding NV chief operations officer Frederic Schneider-Maunoury, fourth left, National Security Council Secretary-General Wellington Koo, fourth right, and other government officials and ASML representatives pose for a photograph at the Presidential Office in Taipei on Tuesday.
Photo courtesy of the Presidential Office via CNA
Vice Premier Shen Jong-chin (沈榮津), who was at Tuesday's meeting, said that ASML should begin construction on the New Taipei City project in July next year.
ASML is the world's sole supplier of extreme ultraviolet lithography (EUV) photolithography machines used by semiconductor manufacturers to produce cutting-edge chips.
It has become one of the foremost wafer-foundry equipment suppliers to Taiwanese manufacturers, including Taiwan Semiconductor Manufacturing Co (台積電), the world's largest contract chipmaker.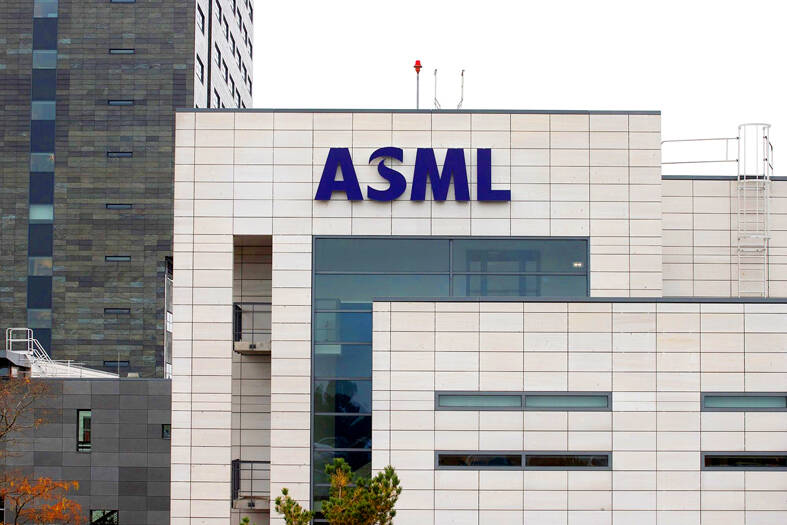 The ASML Holding NV global headquarters in Veldhoven, Netherlands, on Friday, Oct. 14, 2022. Veldhoven, a tidy small town in the Netherlands's industrial heartland, has a zoo, a climbing park and, more recently, a brewing controversy over plans by ASML Holding NV to expand its headquarters.
Photographer: Peter Boer/Bloomberg
At Tuesday's meeting, Tsai told Schneider-Maunoury that investing in Taiwan was "a very correct direction" and that the government would continue to provide support, a press release issued by the Presidential Office said.
ASML has five factories in Taiwan employing more than 4,500 people and plans to increase its investments in the country, the release said.
The company in 2020 launched a global EUV training center for engineers at the Southern Taiwan Science Park (南部科學園區) in Tainan.
ASML's new project next year would be its biggest investment in Taiwan yet, and the continued cooperation between the company and Taiwan will enhance each other's semiconductor capabilities, Tsai said in a social media post later on Tuesday.
Tsai said she was grateful that ASML had taken concrete actions to invest at a time when the world is focusing on Taiwan.
"I believe this would dispel the over-hyped risk of investing in Taiwan," she said.
The company's teams are based in Hsinchu City, New Taipei City's Linkou District (林口), Taichung and Tainan, with its first office dating to 2003, ASML's Web site says.
ASML is aggressively expanding its presence in Asia to enhance collaborations with its largest customers, aiming for significant growth opportunities.
On Wednesday, the company held a groundbreaking ceremony of its new semiconductor cluster in South Korea, home to the world's two biggest memorychip makers: Samsung Electronics Co and SK Hynix Inc, Yonhap news agency reported.
ASML is building a US$181 million chip cluster in Hwaseong, about 40km south of Seoul, which would include a local repair center, training center, research and development center for parts, and education and experience center, the report said.
The construction is expected to be completed by the end of 2024, it said.
South Korea accounted for 33.4 percent of ASML's total sales last year, up from 29.7 percent the previous year, company data showed.
Comments will be moderated. Keep comments relevant to the article. Remarks containing abusive and obscene language, personal attacks of any kind or promotion will be removed and the user banned. Final decision will be at the discretion of the Taipei Times.