E Ink projects mild sales growth in 2023
UNCERTAINTY: Expanding sales of electronic shelf labels in the US should boost revenue, but e-reader and e-note demand is under pressure, the e-display maker said
E Ink Holdings Inc (元太科技), the world's sole e-paper display supplier, yesterday said that revenue would grow by a single-digit percentage sequentially this quarter, thanks to retailers' demand for electronic shelf labels (ESL), but concerns over a recession would affect consumer demand for e-readers and e-notes.
Next quarter would see a seasonal slowdown, with revenue contracting on a quarterly basis, but expanding annually, E Ink chairman Johnson Lee (李政昊) told investors at an online conference yesterday.
"We are conservative about overall market demand next year, but we believe there is still a chance to grow," Lee said. "ESL would be the segment that outshines others."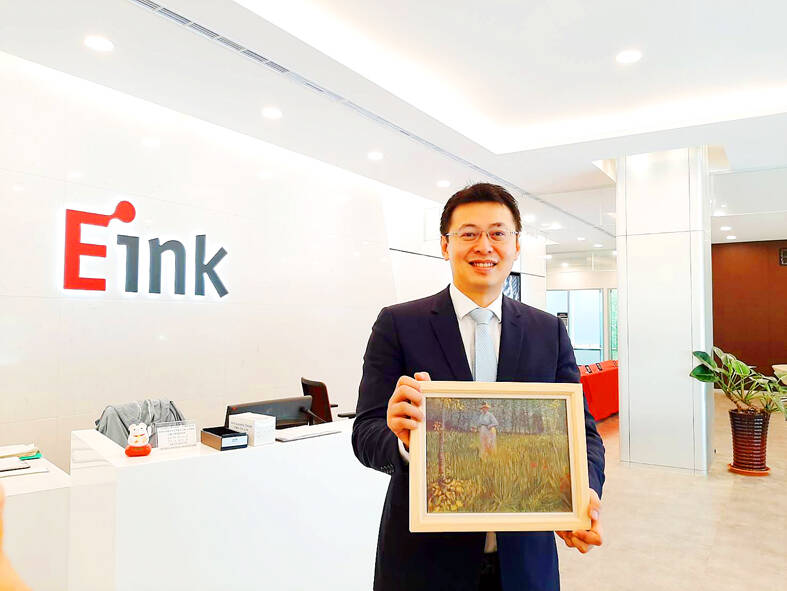 E Ink Holdings Inc chairman Johnson Lee holds a product of the company at its office in Hsinchu County on June 18, 2020.
Photo: Chen Mei-ying, Taipei Times
E Ink is optimistic about US retailers' uptake of ESLs next year, which should benefit the company and its partners in the e-paper display ecosystem, Lee said.
The US' ESL market is 10 times larger than that of the European market, Lee added.
"Retailers are facing challenges amid a high-inflation era as they have to adjust prices within a very short period. At this point, it is not easy to find entry-level workers when the economy reopens," Lee said. "We have received ESL orders, but the uncertainty is whether they would install ESLs ahead of schedule, or delay it."
The company said it would keep a watchful eye on changes in the e-reader and e-note market, as demand could sag if there is a recession next year, Lee said.
On the other hand, demand could swing up following the introduction of e-readers and e-notes with color displays, he said.
E Ink said it is sticking to its projected capital expenditure of between NT$5 billion and NT$6 billion (US$160.5 million and US$192.6 million) for this year and likely next year.
Most capacity expansion plans at home, in the US and China are progressing according to the company's schedule, Lee said.
The company more than doubled its net profit last quarter to NT$8.08 billion, from NT$4.24 billion in the third quarter last year.
E Ink plans to ramp up the production of its H4 production line in Hsinchu in the first quarter of next year.
It expects to install new equipment at the H5 production line in another Hsinchu fab next year or in 2024.
The H6 line, also in Hsinchu, is expected to commence production in 2025, it said.
E Ink said it tends to delay the construction of a new production line in Taoyuan's Guanyin District (觀音) due to a labor shortage and high material costs.
The company's third-quarter net profit skyrocketed to NT$4.24 billion from NT$1.23 billion a year earlier.
On a quarterly basis, net profit more than doubled from NT$2.37 billion.
Earnings per share (EPS) jumped to NT$3.72 from NT$1.08 a year earlier and NT$2.08 the previous quarter.
Third-quarter revenue soared to NT$8.1 billion from NT$4.4 billion a year earlier and NT$7.45 billion the prior quarter.
In the first three quarters, net profit surged to NT$8.08 billion from NT$3.79 billion the previous year, with EPS climbing to NT$7.08 from NT$3.33.
Comments will be moderated. Keep comments relevant to the article. Remarks containing abusive and obscene language, personal attacks of any kind or promotion will be removed and the user banned. Final decision will be at the discretion of the Taipei Times.