ASML eyes acquisitions to meet chipmaking demand
US PRESSURE: While the Dutch eyes expansion, Beijing urged Amsterdam to avoid 'decoupling,' as the US asks firms to stop selling some chipmaking machines to China
ASML Holding NV might conduct acquisitions to meet soaring demand for advanced chips worldwide, its chief executive officer said yesterday, defying the broader sector downturn.
The Dutch chip production equipment maker continues to see strong demand for the foreseeable future, as countries race to build domestic chip plants. It last week said it expects sales to more than double to as much as 40 billion euros (US$41.7 billion) by 2025 and more than tripling to as much as 60 billion euros by 2030.
That scale of growth necessitates a bigger supplier base, CEO Peter Wennink said.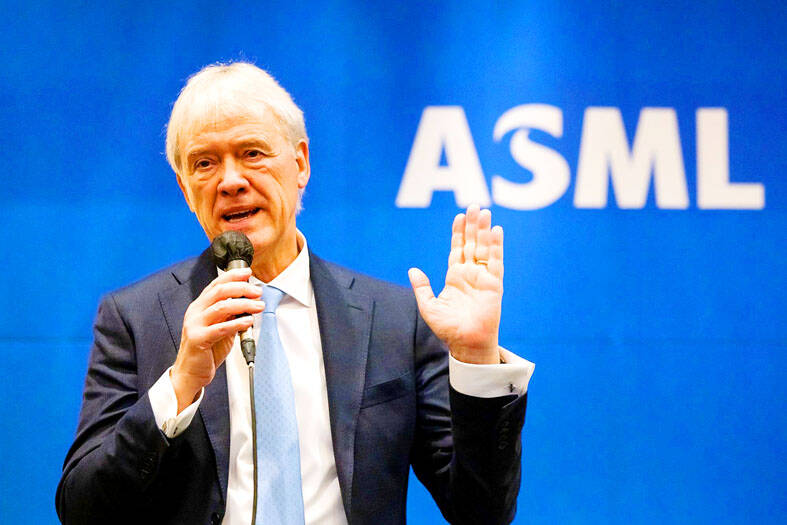 ASML Holding NV chief executive officer Peter Wennink speaks during a news conference in Seoul yesterday.
Photo: Bloomberg
"We will acquire what we think is needed to support the road map," he said, speaking at a news conference in Seoul a day ahead of a groundbreaking ceremony of ASML's new facilities in South Korea.
ASML is investing 240 billion won (US$182.95 million) to build maintenance and training centers in South Korea by 2024, it said in a statement.
ASML's investments in South Korea are "just beginning," Wennink said.
Some of its biggest customers — South Korea's Samsung Electronics Co and SK Hynix Inc, as well as Taiwan Semiconductor Manufacturing Co (台積電) — are in East Asia, which is also home to fellow lithography machine makers Nikon Corp and Canon Inc.
ASML long played a low-profile role supplying equipment for making semiconductors, but its strategic importance has surged as the US and China clash over technology leadership. The Dutch company holds a monopoly on the type of machine commonly used to make the most powerful chips.
ASML has been selling slightly less advanced chipmaking machines to Chinese customers. While the most recent chip curbs from US President Joe Biden's administration do not directly affect the Dutch maker, they could mean an indirect hit to sales of as much as 5 percent, Wennink said.
"Despite the fact that we are looking at a recessionary environment in 2023, the demand for our products is still higher than what we can make," he said.
There has been no reduction to the backlog in its shipments to the end of next year, he said.
The company is raising output to 90 of its extreme ultraviolet lithography machines and 600 deep-ultraviolet machines by 2025 to 2026. Such machines burn patterns into materials deposited on wafers of silicon that make up the circuits that give chips their function.
Five companies dominate the global market for the equipment needed to produce semiconductors. The others, supplying other parts and machinery for the task, are Japan's Tokyo Electron Ltd, and three US companies, Applied Materials Inc, Lam Research Corp and KLA Corp.
Separately, Chinese President Xi Jinping (習近平) urged Dutch Prime Minister Mark Rutte to avoid "decoupling" as the US pressures the Netherlands to avoid selling high-end chipmaking machines to China.
In a meeting yesterday in Bali, Indonesia, where they are both attending a G20 summit, Xi stressed the need for cooperation and said China would work with the Netherlands to "maintain and practice genuine multilateralism," state broadcaster CCTV reported.
"We must oppose the politicization of economic and trade issues and maintain the stability of the global industrial chain and supply chain," Xi told Rutte.
Rutte is due to visit semiconductor giant South Korea later this week, with the US export controls high on the agenda. Since early last month, US officials have repeatedly said that if allies do not align with Washington on the latest rules, they could ban sales of foreign chip equipment that contains even the smallest amount of US technology.
Comments will be moderated. Keep comments relevant to the article. Remarks containing abusive and obscene language, personal attacks of any kind or promotion will be removed and the user banned. Final decision will be at the discretion of the Taipei Times.