US dollar extends drop on new data on US inflation
UNWINDING POSITIONS: Investors favored riskier currencies, as 'more people have become convinced the dollar has peaked,' a strategist said
The US dollar fell across the board for a second straight day on Friday, as investors favored riskier currencies following signs US inflation is cooling that boosted the case for the US Federal Reserve to ease off its hefty interest rate hikes.
Friday's US dollar weakness was an extension of the move set off after Thursday's data showed US consumer inflation last month rose 7.7 percent year-on-year, its slowest rate since January and below forecasts of 8 percent.
Against a basket of currencies, the dollar was down about 3.8 percent over two sessions, on pace for its largest two-day percentage loss since March 2009.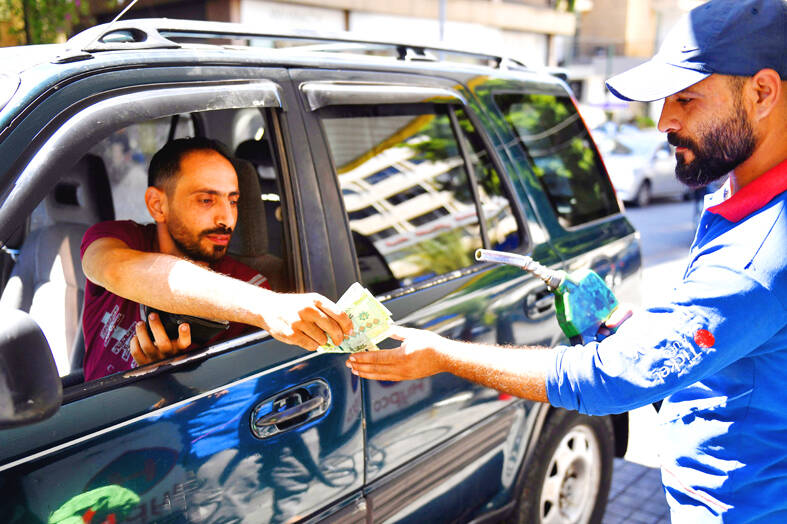 A man pays in US dollar at a gas station in Beirut on Sept. 12.
Photo: EPA-EFE
The US currency's long rally over the past two years had drawn a host of US dollar bulls leading to crowded positioning, and Thursday's data left a lot of them looking for a quick exit, strategists said.
"It's not just short-term trend-followers, momentum players having to get out of positions, but some long-term structural long dollar positions have to be unwound," Bannockburn Global Forex chief market strategist Marc Chandler said.
The US dollar index dropped 1.79 percent to 106.42 and lost 4.02 percent from a week earlier.
TAIWAN DOLLAR
The New Taiwan dollar on Friday rose against the US dollar, gaining NT$0.495, to close at NT$31.410. The NT dollar gained 2.30 percent from a week earlier.
The US dollar fell 1.7 percent against the yen to ¥138.55, while the euro advanced 1.46 percent against the greenback to US$1.036.
"The dollar is one of those markets that is extreme in its overvaluation — there is a strong chance we have seen the peak," Janus Henderson Investors fixed income global head Jim Cielinski said.
Still, some strategists said that US dollar bears remain vulnerable to a possible near-term rebound.
"Yes, more people have become convinced the dollar has peaked, but the move has been so sharp that I caution people against chasing it," Chandler said.
The US dollar found little support from survey data, which showed US consumer sentiment fell this month, pulled down by persistent worries about inflation and higher borrowing costs.
The risk-sensitive Australian and New Zealand dollars advanced 1.4 percent and 1.6 percent respectively against the greenback.
Investor risk appetite got an additional boost from health authorities in Beijing, which eased some of China's strict COVID-19 restrictions, including shortening quarantine times for close contacts of COVID-19 cases and inbound travellers.
The pound rose 1.22 percent against the US dollar to US$1.1853 after British government data showed that the economy did not contract as much as expected in the three months to September, although it is still entering what is likely to be a lengthy recession.
The US dollar was 2.4 percent lower against the Swiss franc at SF0.94025 after Swiss National Bank Chairman Thomas Jordan on Friday said the bank was prepared to take "all measures necessary" to bring inflation back down to its zero to 2 percent target range.
Additional reporting by CNA, with staff writer
Comments will be moderated. Keep comments relevant to the article. Remarks containing abusive and obscene language, personal attacks of any kind or promotion will be removed and the user banned. Final decision will be at the discretion of the Taipei Times.