Economy minister to visit US for technology meeting
SECURITY AND RESILIENCE: A delegation is to visit Silicon Valley firms linked to Taiwan's semiconductor trade to bolster supply chain safety, among other goals
Minister of Economic Affairs Wang Mei-hua (王美花) is leading a delegation to the US this week for the first in-person meeting of the Technology Trade and Investment Collaboration (TTIC) framework, the ministry said.
Wang is expected to discuss why Taiwanese security is essential to global industrial development and supply chains, a ministry official said on Friday.
US Secretary of State Antony Blinken last month said in a television interview that an attack on Taiwan would devastate the global economy, given that the nation produces most of the world's semiconductors.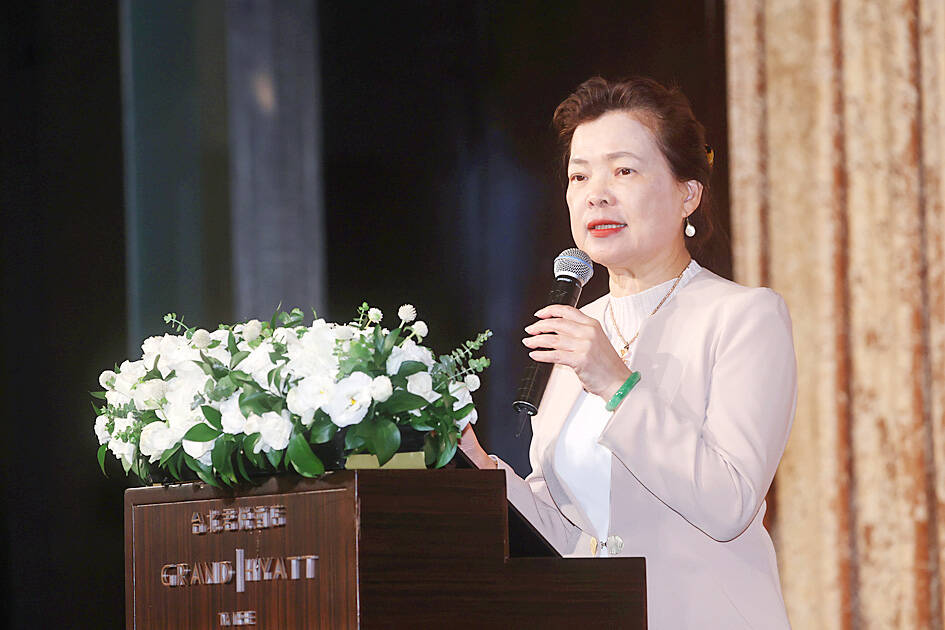 Minister of Economic Affairs Wang Mei-hua speaks at a net zero carbon emissions event in Taipei on Sept. 12.
Photo: CNA
The TTIC, established in December last year, is a bilateral cooperation framework for Taiwan and the US to develop commercial programs and strengthen critical technology supply chains.
According to the US Department of Commerce, the TTIC aims to promote two-way investment, study industry trends and explore new opportunities for investment in the US market.
The official said US officials are to discuss the benefits to Taiwanese of the CHIPS and Science Act and the Inflation Reduction Act.
The CHIPS act provides subsidies to investors to increase semiconductor production in the US market, while the Inflation Reduction Act attempts to curb inflation by cutting the deficit, lowering prescription drug prices and investing in domestic energy production while promoting clean energy.
Wang is also scheduled to open the first Taiwan Expo USA in Washington on Wednesday, the ministry said.
The three-day exhibition is to focus on a range of industry developments such as 5G, smart cities, smart vehicles, smart healthcare, tourism, culture and food to better present Taiwan to the world, it said.
Wang and her delegation also plan to visit US companies and business associations during the trip in a bid to boost exchanges and cooperation in global supply chains, the ministry said.
The delegation plans to visit several companies headquartered in Silicon Valley that have close business ties with Taiwan's semiconductor suppliers.
The visits aim to encourage US firms to enhance the resilience and security of Taiwan's supply chain through investment, the ministry said.
The ministry expects the delegation to help create business opportunities for Taiwan and the US in the global market, and have insightful discussions on geopolitical issues, it said.
Taiwan and the US participate in two other high-level bilateral economic dialogue platforms — the Trade and Investment Framework Agreement and the US-Taiwan Economic Prosperity Partnership Dialogue. The two have also started the US-Taiwan Initiative on 21st Century Trade dialogue.
Trade between Taiwan and the US last year topped US$100 billion for the first time, the ministry said.
Comments will be moderated. Keep comments relevant to the article. Remarks containing abusive and obscene language, personal attacks of any kind or promotion will be removed and the user banned. Final decision will be at the discretion of the Taipei Times.