GDP growth cut likely, but will stay above 3%: Kung
The government would trim its GDP growth forecast of 3.76 percent for this year if exports disappoint, but the reading would stay above the 3 percent mark, National Development Council Minister Kung Ming-hsin (龔明鑫) told lawmakers yesterday.
Kung made the remarks as lawmakers raised concerns over the economy, inflation and monetary policy.
The Directorate-General of Budget, Accounting and Statistics, which in August cut its growth forecast for this year to 3.76 percent, could revise it down again next month if exports fare weaker than expected, Kung said.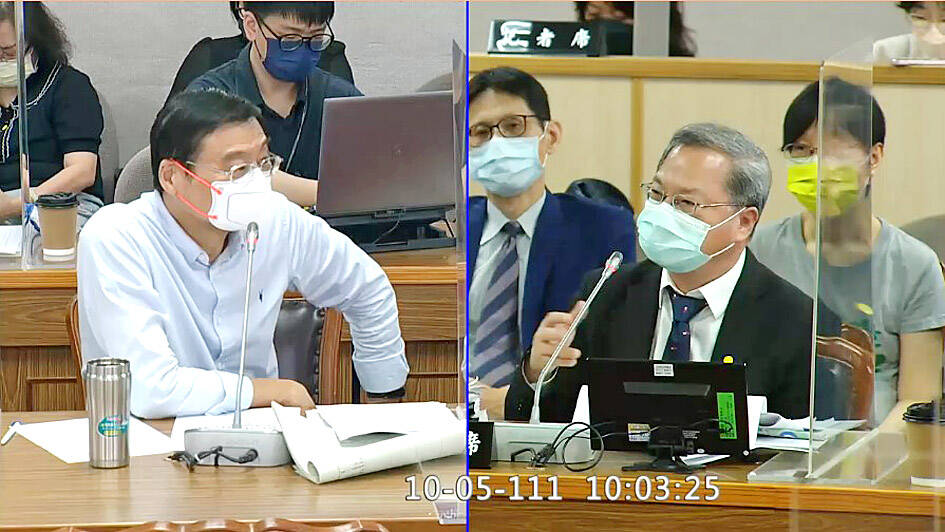 A screen grab shows Chinese Nationalist Party (KMT) Legislator William Tseng, left, and National Development Council Minister Kung Ming-hsin at a meeting of the legislature's Economics Committee yesterday.
Photo: Screen grab from the Legislative Yuan television channel
Exports, the mainstay of Taiwan's small and open economy, likely had slipped into contraction mode last month after squeezing a mild 2 percent gain in August, the Ministry of Finance has said.
Shipments of tech products slowed drastically in August, while those of non-tech products dipped into negative territory. The government is to release last month's trade data tomorrow.
Kung voiced confidence that GDP growth would exceed 3 percent this year, but expressed reservations when asked if it would be larger than 3.5 percent.
Growth in the consumer price index for last month is forecast to remain above 2 percent, but is likely to be weaker than August's growth of 2.66 percent due to a drop in international oil prices, he said.
However, it would be difficult for world energy prices to slump given lingering supply issues, Kung said, adding that while oil prices have sagged, natural gas prices remain high amid the war in Ukraine.
Central banks in advanced nations would reconsider the wisdom of drastic tightening to curb inflation after the UN on Monday warned that the monetary policies of wealthy nations could spark a global economic downturn, Kung said.
Lawmakers from across party lines expressed unease that capital flight would persist, and hurt the local currency and share prices given Taiwan's widening interest rate gap with major economies.
The global economy would slow from a forecast 2.5 percent growth this year to 2.2 percent next year, a slowdown that would leave global GDP well below its pre-COVID-19 pandemic norm and cost the world economy about US$17 trillion, or 20 percent of the world income, if major central banks press ahead with steep rate hikes, the UN said.
Foreign funds would shift their focus back to economic fundamentals and value local shares again after making moves to reflect global monetary tightening, Kung said.
The minister voiced reservations about suggestions to distribute tax surpluses to stimulate private consumption, saying that the public would most likely save instead of spend the money.
Comments will be moderated. Keep comments relevant to the article. Remarks containing abusive and obscene language, personal attacks of any kind or promotion will be removed and the user banned. Final decision will be at the discretion of the Taipei Times.