Taiwan vows to safeguard chip tech
NATIONAL SECURITY: The nation will adopt 'very firm' export controls to keep the PRC military from getting access to advanced technologies, a deputy minister said
Taiwan yesterday pledged to work closely with the US and other allies to prevent China's military from acquiring state-of-the-art technology, as Washington steps up efforts to contain the world's No. 2 economy.
Taiwan, home to the world's largest semiconductor foundry, will keep its advanced chip development at home, while adopting measures to stop its tech from being used by the Chinese People's Liberation Army, Deputy Minister of Economic Affairs Chen Chern-chyi (陳正祺) said yesterday.
Chen said that while Taiwan's economy would not be able to decouple from its biggest trade partner, it would implement "very firm" export controls to keep advanced technologies from China's military.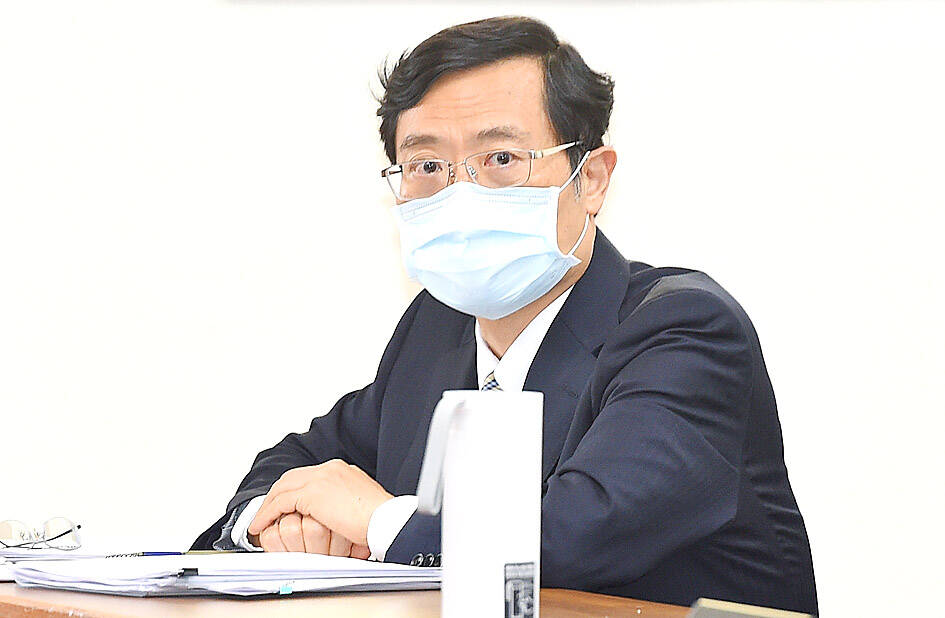 Deputy Minister of Economic Affairs Chen Chern-chyi is pictured in Taipei on May 3 last year.
Photo: Liao Chen-hui, Taipei Times
"With respect to national security, we will take measures to safeguard our trade secrets, safeguard our key technologies, safeguard our talent [so that they are] not poached illegally," he said.
Taiwan investigated Alchip Technologies Inc (世芯) for allegedly supplying advanced supercomputer chips to China's Phytium Information Technology Co (飛騰信息技術) — which some analysts have said has links to the Chinese military — and banned chip exports to Phytium, Chen said.
"Once we find a loophole, we plug it," he said.
Phytium, which is affiliated with research arms of the Chinese military, relied on Alchip for certain designs, the Washington Post reported in April last year.
The Taiwanese company also dealt with Taiwan Semiconductor Manufacturing Co (台積電) for production on behalf of Phytium, it said.
The US eventually blacklisted Phytium, prompting Alchip to declare a suspension of shipments.
Regulators would also fine iPhone assembler Hon Hai Precision Industry Co (鴻海精密) for failing to report an acquisition by the company's Shanghai-listed arm of a stake in China's top chipmaker, state-backed Tsinghua Unigroup (清華紫光), he said.
Chen's comments come as US President Joe Biden's administration prepares new restrictions on chip exports to China, which would formalize export controls on the technology behind advanced semiconductors, while restricting access to chips used in supercomputing and artificial intelligence.
As the US seeks to limit access to cutting-edge technology while boosting its own domestic production capacity, Taiwan and fellow US allies South Korea and Japan have been forced to navigate increasingly incompatible business and security interests.
Taiwan will use the new US-led "Chip 4" group to safeguard the interests of Taiwanese companies and to ensure supply chain resilience, Chen said, although he added that the group had no agenda yet.
Taiwan's position as a leader in semiconductor production remains vulnerable. Concern is growing in the US over its reliance on chip production in Taiwan, as China ramps up military threats toward the country.
With the implementation of the US$50 billion CHIPS Act, the US plans to cut its dependence on Taiwan for semiconductors over the next decade, US Secretary of Commerce Gina Raimondo said last week.
Asked about the US wanting to reduce its reliance on manufacturing in Taiwan, Chen said Taiwan's chip industry has a well-integrated supply chain and a very good workforce.
"From the government's per-spective we think Taiwan's advantage and Taiwan's edge in developing the most advanced manufacturing technology will always be here in Taiwan," he said.
However, the government is happy to see Taiwanese chip firms investing in like-minded countries, he added.
"We think that will only deepen and strengthen our relations," Chen said.
Additional reporting by Reuters
Comments will be moderated. Keep comments relevant to the article. Remarks containing abusive and obscene language, personal attacks of any kind or promotion will be removed and the user banned. Final decision will be at the discretion of the Taipei Times.