Commercial property deals rise on factory demand
'NO REVENGE REBOUND': Inflation and monetary tightening would continue to weigh on confidence, despite the reopening of borders next week, an analyst said
Commercial property transactions last quarter totaled NT$34.6 billion (US$1.09 billion), up 24.9 percent from three months earlier on the back of solid demand for factories and factory offices, the local branch of international property consultancy Cushman & Wakefield said yesterday.
The volume reversed two previous quarters of decline, boosted by Taiwan Life Insurance Co's (台灣人壽) purchase of an industrial building in Taoyuan's Cingpu District (青埔) for NT$6.3 billion, Cushman & Wakefield Taiwan said.
The market is poised to slow or correct itself, as interest rate hikes would add hurdles to the investment plans of life insurers and other institutional players, which accounted for 65 percent of transactions in the first three quarters of this year, it said, adding that economic uncertainty also warrants caution.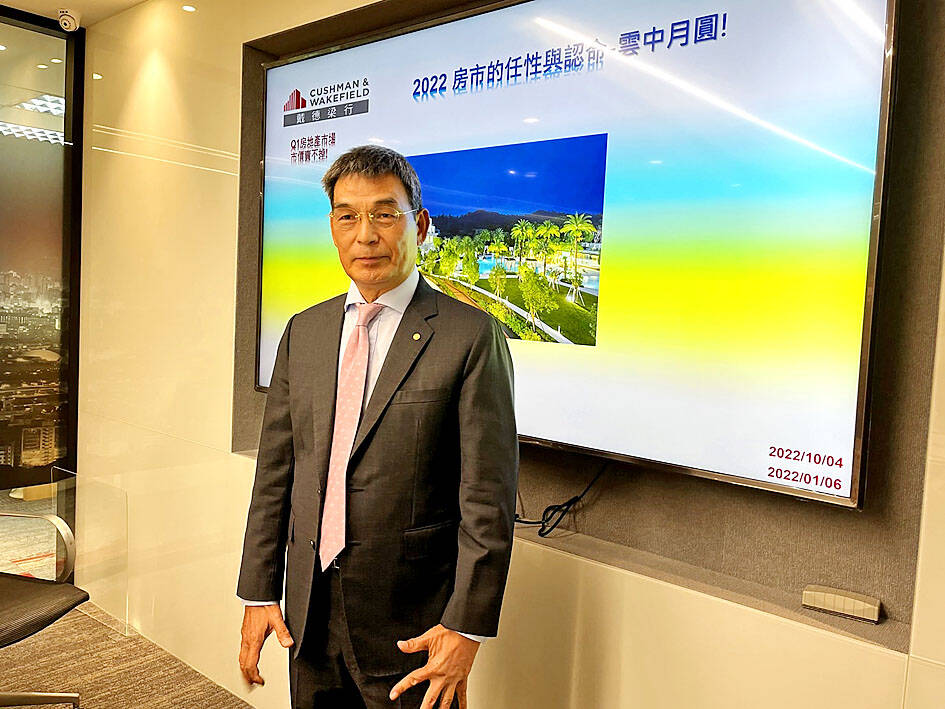 Cushman & Wakefield Taiwan managing director Billy Yen attends a news conference in Taipei yesterday.
Photo: Hsu Yi-ping, Taipei Times
Interest rate hikes mean that life insurers have to look for investment targets that generate higher rental incomes to meet regulatory requirements on minimum yields. The options would narrow in light of property price increases.
"There won't be a revenge rebound to celebrate the upcoming border reopening ... rather, inflation, monetary tightening and other risks would continue to weigh on confidence," Cushman & Wakefield Taiwan managing director Billy Yen (顏炳立) said, referring to an easing of COVID-19 rules for people arriving in Taiwan from Thursday next week.
The bull market is over, although the sell side is refusing to concede and is generally standing firm on prices, Yen said.
Confusion and chaos would dominate the market this quarter and price corrections would appear inevitable next year if things fail to improve, he said.
Land deals last quarter totaled NT$52.1 billion and would drop to between NT$160 billion and NT$180 billion for the whole of this year, lower than the 10-year average of NT$197.3 billion, ending three years of boom, the consultancy said.
Property developers have turned conservative about building land stock, shifting focus to urban renewal projects and joint ventures with land owners to cut development costs, it said.
The strategy makes sense, as it falls in line with the government's policy to enhance building safety and would rein in business risks when building material costs rise and sales rates stall, it said.
Yen said he does not expect major land deals soon, but owners remain upbeat about land prices, which would translate into a 10 percent increase in presale house projects this quarter.
Price corrections would start in second-tier locations where property developers have overpriced projects, Yen said.
Comments will be moderated. Keep comments relevant to the article. Remarks containing abusive and obscene language, personal attacks of any kind or promotion will be removed and the user banned. Final decision will be at the discretion of the Taipei Times.