Property transaction data show retreat over summer
Property transactions last month totaled 18,358 units in the nation's six special municipalities, shrinking 4.2 percent from a month earlier and dashing recovery expectations as COVID-19 cases subside, the latest government agency statistics showed.
The volume translated into a 14.2 percent retreat when compared with a year earlier, the data showed.
The figures mainly reflect transactions in July and August, given time needed to process the data, Sinyi Realty Inc (信義房屋) said.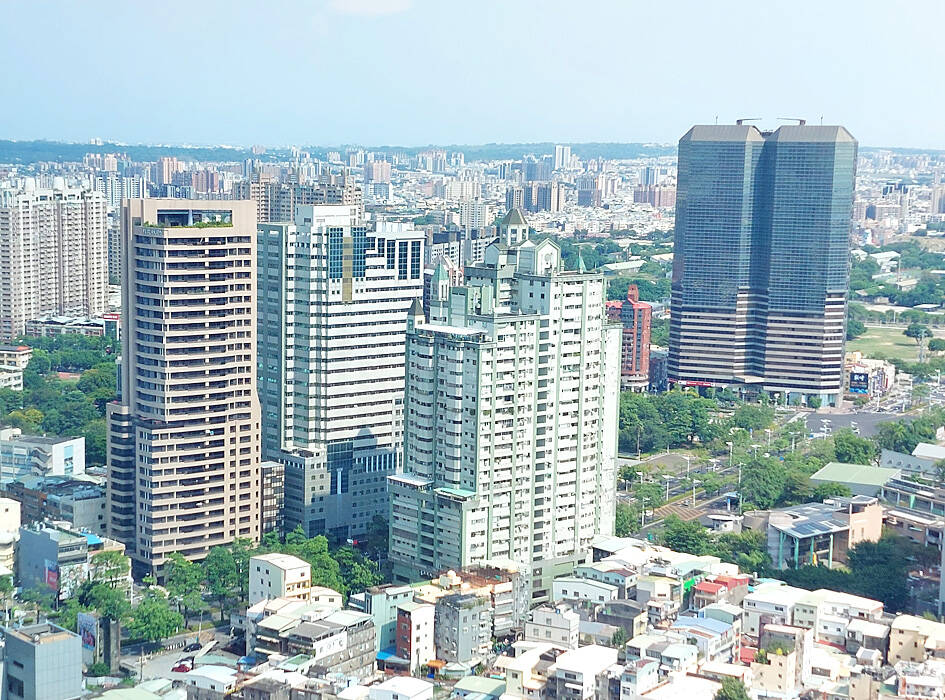 Residential and commercial buildings are pictured in Kaohsiung yesterday.
Photo: Hou Cheng-hsu, Taipei Times
Sinyi earlier predicted that transactions would perform better following the fall sales season after people became less anxious about COVID-19 and restrictions eased.
The market is not likely to improve in the near future, given that the central bank's third interest rate hike this year of 0.125 percentage points last month is expected to have a further negative effect, Sinyi research manager Tseng Ching-der (曾敬德) said in a statement.
Transactions in Tainan reported the sharpest month-on-month decline of 12.9 percent to 1,757 units, while those in Kaoshiung dropped 5.6 percent to 2,762 units, data showed.
Property purchases in Taipei fell 12.4 percent to 1,958 units and dropped 7.8 percent to 4,120 units in New Taipei City, while Taoyuan and Taichung bucked the trend in August with advances of 5.2 percent and 1.8 percent, to 3,663 and 4,098 units, respectively, data showed.
Compared with a year earlier, only the Taichung market expanded, with a 2.2 percent gain, while other municipalities had double-digit losses ranging from 14.2 percent to 24.9 percent, data showed.
Evertrust Rehouse Co (永慶房屋) said that macroeconomic concerns are likely to dominate people's decisions, and the chance of recovery is slim in light of interest rate hikes, inflation and geopolitical tensions.
The property market is expected to decline throughout the rest of this year after losing 1.4 percent in the first nine months, Evertrust said.
Comments will be moderated. Keep comments relevant to the article. Remarks containing abusive and obscene language, personal attacks of any kind or promotion will be removed and the user banned. Final decision will be at the discretion of the Taipei Times.