TCB to purchase American Continental
GLOBAL EXPANSION: The Taichung bank is expected to complete the takeover of the Los Angeles-based lender in the spring, in a transaction valued at US$82.1 million
Taichung Commercial Bank (TCB, 台中商銀) on Saturday said that its board of directors has approved a plan to acquire California-based American Continental Bank as part of an effort to expand its global reach.
Pending regulatory approvals, TCB said it would create a subsidiary to acquire American Continental Bancorp, the holding company of American Continental Bank, through a reverse triangular merger.
That would allow the Taiwanese bank to hold a 100 percent stake in American Continental Bancorp, it said.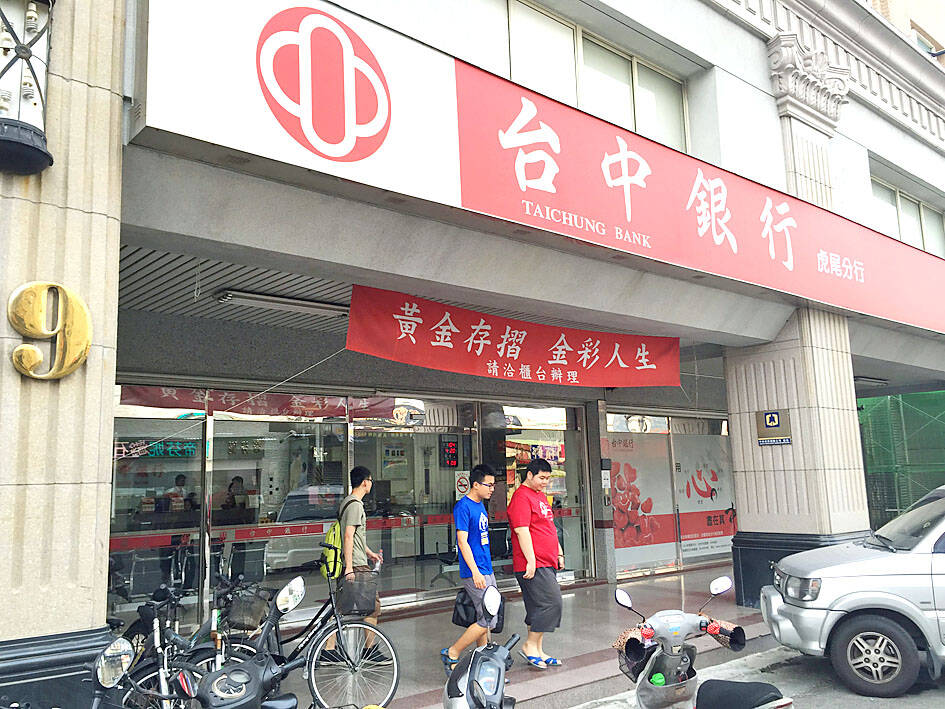 People walk past a Taichung Commercial Bank branch in Yunlin County's Huwei Township on April 20, 2015.
Photo: CNA
TCB said it plans to acquire the US bank at US$41.48 per share, but the actual cash consideration would be determined at the deal's close.
The cash transaction is valued at about US$82.1 million, based on the US$41.48 per share price calculated as of June 30, American Continental Bancorp said in a statement on Friday.
The transaction is expected to be competed early in the first quarter of next year, the statement said.
Founded in 2003 and based in eastern Los Angeles County, the bank primarily offers loans related to commercial real estate, small businesses, construction and residential mortgages.
Separately, the US was the largest debtor to Taiwan's banking sector for the 28th consecutive quarter as of the end of June, with its exposure rising about 6 percent from a quarter earlier, the central bank said on Friday.
Central bank data show that outstanding claims by Taiwan's banking sector to the US on a direct risk basis totaled US$132.63 billion as of June 30, up by US$7.25 billion, or 5.78 percent, from a quarter earlier.
The interest rate hikes this year by the US Federal Reserve raised US Treasury and bond yields, resulting in an increase in Taiwanese banks' holdings of US debt, the central bank said.
Meanwhile, China remained the second-largest debtor to Taiwanese banks as of the end of June, with exposure of US$52.35 billion, which was a quarterly drop of US$4.42 billion, or 7.79 percent, the central bank said, attributing the decline to a stronger US dollar.
Hong Kong was in third spot, with exposure of US$35.91 billion, followed by Luxembourg with US$33.67 billion, Japan with US$29.02 billion and Australia with US$28.89 billion, the central bank data show.
Vietnam, in seventh place, showed a quarterly 8.10 percent debt increase to US$18.24 billion, as Taiwanese investors have been attracted to the Southeast Asian country amid restructuring of the global supply chain, the central bank said.
In eighth place was Singapore, with exposure of US$18.18 billion as of June 30, followed by the Cayman Islands with US$17.89 billion and the UK with US$16.97 billion, the data show.
The top 10 debtors accounted for 73.87 percent of Taiwanese banks' outstanding international claims at the end of June, with their exposure reaching US$383.70 billion, the central bank said.
Comments will be moderated. Keep comments relevant to the article. Remarks containing abusive and obscene language, personal attacks of any kind or promotion will be removed and the user banned. Final decision will be at the discretion of the Taipei Times.