Taiwanese exports expected to struggle
CHINA WATCH: The minister of finance said that the nation is watching the economic progress of China carefully and is trying to mitigate risks from there by diversifying
Taiwan's exports are expected to slow to a crawl through the end of the year, Minister of Finance Su Jain-rong (蘇建榮) said in an interview yesterday, as waning global demand piles pressure on the economy.
Growth in overseas shipments might slump to single digits this quarter, Su said in Manila.
He cited global headwinds including the US Federal Reserve's rate hikes, and slowdowns in the US and Europe, which are major trading partners for Taiwan.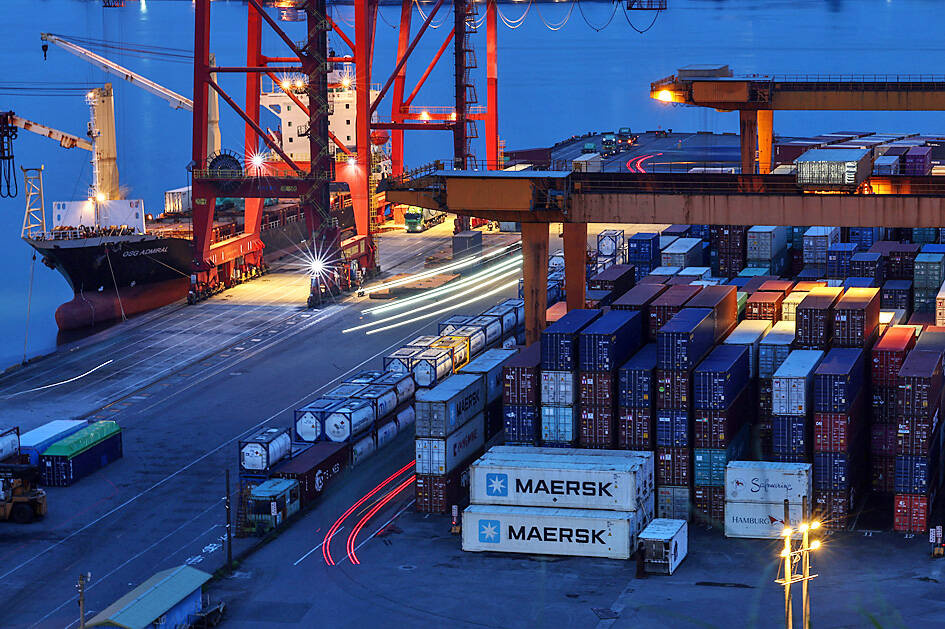 Shipping containers are pictured at the Port of Keelung on June 20.
Photo: CNA
Taiwan had been enjoying nearly a year and a half of double-digit export growth during the COVID-19 pandemic, with a global computer chip shortage fueling demand for its electronics and semiconductors.
Last year the economy grew at the fastest pace since rebounding in 2010 from the global financial crisis of the prior few years.
However, this year, Taiwan has faced several challenges.
Global demand for many products has waned as inflation elsewhere skyrockets and several major economies face the prospect of a slowdown or recession.
China, another important trading partner, has struggled with ongoing COVID-19 outbreaks and lockdowns, along with a property crisis.
August export growth in Taiwan slowed to just 2 percent, the slowest pace in more than two years, prompting Department of Statistics Director-General Beatrice Tsai (蔡美娜) to warn at the time that "winter is coming" earlier than expected.
Tsai also warned that export data for last month might shrink by as much as 3 percent from a year earlier.
Export orders have also slowed.
While orders gained 2 percent in August, reversing a decline in July, purchases from China and Hong Kong fell more than 25 percent last month.
Almost 40 percent of Taiwan's exports went to Hong Kong and China for the first eight months of the year, ministry data showed.
Taiwan is watching China's economic progress carefully, Su said.
Sporadic lockdowns there have dented demand and confidence, becoming a major drag on growth in the world's second-largest economy.
"We should be careful" if something happens to China's economy, Su said, adding that Taiwan is trying to mitigate risks stemming from China by diversifying.
Comments will be moderated. Keep comments relevant to the article. Remarks containing abusive and obscene language, personal attacks of any kind or promotion will be removed and the user banned. Final decision will be at the discretion of the Taipei Times.