Sales of gaming monitors to fall for first time: report
UPDATED FORECAST: Consumers are putting off buying monitors due to rising inflation and delayed launches of new high-end graphics cards, TrendForce Corp said
Shipments of gaming monitors are expected to plunge 10 percent year-on-year to 20.5 million units this year, which would mark the first decline since the products first entered the market, researcher TrendForce Corp (集邦科技) said yesterday.
The researcher in March estimated that gaming monitor shipments would expand at an annual pace of 14 percent to about 26.1 million units this year.
However, soaring inflation in Europe and North America has significantly eroded growth momentum as people became conservative about spending money on consumer electronics.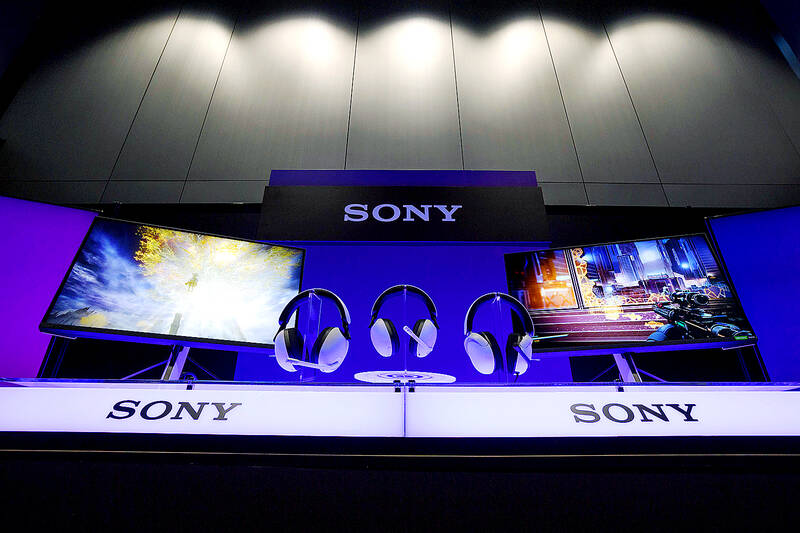 Sony Group Corp. Inzone headsets and Inzone gaming monitors displayed during an unveiling event in Tokyo, Japan, on Wednesday, June 29, 2022.
Photo: Bloomberg
Consumers are also putting off purchases of gaming monitors due to delayed launches of new high-end graphics cards, the Taipei-based researcher said.
Gaming monitors with curved displays would account for about 44 percent of all gaming monitors this year, compared with 41 percent last year, as major display suppliers China Star Optoelectronics Technology Co (華星光電) and AUO Corp (友達) have boosted the production of curved displays, TrendForce said.
The penetration rate of curved displays among gaming monitors is likely to climb to 46 percent next year, thanks to the increasing supply of such monitors and a better price-to-performance ratio, the researcher said.
The uptake of gaming monitors with ultra-wide displays also helps stimulate demand for curved-display gaming monitors, it said.
OLED DISPLAYS
Separately, OLED e-sports displays this year entered the market with a 0.4 percent share, after Samsung Display Co Ltd launched its QD-OLED and LG Display Co Ltd unveiled white OLED e-sports monitor panel displays, TrendForce said.
The penetration rate of OLED e-sports displays is expected to reach 2 percent next year, as major monitor brands have joined the launch of OLED products, the researcher said.
TrendForce expects the gaming monitor market to return to annual growth of 5 percent next year to 21.6 million units, as more monitor vendors and panel display suppliers are joining in the market with a great diversity of new products.
Comments will be moderated. Keep comments relevant to the article. Remarks containing abusive and obscene language, personal attacks of any kind or promotion will be removed and the user banned. Final decision will be at the discretion of the Taipei Times.