Industrial production index gains 3.68%
NEW RECORD: Electronic components and automotive components were likely the drivers of the bigger-than-expected gain, the Ministry of Economic Affairs said
The industrial production index last month grew 3.68 percent year-on-year to a record high of 141.57, driven by growth in computer, electronic component and automotive component production, the Ministry of Economic Affairs said yesterday.
Last month was the 31st consecutive month of annual expansion, with 3.68 percent being the biggest jump in the past three months, the ministry said.
The increase came on the back of an annual gain of 3.87 percent in the manufacturing production index, which makes up 93 percent of the industrial production index, to 143.49, the best August performance ever, the ministry said.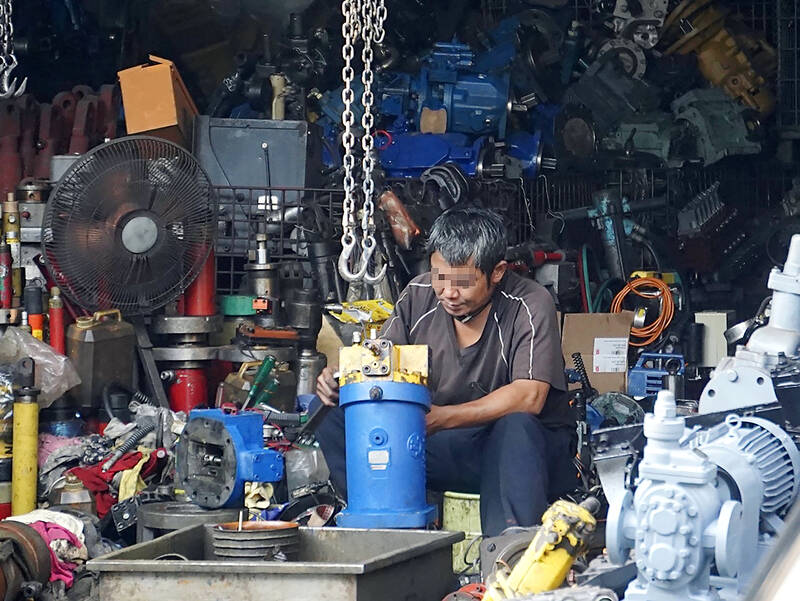 A man repairs an engine in Kaohsiung's Yancheng District yesterday.
Photo: CNA
The rise in manufacturing production surpassed the ministry's expectation that the index could fall 0.5 percent in the worst-case scenario or gain 2.4 percent in the best-case scenario, given weakness in the nation's traditional industries.
"The better-than-expected growth in the manufacturing index was driven by strong performance in two sectors, electronic components and automotive components," Department of Statistics Deputy Director-General Huang Wei-jie (黃偉傑) told a news conference in Taipei.
Local electronic component manufacturers likely received more orders last month, as Apple Inc prepared for the launch of the new iPhone 14 series this month, Huang said.
As a result, the electronic component production index expanded 14.45 percent annually to 190.26, supported by the integrated circuit sub-index, which advanced 31.5 percent year-on-year to a record high of 245.6.
However, the display sub-index plummeted 49 percent due to decreasing demand for end products, erasing growth in other electronic component segments, Huang said.
Meanwhile, the automotive component production index rose 9.37 percent from a year earlier, thanks to strong consumer demand for sports utility vehicles, and a rise in production of sedans and electric vehicles as key component shortages improved, the ministry said.
However, traditional industries reported lower production because of weak market demand, it said.
Production in the petrochemical sector shrank 25 percent annually, as clients remained conservative about placing orders amid an inventory digestion cycle, the ministry said.
Local manufacturers shut down some facilities for annual maintenance to cope with falling demand, it added.
Excessive inventories also caused a decline in production in the basic metals and machinery sectors, which plummeted 28 percent and 3 percent year-on-year respectively.
The ministry forecast that the manufacturing production index would retreat 1.8 percent annually this month at the worst, or grow 1.1 percent at the best, Huang said.
During the whole of the third quarter, the manufacturing index would grow 1.2 to 2.2 percent annually, the ministry said.
Comments will be moderated. Keep comments relevant to the article. Remarks containing abusive and obscene language, personal attacks of any kind or promotion will be removed and the user banned. Final decision will be at the discretion of the Taipei Times.