Bank of Japan persists with ultra-low interest rates
STRONG WARNING: A finance official suggested a possible stealth intervention to prop up the yen, as its descent nears 1998 levels, when authorities last boosted the currency
The Bank of Japan (BOJ) continued to stand by its ultra-low interest rates as it further isolated itself from a global wave of policy tightening, fueling a slide in the yen to a fresh 24-year low and ramped-up warnings of possible intervention.
Within hours of the US Federal Reserve's latest rate hike, BOJ Governor Haruhiko Kuroda and his fellow board members kept the bank's yield curve control program and its asset purchases unchanged yesterday as had been widely expected.
The decision still pushed the yen to as weak as ¥145.37 against the US dollar, prompting a stronger warning from Japan's top currency official.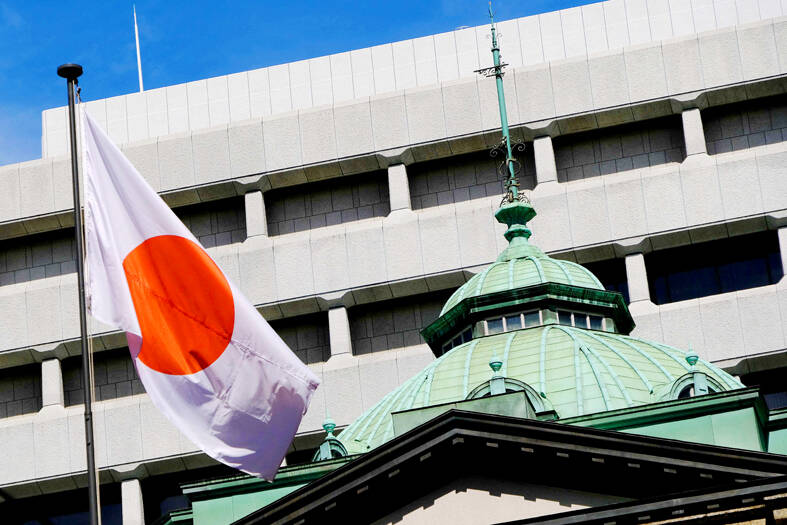 The national flag flies on the roof of the Bank of Japan headquarters in Tokyo yesterday.
Photo: AFP
"We could do a stealth intervention, and even though I'm not in a position to comment on whether an intervention was done or not, honestly speaking, we haven't done it yet," Japanese Vice Minister of Finance for International Affairs Masato Kanda said after the yen had pared back some of the lost ground.
The yen's descent brings it within striking distance of the ¥146.78 level where the authorities last stepped in to prop it up in 1998.
Hedge funds have been adding to bearish bets on the currency, which has tumbled more than 20 percent this year, with Goldman Sachs Group Inc warning it could decline to ¥155.
Kanda's remarks came after the BOJ decision showed Kuroda's determination to stand his ground, even at the cost of further falls in Japan's currency and more bond buying to defend a cap on bond yields.
The governor has repeatedly signaled that there is a long way to go before policy in Japan can be normalized. In sharp contrast with the Fed's aggressive rate increases, the BOJ's forward guidance is flagging the possibility of rates going lower, not higher.
Kuroda has so far clearly ruled out the policy adjustments to stop the yen's slide. He has repeatedly said the economy needs monetary stimulus until higher wage gains can make the cost-push inflation sustainable.
That means the BOJ is sticking with its short-term interest rate of minus-0.1 percent and its cap on long-term bond yields. In the past week, the central bank has spent about ¥2.9 trillion (US$20.3 billion) on fixed-rate purchases of bonds to defend the 0.25 percent cap.
While daily purchases have been required again after a lull of more than two months, that amount is less than half the ¥7.5 trillion the central bank forked out on purchases in the five days up to its June decision.
Comments will be moderated. Keep comments relevant to the article. Remarks containing abusive and obscene language, personal attacks of any kind or promotion will be removed and the user banned. Final decision will be at the discretion of the Taipei Times.