Atlante receives EU funding to install EV charging stations across Europe
A company affiliated with Taiwan Cement Corp (台灣水泥) has received 22.7 million euros (US$22.67 million) from an EU fund to install electric vehicle (EV) charging stations in Europe, Taiwan Cement said yesterday.
Atlante Co, a unit of Taiwan Cement affiliate NHOA SA, was awarded the funds under the EU's Connecting Europe Facility for Transport scheme, which cofinances investments for the completion and modernization of the Trans-European Transport Network, Taiwan Cement said.
Atlante has been awarded two contracts to install 215 charging stations — 70 in Italy, 55 in France, 55 in Spain and 35 in Portugal — it said.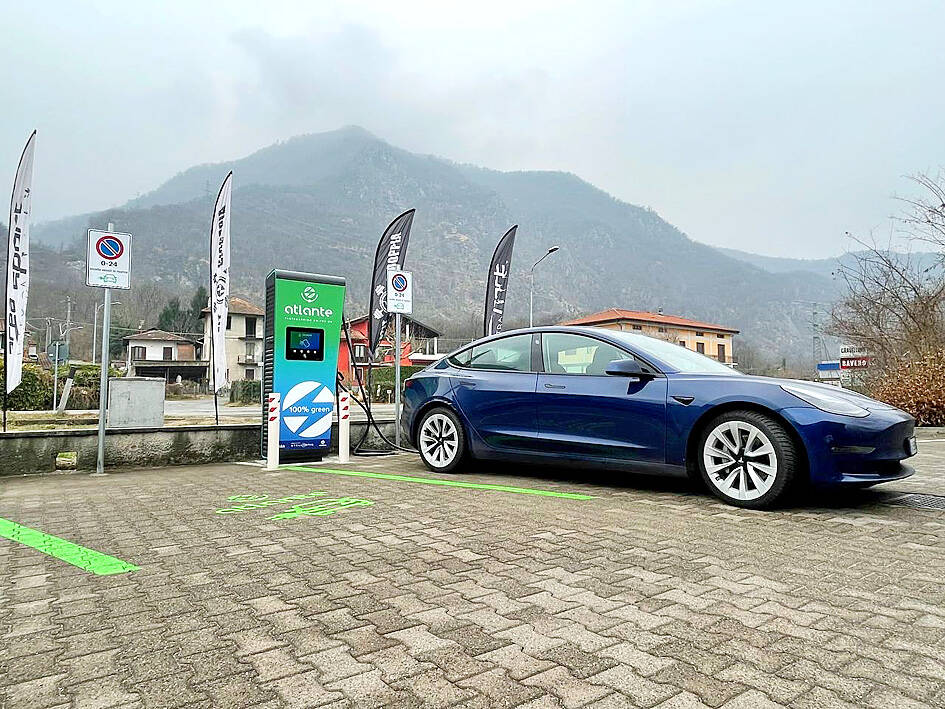 An electric vehicle is parked at an Atlante fast-charging station in Rome in an undated photograph.
Photo courtesy of Taiwan Cement Corp
The charging stations are to be placed in 1,400 parking spaces, and placed in safe and secure sites along the transport network.
The stations are to be integrated into national power grids, creating one of the world's largest virtual power plants, Taiwan Cement said.
The stations are planned to be powered by renewable energy sources, with on-site battery storage as well as on-site or off-site solar energy production, it said.
The fast and ultra-fast charging network would allow drivers to charge their electric vehicles in a matter of minutes, similar to stopping at a gas station for fuel, the company said.
The EU aims to reduce its carbon emissions by 90 percent by 2050, and plans to transition to alternative and lower-carbon fuels, as transportation accounts for 70 percent of its total emissions, it said.
Through the EU's Alternative Fuels Infrastructure Facility, 292.5 million euros of funds are to be awarded to 24 projects, ranging from the installation of EV charging stations and hydrogen fuel stations to the electrification of ground handling services at airports, Taiwan Cement said.
Comments will be moderated. Keep comments relevant to the article. Remarks containing abusive and obscene language, personal attacks of any kind or promotion will be removed and the user banned. Final decision will be at the discretion of the Taipei Times.