Sumitomo Bakelite breaks ground on its new plant
Sumitomo Bakelite (Taiwan) Co Ltd (台灣住友培科) yesterday broke ground on a new plant in Kaohsiung's Dafa Industrial Park (大發工業區) to expand production capacity for semiconductor packaging materials.
The company expects the NT$800 million (US$26.05 million) investment to double its production capacity in Taiwan, the Kaohsiung Economic Development Bureau said in a statement.
The company is expected to complete construction of the plant next year, increasing its monthly capacity in Taiwan from 700 tonnes to 1,400 tonnes, the company said.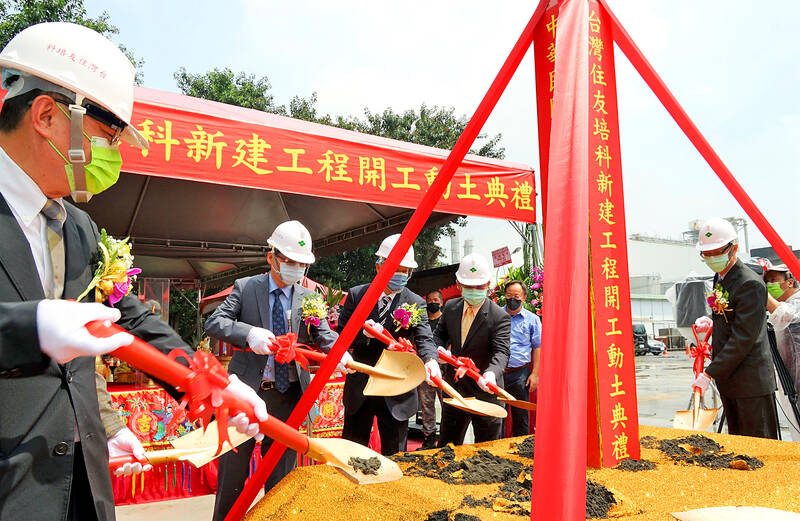 Kaohsiung City Government officials and business representatives attend a Sumitomo Bakelite (Taiwan) Co groundbreaking ceremony in Kaohsiung's Dafa Industrial Park yesterday.
Photo copied by Ge You-hao, Taipei Times
Sumitomo Bakelite (Taiwan) is a joint venture between Japan's Sumitomo Bakelite Co Ltd and Taiwan's Chang Chun Plastics Co Ltd (長春樹脂).
It was founded in 1999, with Sumitomo Bakelite providing 70 percent and Chang Chun Plastics 30 percent of the financing, to produce epoxy molding compounds for semiconductor encapsulation in the region.
Sumitomo Bakelite ranks first in the world in semiconductor packaging materials, with a 40 percent share of the global epoxy molding compounds market, Kaohsiung Economic Development Bureau Director-General Liao Tai-hsiang (廖泰翔) said.
The investment in Kaohsiung reflects the company's optimism about the long-term outlook for the semiconductor market, Sumitomo Bakelite president Kazuhiko Fujiwara said.
Kaohsiung City Government Deputy Secretary-General Wang Chi-chuan (王啟川), Chang Chun Plastics president Chen Hou-fu (陳厚福) and Chang Wah Electromaterials Inc (長華電材) chairman Canon Huang (黃嘉能) attended the groundbreaking ceremony, along with other business representatives.
Wang praised Sumitomo Bakelite's presence in the city over the past 24 years, saying that he expected the new investment to drive an industrial transformation in Kaohsiung — from petrochemicals to semiconductors — and bring more employment opportunities.
Companies including Taiwan Semiconductor Manufacturing Co (台積電), Win Semiconductors Corp (穩懋半導體), Winbond Electronics Corp (華邦電子) and Merck Group have over the past two years invested in Kaohsiung, helping establish a semiconductor corridor in the city, he said.
Comments will be moderated. Keep comments relevant to the article. Remarks containing abusive and obscene language, personal attacks of any kind or promotion will be removed and the user banned. Final decision will be at the discretion of the Taipei Times.