Buffett's BYD sale fuels fears of more to come
Traders rushed to sell BYD Co (比亞迪) after Warren Buffett's Berkshire Hathaway Inc trimmed its stake in the Chinese electric vehicle (EV) maker, fearing that the legendary investor might be gearing up for an eventual exit after a decade as the company's most notable backer.
BYD shares yesterday plunged as much as 13 percent in Hong Kong, the most in seven weeks and the worst performance on the benchmark Hang Seng Index. The selling followed Berkshire's filing to the exchange late on Tuesday notifying that the firm reduced its holding of BYD's Hong Kong-listed shares to 19.92 percent from 20.04 percent on Wednesday last week.
Speculation has been swirling for weeks about Buffett's intentions, ever since a 20.49 percent stake — identical to the size of Berkshire's last reported BYD position as of December last year — entered the Hong Kong's central clearing and settlement system last month, a move that is often seen as a precursor to share sales. BYD stock has fallen more than 25 percent from a July high.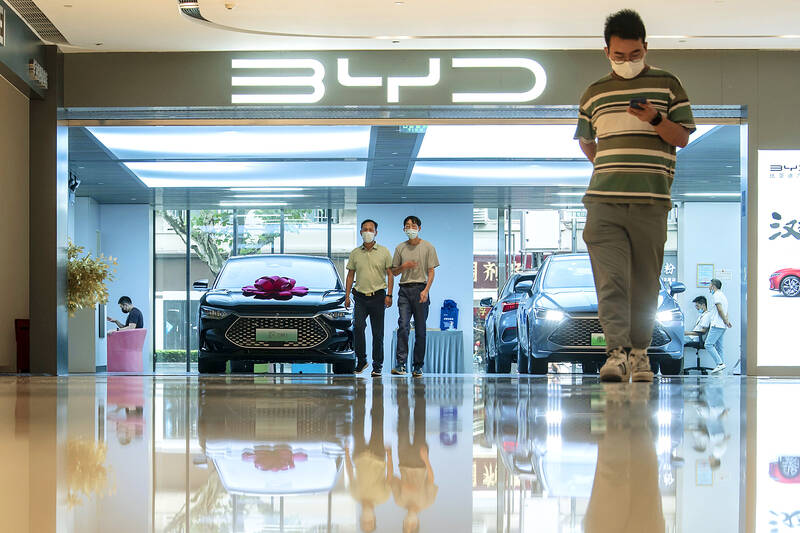 People walk past a BYD Co showroom in Shanghai yesterday.
Photo: Bloomberg
"Investors could interpret this as the beginning of Berkshire closing its position in BYD," said Bridget McCarthy, a market research analyst at hedge fund Snow Bull Capital Inc. "I would expect arguably one of the world's greatest investors to take some profits after over a decade, especially on his highest-returning investment, percentage-wise."
Buffett has sold about 6.3 million shares since June 30 through Wednesday last week, calculations based on BYD's interim report and the investor's latest filing showed. Berkshire, which first bought 225 million shares in September 2008, has been by far the largest shareholder in the EV giant.
The investment has also proved hugely lucrative as BYD shares have soared more than 2,000 percent since his initial purchase.
Investors view BYD, China's biggest EV maker, as a bellwether for the sector. The company reported a jump in profit for the first half of the year as record output and sales shielded it from COVID-19 disruptions and supply-chain pain.
The automaker's fundamentals suggest BYD might be able to endure further selling from Buffett, especially as investors pour into China's green energy sector on bets the industry will benefit from Beijing's policy push.
The auto industry has also been a key recipient of a range of tax and consumption incentives as authorities seek to dominate the shift away from combustion engines and accelerate the economy's recovery.
BYD's business model has improved significantly from the time Buffett first invested, said Andy Wong (黃耀宗), a fund manager at LW Asset Management Advisors Ltd (利達資產管理) in Hong Kong.
"Despite the short term share price struggle, there is value to invest in the company with its solid business model in the medium to long term," he said, adding that some investors might have been waiting for a correction to buy.
A BYD official, in comments to China's 21st Century Business Herald, said there is "no need to overinterpret" the stake sale, and added that the company's operations remain normal.
As of Tuesday, BYD was the world's second-most richly valued automaker, with its price to estimated earnings ratio below Li Auto Inc (理想汽車), a Chinese EV start-up listed in the US, and higher than Tesla Inc.
Comments will be moderated. Keep comments relevant to the article. Remarks containing abusive and obscene language, personal attacks of any kind or promotion will be removed and the user banned. Final decision will be at the discretion of the Taipei Times.