China Steel to increase domestic prices next month
China Steel Corp (CSC, 中鋼), the nation's largest steelmaker, yesterday said it would raise domestic prices by 1.2 percent to reflect higher manufacturing costs and rising steel demand after a two-month price freeze. The revised prices take effect next month.
During the COVID-19 pandemic, CSC raised steel prices straight for 12 months before freezing them last month, citing concerns for downstream companies, and advising them to use the price freeze to adjust their business needs and "prepare for changes that are to come."
There has been a "short and healthy correction" to Asian steel prices, but the company anticipates a return to steel's bull run.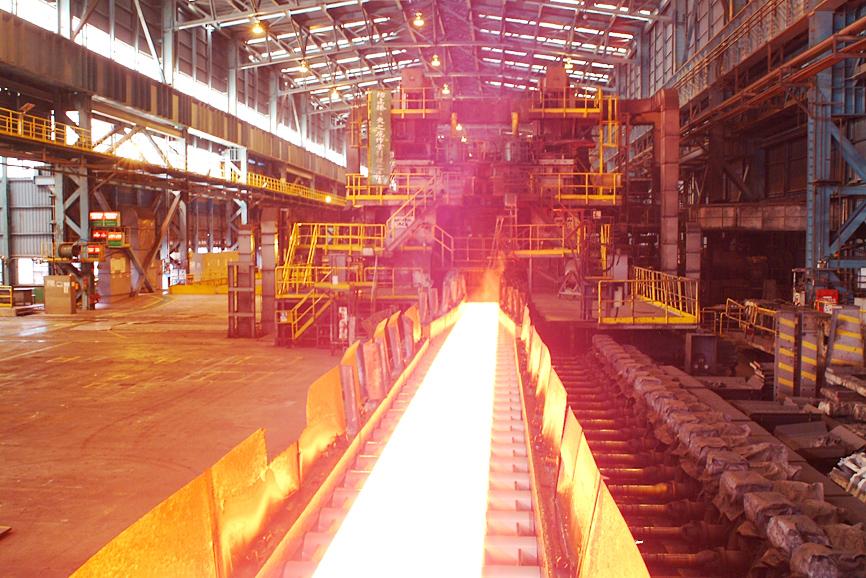 The interior of a China Steel Corp plant in Kaohsiung is pictured in an undated photograph.
Photo courtesy of China Steel Corp
The global steel market is expected to tighten ahead of the traditional "high season" of September and October, the company said.
The continued strength of Taiwanese exports and US and European infrastructure projects present other factors in boosting steel demand, it said.
"We anticipate that the basic infrastructure needs of the US and the EU should create global economic growth, raising demand for steel products," it said.
"Considering the steady but strong overall direction of the steel market and the higher cost of ore and coking coal, we have adjusted the price for domestic delivery up by 1.2 percent in November," it said.
Another factor that led the company to anticipate a rebound in international steel is the creation of new Chinese regulations set to meet their carbon neutrality goals.
"The Chinese government has mandated a reduction of crude steel for the second half of 2021 by 60 million tonnes," the company said. "At the same time, they have raised export tariffs for chromite and high-purity pig iron to 40 percent and 20 percent respectively."
The prices of hot-rolled steel plates and coils, cold-rolled and electroplated steel coils, and other steel products with monthly determined prices are to go up by NT$500 per tonne. Mid-quality electroplated steel coils will go up by NT$300 per tonne.
Steel products whose prices are adjusted on a quarterly basis will remain the same until the next meeting of the CSC pricing committee, which would meet next month and also discuss steel pricing that would take effect later in the year.
Comments will be moderated. Keep comments relevant to the article. Remarks containing abusive and obscene language, personal attacks of any kind or promotion will be removed and the user banned. Final decision will be at the discretion of the Taipei Times.