Online insurance sales fall, FSC says
A total of 465,689 insurance policies were sold online in Taiwan in the first quarter, down 25 percent from a year earlier, as demand for international travel insurance and interest-sensitive annuities fell due to border controls and falling returns respectively, Financial Supervisory Commission (FSC) data showed.
Property insurers sold 437,772 policies online, down 20 percent from a year earlier, while life insurers reported 61 percent less in sold policies at 27,917, the data showed.
Life insurer's interest-sensitive annuities took a hit from reduced declared interest rates, which decide the monthly bonus that policyholders could earn, the commission said in a statement.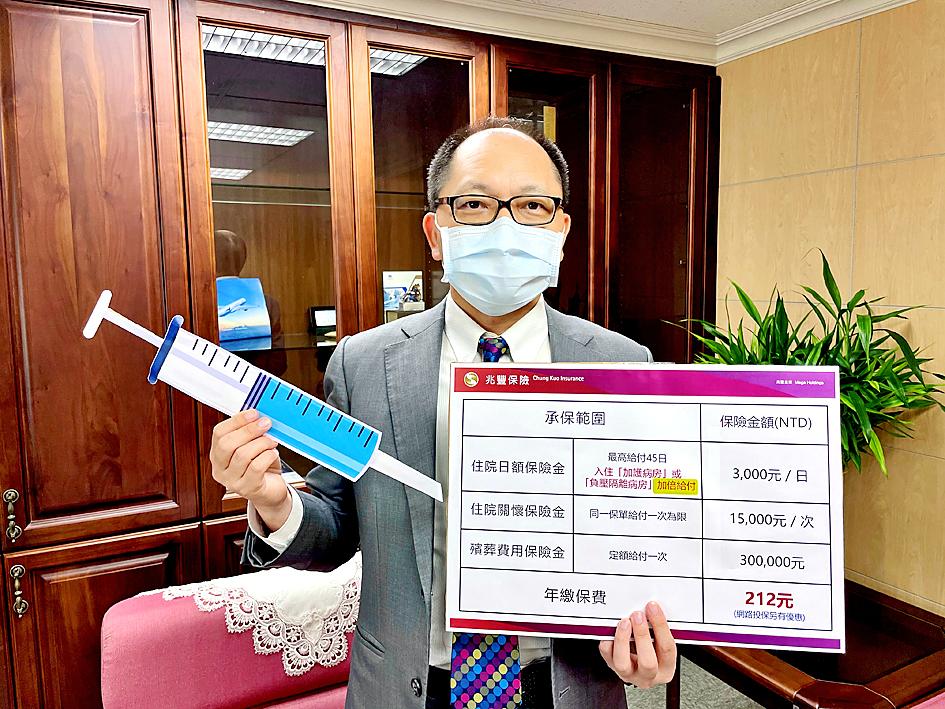 Chung Kuo Insurance Co president Yu Chien-feng promotes the company's COVID-19 insurance products in Taipei yesterday.
Photo courtesy of Chung Kuo Insurance Co
A total of 821 interest-sensitive annuities were sold during the January-to-March period, with first-year premiums of NT$145 million (US$5.23 million), both halved from a year earlier, the data showed.
Travel insurance products also lost momentum due to ongoing border controls amid the COVID-19 pandemic, with 13,136 policies sold last quarter, down 44 percent from a year earlier. Their first-year premiums were NT$3.29 million, also down 68 percent year-on-year, the data showed.
Customers still purchased travel insurance for their domestic trips, but sales were lower due to cheaper insurance charges, the commission said.
As a result, life insurers saw their combined first-year premiums fall by 46 percent year-on-year to NT$158 million in the first three months, the data showed.
On the other hand, property insurers' first-year premiums rose 19 percent annually to NT$466 million, as their losses from travel insurance sales were offset by double-digit percentage growth in sales of scooter insurance, the data showed.
About 215,000 scooter insurance policies were sold, with premiums totaling NT$183 million in the first quarter, nearly double that of a year earlier, as more scooter owners preferred buying the compulsory insurance and additional coverage online for discounts, the commission said.
Overall first-year premiums of all online insurance policies declined 9 percent to NT$624 million in the first three months, it said.
Online sales of insurance might pick up this quarter, as insurance companies began selling virus and medical insurance against COVID-19 online from this month, which could attract customers, the commission said.
Comments will be moderated. Keep comments relevant to the article. Remarks containing abusive and obscene language, personal attacks of any kind or promotion will be removed and the user banned. Final decision will be at the discretion of the Taipei Times.