HSBC announces improved credit card rebate program
HSBC Taiwan Ltd (匯豐台灣商銀) yesterday announced that it would bolster its cash rebate program for credit card holders to be more competitive in a saturated market.
Cardholders can exchange every New Taiwan dollar they earn from the bank's cash rebate program for two airline miles, or use them to offset their next credit card bill, HSBC Taiwan retail banking and wealth management head Linda Yip (葉清玉) said.
"We want to give consumers more freedom and choice," Yip said.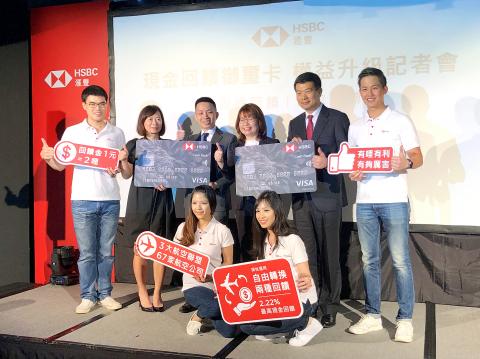 HSBC Taiwan retail banking and wealth management head Linda Yip, second row, third right, and other bank personnel hold promotional material at a news conference in Taipei yesterday to introduce a cash rebate program.
Photo: Kao Shih-Ching, Taipei Times
Few banks in Taiwan allow customers to exchange cash rebates for air miles, as banks tend to offer rewards in either airline miles or cash rebates rather than combining them, she said.
Given that the number of outbound travelers was 7.7 million in 2017, and people aged 20 to 65 accounted for 67 percent of the population, about 5 million Taiwanese qualify to apply for credit cards with airline miles incentives, HSBC said.
However, fewer than 1 million Taiwanese have applied for such cards, HSBC senior vice president Mike Huang (黃至弘) said, citing challenges such as requiring cardholders to redeem miles within a certain time frame.
"Taiwanese like money and traveling, so we combined the rewards," Huang said, adding that the bank would not engage in pricing competition with the program.
HSBC said it has not set a time limit for air miles redemptions and would allow cardholders to redeem even a single mile.
"There is no minimum requirement," it said.
If a cardholder has earned 14,902 miles, but needs 98 additional miles to redeem a flight ticket, they can use NT$49 in cash rebates to gain the 98 air miles, which is cheaper than buying air miles from carriers, Huang said.
The program would apply to the bank's most popular card, the HSBC Cashback Signature Card, which offers cash rebates of 2.22 percent for overseas purchases and 1.22 percent for domestic transactions, the bank said.
It is cooperating with three airline alliances, SkyTeam, Asia Miles and Star Alliance, meaning cardholders can use air miles for tickets issued by 67 carriers, HSBC said.
Among the 29.42 million valid credit cards in Taiwan, those with cash rebate programs remain the most favorable, HSBC said.
Despite the competition becoming more fierce, the bank said it is confident that its differentiated services would succeed.
Comments will be moderated. Keep comments relevant to the article. Remarks containing abusive and obscene language, personal attacks of any kind or promotion will be removed and the user banned. Final decision will be at the discretion of the Taipei Times.