CIER chairman Hu Sheng-cheng dies at age 77
PUBLIC SERVICE: Aside from being a respected academic, Hu earned praise for his service in government and his dedication to the nation
Chung-Hua Institution for Economic Research (CIER, 中華經濟研究院) yesterday announced that its chairman, Hu Sheng-cheng (胡勝正), had died of pulmonary calcification on Tuesday evening at National Taiwan University Hospital.
The 77-year-old widely respected academic was survived by his wife and two sons.
Hu had been frail and was recently hospitalized for flu symptoms, his secretary said by telephone.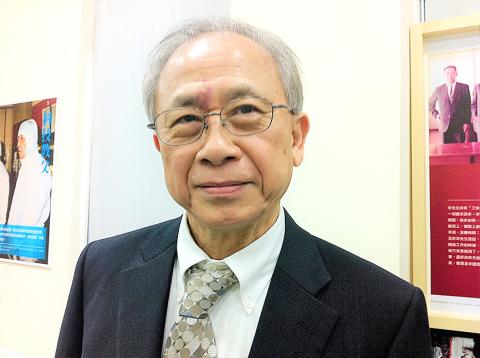 Chung-Hua Institution for Economic Research chairman Hu Sheng-cheng is pictured in an undated photograph.
Photo: Wang Meng-lun, Taipei Times
The Taipei-based think tank is setting up a makeshift memorial hall for people to pay tribute to Hu from today, she said.
With a doctoral degree in economics from the University of Rochester in the US, Hu took the helm of CIER in 2016 at the invitation of President Tsai Ing-wen (蔡英文). He concurrently served as a standing board director at the central bank.
Tsai said Hu's death was a great loss to the nation.
A native of Yilan, Hu taught at Purdue University for 28 years before returning home to teach at National Taiwan University in 1996. In 2000 he was elected a member of Academia Sinica, the nation's top research institute.
Hu joined the government in 2001, first serving as minister without portfolio and later heading the Council for Economic Planning and Development (renamed the National Development Council, NDC) and the Financial Supervisory Commission.
Hu had called on the local industry to transform and upgrade, replacing the "Made in Taiwan" model with the "Served by Taiwan" orientation, the NDC said in a statement.
Hu also pushed for equitable distribution of the nation's wealth and resources, as well as advocated the need for balanced development between rural and urban areas, the council said.
The central bank described Hu as a gentle man, who remained positive even as his health deteriorated after a serious gastrointestinal ailment in 2016.
He passed out during a meeting at the Presidential Office in April last year and was rushed to Mackay Memorial Hospital.
Academics across the political spectrum mourned his death, expressing their admiration for his academic prowess.
Hu gave up a comfortable life in the US and demonstrated great courage by joining the government in a time of tumult, Taiwan Institute of Economic Research (台經院) president Lin Chien-fu (林建甫) said.
As the head of CIER, Hu said the institute would strive for better quality and forward-looking research to help the government, industry and society.
He showed particular concern about the nation's rapidly aging population, which he said merited serious attention from policymakers and the public so that they could better grasp the issue and make adjustments.
Comments will be moderated. Keep comments relevant to the article. Remarks containing abusive and obscene language, personal attacks of any kind or promotion will be removed and the user banned. Final decision will be at the discretion of the Taipei Times.