Mercari's post-IPO goal: Become first Japanese start-up to make it in the US
Mercari Inc already made its mark by becoming the first Japanese start-up to be valued at US$1 billion, but a successful push into the US would make the company a real unicorn.
The Japanese online marketplace raised ¥130.5 billion (US$1.2 billion) in an initial public offering last week, after pricing at the top of the targeted range.
As investors gear up for the start of trading today, the big question is whether the company can execute an ambitious overseas expansion plan, something that no other Japanese tech start-up has yet managed to do.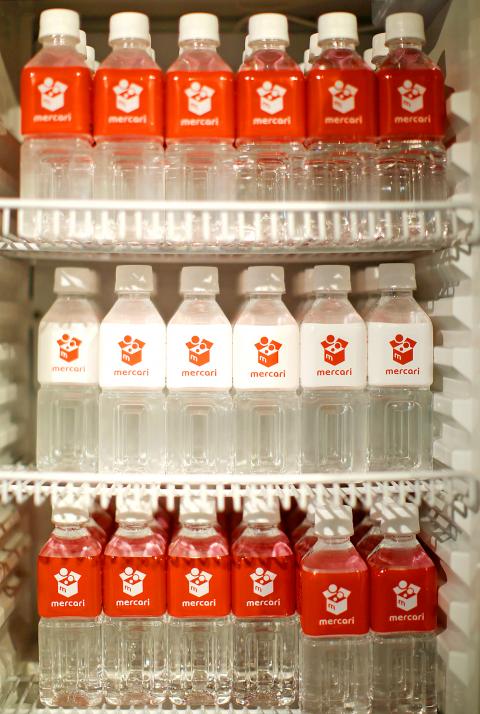 Mercari-labeled bottled water is displayed at the company's headquarters in Tokyo on Friday.
Photo: Reuters
Mercari has become Japan's default market for selling and buying used goods on smartphones, where downloads of the app reached 71 million in the five years since its debut.
The Tokyo-based company debuted in the US in 2014, joining a long list of well-funded marketplace start-ups — including OfferUp, Letgo, Wish and Poshmark— seeking to lure users away from established online markets such as eBay Inc, Amazon.com Inc and Craigslist Inc.
"There's room for disruption to happen, as more people are on mobile," said Hans Tung (童士豪), a managing partner at GGV Capital, which invested in Mercari's rivals Wish, Poshmark and OfferUp.
While Tung acknowledged that Mercari is very successful in Japan, he said its prospects in the US are "to be determined."
To succeed, Mercari would have to attract more users like Brandon Harris, who has been using Mercari to sell collectibles, video games and other things lying around the house.
The app's straightforward interface and the rule banning stock photos makes it attractive for casual users like Harris, who sells a few items a week.
"If Mercari is a garage sale, then eBay is more of an official store with big market people," said Harris, who is also the moderator for an online community dedicated to the service on Reddit. "Mercari stands out being the friendly neighbor you sell stuff to."
US downloads of Mercari's app reached 37 million by the end of March, about half the total in Japan.
However, the company has struggled to retain users and expand, with its US operations generating ¥6 billion worth of gross merchandise volume, a key metric of the value of goods sold on the marketplace, compared with ¥93 billion at home.
While operating profit from Mercari's domestic operations rose 15 percent to ¥3.6 billion in the fiscal year ended June 2017, it lost money overseas. The company said it booked a total operating loss of ¥1.9 billion in the nine months to March 31.
"Considering the size of the population in the US, Mercari's download numbers still look underwhelming," said Tomoichiro Kubota, an analyst at Matsui Securities Co in Tokyo. "They have yet to find the formula for success there."
The company in June last year hired John Lagerling, former vice president of business development at Facebook Inc, to lead US operations. A few months ago, Mercari simplified the app's design to suit local tastes. The app offers some features such as the ability for buyers to make counteroffers and using image recognition to give sellers shipping estimates.
Mercari has about 150 people working in the US, half of them dedicated to customer support. The company has said it will use part of the proceeds from the share listing to fund international growth. Mercari also launched an app in the UK in March last year.
The overseas challenges have not damped enthusiasm for Mercari's stock, which is trading 30 percent above its offering price in the gray market, said Andrew Jackson, head of Japanese equities at Soochow CSSD Capital Markets in Singapore.
Mercari is selling 43.5 million shares at ¥3,000 apiece, including additional stock via a greenshoe allotment. Investors in the US and Europe will buy 7.9 million of existing stock and 16 million new shares.
"There is every reason to believe that people in the US can embrace selling of stuff they don't use as a path to a simpler and smarter lifestyle," Deutsche Securities Inc analyst Takahiro Kazahaya said.
Comments will be moderated. Keep comments relevant to the article. Remarks containing abusive and obscene language, personal attacks of any kind or promotion will be removed and the user banned. Final decision will be at the discretion of the Taipei Times.