INTERVIEW: Resort eyes recovery after Hualien quake disruption
Promised Land Resort & Lagoon in Hualien County's Shoufeng Township took a hard hit from a Feb. 6 earthquake that saw occupancy rates slump from 90 percent to 30 percent over the Lunar New Year holiday. While conservative about its business prospects in the short term, the five-star resort is looking at modest growth for the whole of this year on improved transportation links. The property's general manager, Jerry Kang, shed some light on the resort's development strategies during an interview with 'Taipei Times' staff reporter Crystal Hsu in Hualien on Thursday last week
Taipei Times: How badly was the Promised Land Resort & Lagoon (花蓮理想大地渡假飯店) affected by the earthquake on Feb. 6 that killed 17 people and injured 291 and a spate of aftershocks?
Jerry Kang (康富雄): The tremors wreaked havoc on the recreation and leisure industries in Hualien, though Promised Land Resort emerged physically unscathed.
Many guests canceled reservations and stayed away from Hualien altogether, plunging our occupancy rates from 90 percent to 30 percent over the Lunar New Year holiday.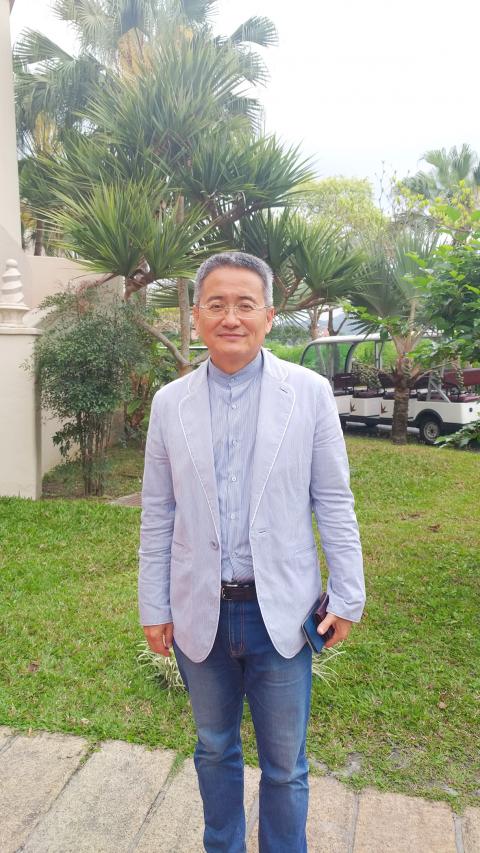 Promised Land Resort & Lagoon general manager Jerry Kang poses for a photograph at the resort in Hualien County during an interview with the Taipei Times on Thursday last week.
Photo: Crystal Hsu, Taipei Times
That translated into losses of NT$20 million (US$684,908) in revenue.
Sentiment might remain soft for a while, though it has showed signs of improvement.
Our rooms are almost 100 percent sold out for the Tomb-Sweeping Festival early next month.
Assorted promotional campaigns and discounts appear to have borne fruit, but greater efforts are needed for a full-fledged recovery.
We are strengthening activity packages and service quality to woo guests.
TT: Would you discuss the resort's financial performance last year and its business prospects for this year?
Kang: We failed to make money last year because a few major storms created transportation difficulties and a persistent slump in the number of Chinese tourists intensified competition.
I have a bleak view for the tourism industry in the short term.
The earthquakes in February raised safety concerns and more time is likely needed for travelers to regain confidence.
All the bricks and mortar at Promised Land remain intact as you can see for yourself.
However, I am positive about business growth for the whole of this year.
The government has completed part of the project to upgrade the highway linking Yilan County's Suao Township (蘇澳) and Hualien County. That makes it easier to visit Hualien by car.
Construction of the other segments is due to be finish this year and next year.
Hotels in Hualien will benefit from the infrastructure enhancement. In fact, hotel operators in Hualien are looking at an occupancy rate increase of between 5 percent and 10 this year on the back of the improved infrastructure.
We previously aimed to raise our room rates by between 2 percent and 5 percent this year, and offer better packages and quality of service, but we put off the adjustments for the time being to see how the market fares following the earthquakes.
TT: How has the decline in the number of Chinese tourists affected the resort?
Kang: The property took an indirect blow from shrinking numbers of Chinese tourists, who made a big contribution to tourism revenue in Hualien due to their large presence.
Chinese tourists like to visit Taroko Gorge and other natural scenic spots in Hualien.
Lodging facilities that used to cater to Chinese tourists have shifted their attention to domestic travelers.
Domestic travelers, especially families, account for 90 percent of our clientele, while tourists from Japan, South Korea, China and other nations make up the remaining 10 percent.
The strategy adjustment means an increase in supply. Some of our competitors are engaging in cutthroat competition.
Although the economic fundamentals look healthy, the total number of inbound tourists has stagnated according to government statistics.
Hualien's hotels fail to benefit from a spike in tourists from South Korea or Southeast Asian nations because they tend to make one-day trips to Hualien.
Transportation is a negative factor. Many people have complained about the difficulty of getting to east Taiwan.
TT: How does the resort differentiate itself from its rivals in Hualien?
Kang: The Promised Land Resort is modeled on the Italian city of Venice, with all 260 Spanish-style guestrooms having views of a 2.2km canal, waterfalls, bridges and Greek sculptures.
The property sits on a vast 200 hectare plot of land with the lodging facility taking up only 8 hectares.
It aims to appeal to people who want to get away from the hustle and bustle of urban life and reconnect with the nature.
Daily room rates average NT$4,500 to NT$5,000, making the resort the most expensive facility, next only to Silks Place Taroko (太魯閣晶英), where the daily room rate is about NT$6,000.
Silk Place owes its popularity to its privileged location inside Taroko National Park.
Farglory Hotel Co (遠雄悅來大飯店) ranks in third place with daily room rates of NT$3,500.
We plan to strengthen our offers by adding sports facilities, souvenir shops and do-it-yourself activities. We are also teaming up with local farms to enrich out activity packages.
TT: Does Promised Land Resort have any expansion plans, since the bulk of the land remains undeveloped?
Kang: We will soon break ground on a second-phase development beyond the resort.
The new project will add an extra 30 hectares that will include a shopping plaza, a scenic garden and a health village.
The nation's fast-aging population lends support to the health village venture while the number of inbound tourists stagnates.
The village is intended for guests who would like to stay for weeks or even months.
We are building more than 1,000 units of between 15 to 20 ping (50m2 to 66m2) and are equipping them with home appliances so guests would feel more at home.
The village is targeting guests from Taiwan, China and elsewhere.
They will be charged a monthly rent or daily room rates of between NT$2,500 and NT$3,000.
The shopping mall will have 2,000 ping of floor space and will feature local souvenirs, snacks and handicrafts.
In addition, we are turning part of the parking lot into a service station at which visitors can rest, eat or refuel.
In all, we hope the site will grow into a popular tourist attraction.
The second-phase development is costing about NT$2 billion and will create an extra 400 or 500 job opportunities on top of the 270 people we currently employ.
It will take about three years to complete.
TT: How much does food and beverages contribute to the resort's revenue?
Kang: We have a Chinese restaurant, a buffet restaurant and banquet rooms, but food and beverage generates only about 20 percent of overall revenue.
As the resort is situated some distance from downtown Hualien, the number of non-residential guests is limited, as is the case with all resorts.
We originally partnered with Marriott International Inc, and the global hotel chain provided advice on design and operations, but both sides decided to end that cooperation for different reasons.
Comments will be moderated. Keep comments relevant to the article. Remarks containing abusive and obscene language, personal attacks of any kind or promotion will be removed and the user banned. Final decision will be at the discretion of the Taipei Times.