Didi Chuxing authorizes Taiwanese start-up Ledi
Chinese ride-hailing giant Didi Chuxing (滴滴出行) yesterday tapped into the Taiwanese market by authorizing Taiwanese start-up Ledi Technology Co (樂迪科技) to use its brand and technology, making Didi the second foreign ride-hailing app operator to enter the Taiwanese market.
"Taiwan has a population of more than 23 million, similar to Australia's 24 million," Ledi associate general manager Dylan Shaw (蕭明曙) told a news conference in Taipei. "We do not underestimate the market potential in Taiwan."
Kelly Wang (王慈雍), a Taiwanese businesswoman who says she is a friend of the Didi Chuxing management team, founded Ledi in November last year. The company was registered in Taiwan as an information and software company and has a paid-in capital of NT$200,000 to handle Didi Chuxing's ride-hailing service in the nation.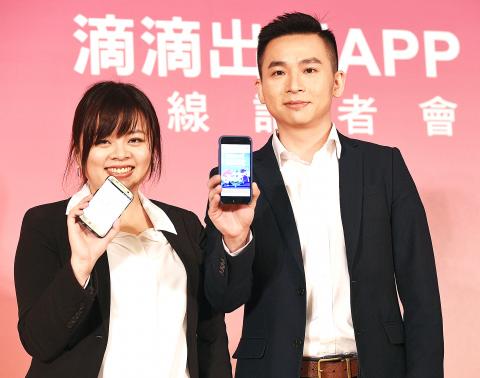 Ledi Technology Co founder Kelly Wang, left, and Ledi associate general manager Dylan Shaw show the ride-hailing Didi Chuxing smartphone app at a news conference in Taipei yesterday.
Photo: Chen Chih-chu, Taipei Times
Ledi is raising capital from European and Hong Kong investors to support the operation in Taiwan, Wang said, adding that the company has applied for Investment Commission approval.
"We can assure you that the additional investment does not involve Chinese capital," Wang said, in response to questions from the media about whether Didi Chuxing would hold a stake in Ledi.
She declined to disclose the amount of capital injected by foreign investors.
Driver and passenger data would not be stored in China, Wang said, adding that it was to be located in a Hong Kong data center.
Similar to Uber Technologies Inc's collaboration with local taxi operators in Taiwan, Ledi is working with CK Taxi (全國車隊) to connect taxi drivers with passengers through Didi Chuxing's mobile app.
About 2,000 drivers from CK Taxi have joined Didi Chuxing's platform, Ledi said.
Ledi also invites individuals who do not hold a professional driver's license to join Didi Chuxing's ride-sharing service, Shaw said.
"We are looking for people who are interested in the ride-sharing economy," Shaw said. "We do not encourage people to view participating in Didi Chuxing as a job opportunity."
Every morning, individuals who wish to participate in Didi Chuxing's ride-sharing service must submit their driving route and the number of vacant seats for Ledi to match them with potential passengers for that day, Shaw said.
The drivers would be allowed to take three rides each day, he said, adding that passenger fees would be based on fuel consumption, highway tolls and vehicle depreciation.
Ledi would also charge the passengers for using the app, he said.
If the company only matches passengers and drivers and does not charge money, Ledi's operation is not regulated by the Highway Act (公路法), the Chinese-language United Daily News quoted the Ministry of Transportation and Communications as saying yesterday.
However, the company could breach regulations if the app platform charges fees for profit, the ministry said.
Ledi's decision to charge a fee to passengers for using the app could raise eyebrows at the ministry.
Didi Chuxing's taxi service began yesterday, and the ride-sharing service is scheduled to start on Feb. 1, the company said.
Shaw said Ledi is setting up a team, as well as a fund with an undisclosed amount of money, to address any disputes between ride-sharing drivers and passengers and to handle possible accidents.
The company has sent the ministry a report about its business model and is ready to explain its day-to-day operations at any time, he said.
The ministry has long said it does not support allowing individual drivers to use personal cars to provide for-profit ride-sharing services, and the Directorate-General of Highways stipulates that legal taxi drivers have a practicing registration, a valid professional driver's license and a car that is registered to offer taxi services.
Comments will be moderated. Keep comments relevant to the article. Remarks containing abusive and obscene language, personal attacks of any kind or promotion will be removed and the user banned. Final decision will be at the discretion of the Taipei Times.