Far EasTone seeks boost to revenue
VALUE-ADDED SERVICES: Company president Yvonne Li said that subscribers to services such as its mobile wallet and videos are expected to reach 20 million by 2020
Far EasTone Telecommunications Co Ltd (遠傳電信) aims to more than triple revenue contributions from its value-added services to 20 percent within three years on fast-growing demand for its online payment services and mobile video subscriptions.
Value-added services accounted for 6 percent of Far EasTone's overall revenue in the first half as it has accumulated 9.4 million customers for the services, the nation's No. 3 telecom said.
"We hope to increase that to 20 percent in 2020," Far EasTone president Yvonne Li (李彬) told reporters on the sidelines of its annual general meeting yesterday.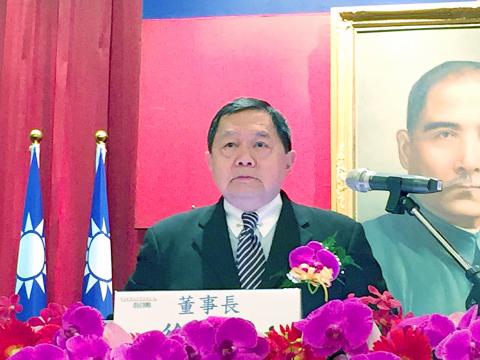 Douglas Hsu, chairman of Far Eastern Group, to which Far EasTone Telecommunications belongs, speaks at a shareholders' meeting in Taipei yesterday.
Photo: CNA
By that time, the number of subscribers to value-added services is expected to reach 20 million, Li said.
The company said the growth will primarily come from subscriptions to its mobile wallet, mobile videos and billing services for people buying applications in the Apple and Google Play stores.
Far EasTone has more than 700,000 mobile wallet users.
Transactions using the digital payment tool average NT$700 per month per subscriber, the company said.
Far EasTone chief financial officer T.Y. Yin (尹德洋) attributed the growth in its value-added services to the company's average revenue per user of NT$883 in the first quarter, compared with Chunghwa Telecom Co's (中華電信) NT$590 and NT$861 for Taiwan Mobile Co (台灣大哥大).
Far EasTone said it aims to increase its number of 4G subscribers to 5.5 million by the end of this year, which would be a rise of 6.38 percent from about 5.17 million in the first quarter.
In the competition over Internet connection speed with local peers, Far EasTone said it expects its 4G users to see speeds accelerate to 500 megabits per second (Mbps) by the middle of next month on existing three-carrier aggregation (3Ca) services, due to spectrum expansion.
The company's comments came after bigger rival Chunghwa Telecom on Thursday said that Internet connection speeds would rise to 400Mbps next month when it starts using advanced 4Ca technology to better utilize its spectrum.
Far EasTone said about 25 percent of its 4G users' mobile phones support 3Ca technology, while few devices on the market support 4Ca technology.
Far EasTone shareholders yesterday approved distribution of a cash dividend of NT$3.75 per common share as the company allocated earnings per share (EPS) of NT$3.129 and a capital surplus of NT$0.621 per share toward the dividend.
The company posted EPS of NT$3.5 last year.
Chunghwa Telecom shareholders yesterday approved a plan to distribute a cash dividend of NT$4.94 per share following a seven-and-a-half-hour meeting.
The company reported EPS of NT$5.16 last year.
Comments will be moderated. Keep comments relevant to the article. Remarks containing abusive and obscene language, personal attacks of any kind or promotion will be removed and the user banned. Final decision will be at the discretion of the Taipei Times.