INTERVIEW: Foray into hotels goes big league with Marriot deal
Tin Lee, founder and CEO of Shenmao Technology Inc, forayed into the hospitality industry with Hotel Orchard Park seven years ago, spurred by a whim to more conveniently entertain customers. Last week, he inked a deal with Marriot International Inc to turn the Taoyuan-based property into the first and only international five-star business hotel in the municipality to boost daily room rates. Lee shared his development plans with 'Taipei Times' staff reporter Crystal Hsu during an exclusive interview in Taoyuan last week
Taipei Times: What prompted Hotel Orchard Park (桃禧航空城酒店) to partner with Marriot seven years after its opening?
Tin Lee (李三連): I am confident that Taoyuan will gain more business travelers due to improving attractions. The city government is establishing a world trade center and Japan's Seibu Group is building an international aquarium, to name just a few.
The lack of an internationally branded hotel has been driving business travelers to Taipei. The situation will change after Orchard Park upgrades to a prime facility under the Sheraton brand in January next year.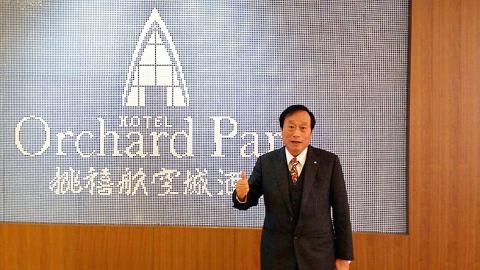 Hotel Orchard Park chairman Tin Lee poses at the hotel on March 2 after a ceremony to partner with Marriot International Inc.
Photo: Crystal Hsu, Taipei Times
Brand recognition plays an important role in attracting international guests, so we decided to collaborate with Marriot, the owner of the Sheraton brand and tens of other hotel brands. Marriot will help link up with business and leisure travelers from around the world upon our upgrade into Taoyuan Sheraton.
The remodeling will take 12 months and cost about NT$50 million to NT$100 million [US$1.6 million to US$3.2 million]. We will hire extra employees to improve the quality of service, raising our staff from 250 to about 300. Daily room rates might double from NT$2,000 to NT$4,000.
Our occupancy rates last year hovered at about 80 percent, not bad among our peers, as many took a hit due to the decline in the number of Chinese tourists. The partnership might not raise occupancy rates, but will lift room rates significantly. In other words, room rate improvement is driving the renovation.
TT: Did Hotel Orchard Park benefit from the recently launched Taiwan Taoyuan International Airport MRT Line?
Lee: Not at all. The new metro service makes transportation between the airport and Taipei more convenient for independent travelers, allowing them to visit the capital more quickly. Only people on business trips to Taoyuan will stay at Orchard Park. The hotel is 10 minutes from the airport and 20 minutes from Taoyuan High Speed Rail Station by car.
We see Hotel Novotel Taipei Taoyuan International Airport as our main rival and aim to outcompete it a year after the remodeling is done. The upgrade is limited to our 188-room property, while two adjacent properties of 260 rooms and 50 rooms will continue to serve group tourists. Group tourists are expected to generate 70 percent of our clients this year, limiting room for rate hikes amid an improving economy.
TT: How is Orchard Park coping with the drop in the number of Chinese tourists?
Lee: Chinese travelers accounted for 60 percent of group tourists at Orchard Park, or 45 percent of overall guests. The ratio last year slumped to 25 percent and is unlikely to recover going forward.
Hotels in scenic areas took a bigger hit, because they relied heavily on group tours from China. The blow is less evident for hotels near the airport and in northern Taiwan as a whole, thanks to a significant increase in tourists from Japan, South Korea and Southeast Asian countries. Independent travelers like to visit northern Taiwan due to ease of travel and convenience.
I believe the fast increase in the number of hotel rooms nationwide has also contributed to the struggle that is plaguing some peers. Some hotels in southern Taiwan offer cutthroat discounts to win guests, making the situation even worse. We intend to keep room rates at similar levels this year and look forward to a 50 percent bump next year.
TT: Would you comment on Orchard Park's financial performance last year and shed light on its business outlook?
Lee: The landscape looks slightly brighter this year, as evidenced by rallies on the local bourse. The government has tried to attract more travelers from other Asian countries to make up for the shortfall in Chinese tourists. However, we expect revenue from hotel rooms to stay flat and target a 10 percent increase in food and beverage sales this year. We have a Japanese restaurant and a buffet restaurant serving Chinese and Western food. We aim to step up banquet sales for family and corporate customers in Taoyuan.
In the meantime, we plan to reach out to customers with conference and meeting needs. Food and beverage generates 50 percent of revenue, about the same as hotel rooms.
TT: Do you have more investment plans other than Orchard Park?
Lee: We have a permit to develop a 260-room hot spring resort in New Taipei City's Bali District (八里) on a more than 1,700 ping [5,620m2] plot of land. Construction on the 16-floor project might start in the second quarter of this year.
We are also in talks with Marriot to run the property, likely also under the Sheraton brand. The hotel might start operations in 2020.
TT: Why did you enter the hospitality industry after spending four decades as a supplier of electronics assembly materials?
Lee: I have been in the electronics business for more than 40 years. I forayed into the new territory out of a desire to entertain friends and customers after the listing of Shenmao Technology Inc (昇貿科技) in 2008. I acquired a large plot of land in Taoyuan and thought it was a pity to just build a restaurant. Therefore, I built a hotel complex instead.
I believed hotels near the airport would prosper and flourish, even though the site was undeveloped and sparsely populated when I first bought it. The situation has improved since Orchard Park launched in 2009. It is easier to develop a residential complex and walk away after closing the sale, but I prefer a sustainable business where I can enjoy work, although it might take much longer to generate a profit.
Comments will be moderated. Keep comments relevant to the article. Remarks containing abusive and obscene language, personal attacks of any kind or promotion will be removed and the user banned. Final decision will be at the discretion of the Taipei Times.